1/6 Figure - ANT-MAN (Captain America: Civil War)
16.04.2016, 23:10
(Dieser Beitrag wurde zuletzt bearbeitet: 11.03.2019 10:26 von Silver Surfer.)
Silver Surfer
Moderator


Beiträge: 16,264
Registriert seit: May 2013
1/6 Figure - ANT-MAN (Captain America: Civil War)
CAPTAIN AMERICA:
CIVIL WAR
ANT-MAN
~ 1/6TH SCALE COLLECTIBLE FIGURE ~
With the Marvel Cinematic Universe being divided over the rising concern of collateral damage caused by the Avengers in Captain America: Civil War, fans will finally witness the epic showdown between Captain America and Iron Man when the two heroes hold different views on the system of accountability to oversee the Avengers.
Today Hot Toys is excited to officially present the new 1/6th scale collectible figure of newest supporter of Team Captain America, the size-shifting hero, Ant-Man!
The movie-accurate Ant-Man collectible figure is specially crafted based on the film featuring a newly developed head sculpt with authentic likeness of Paul Rudd as Ant-Man in the movie, an interchangeable helmeted head with LED light-up function, meticulously tailored new Ant-Man suit, an Ant-Man miniature figure, detailed accessories and a Captain America: Civil War themed figure stand.
Don't pass up on the opportunity to add the latest Ant-Man collectible figure in your collection.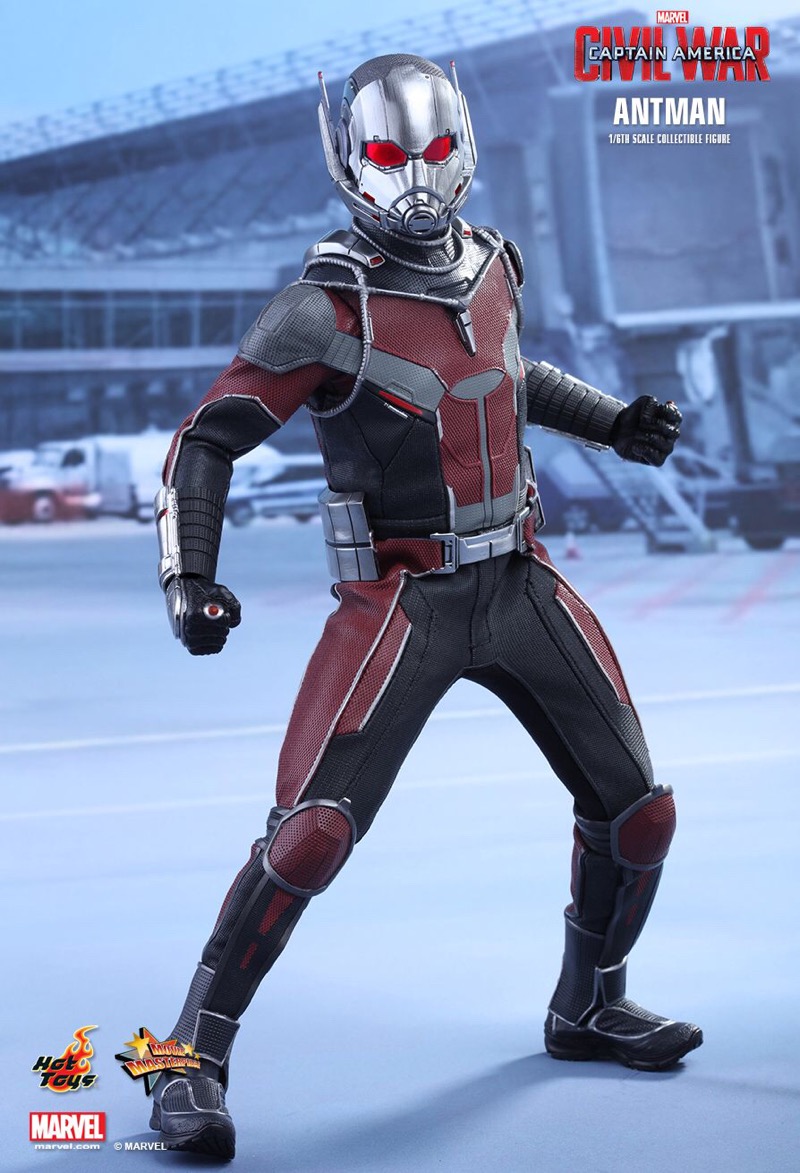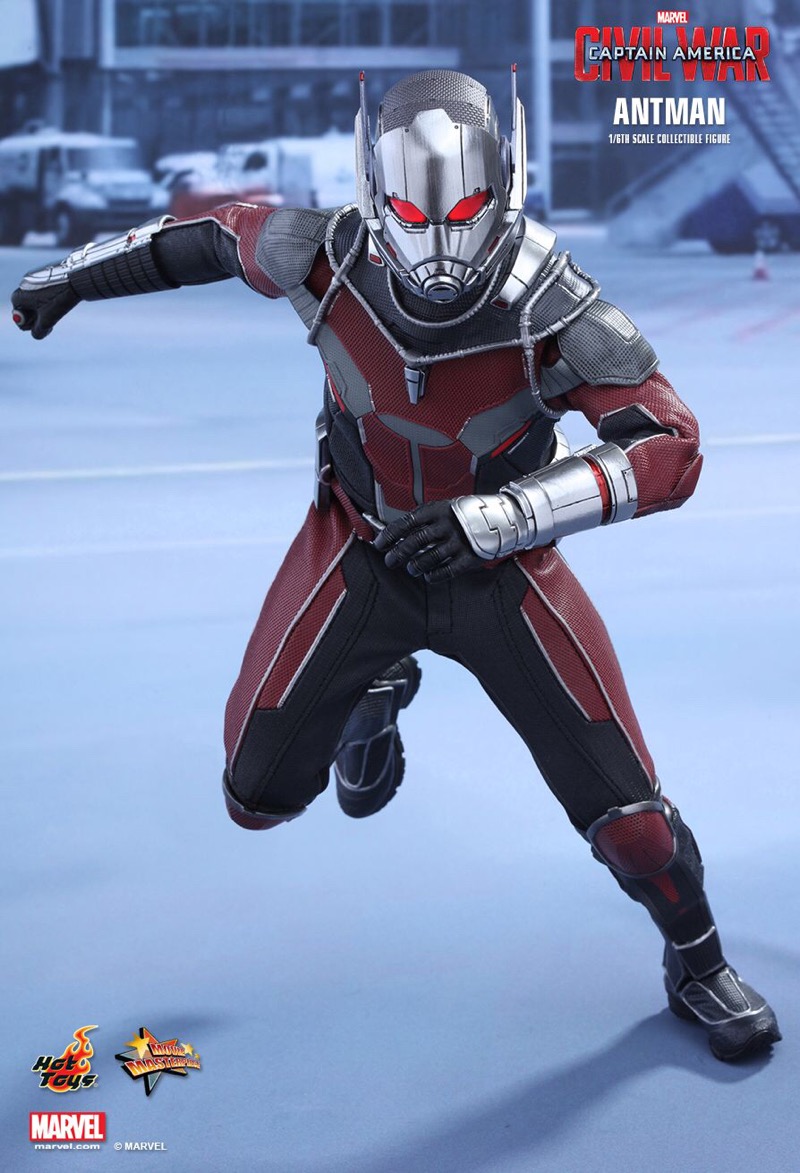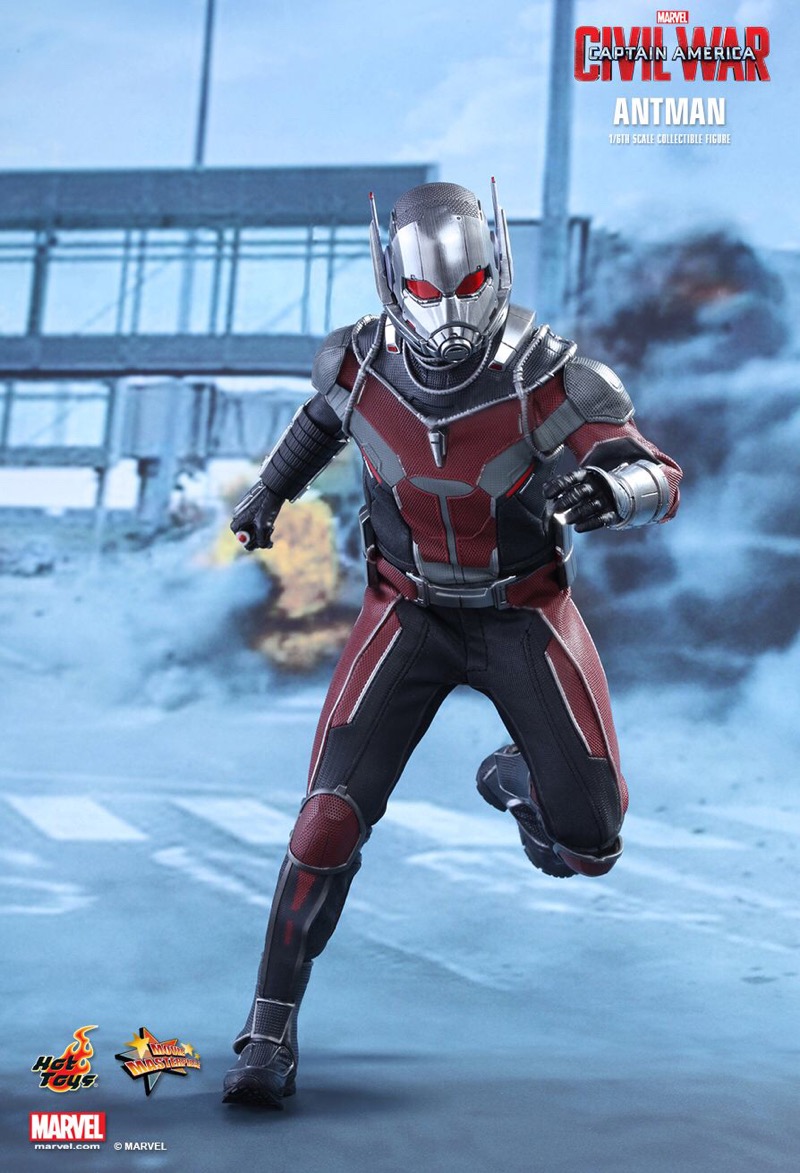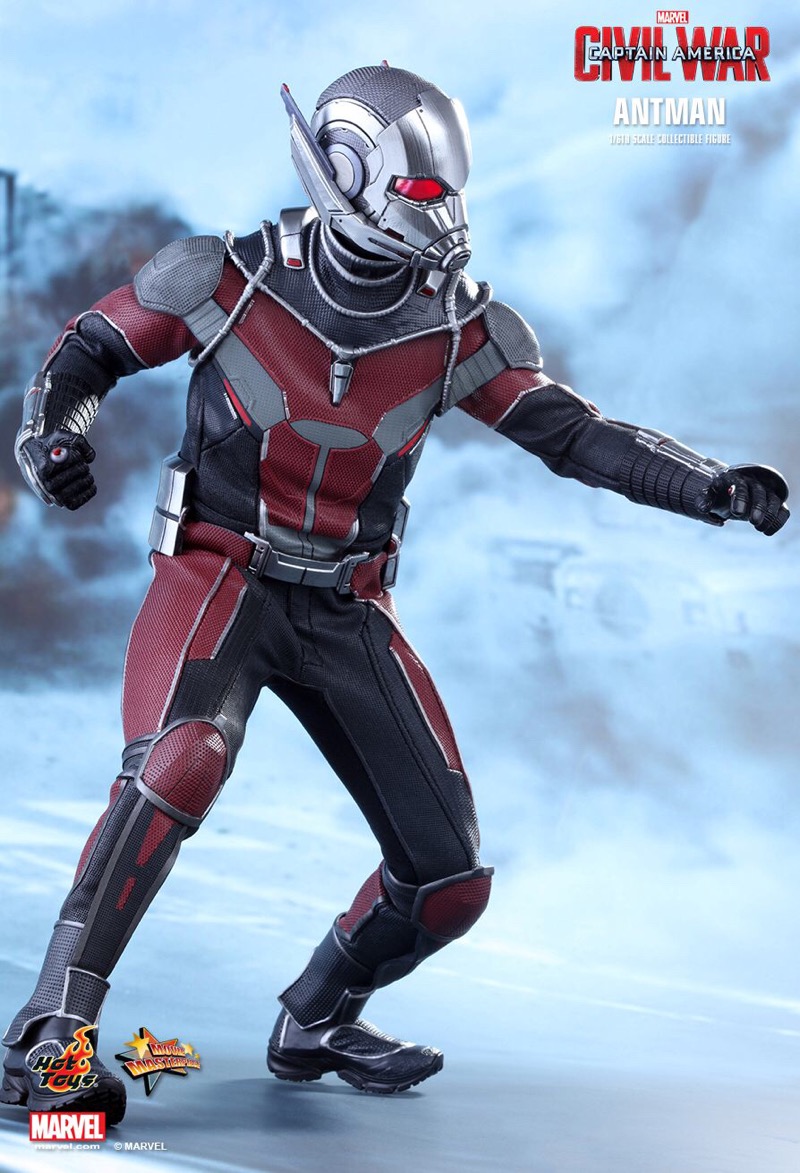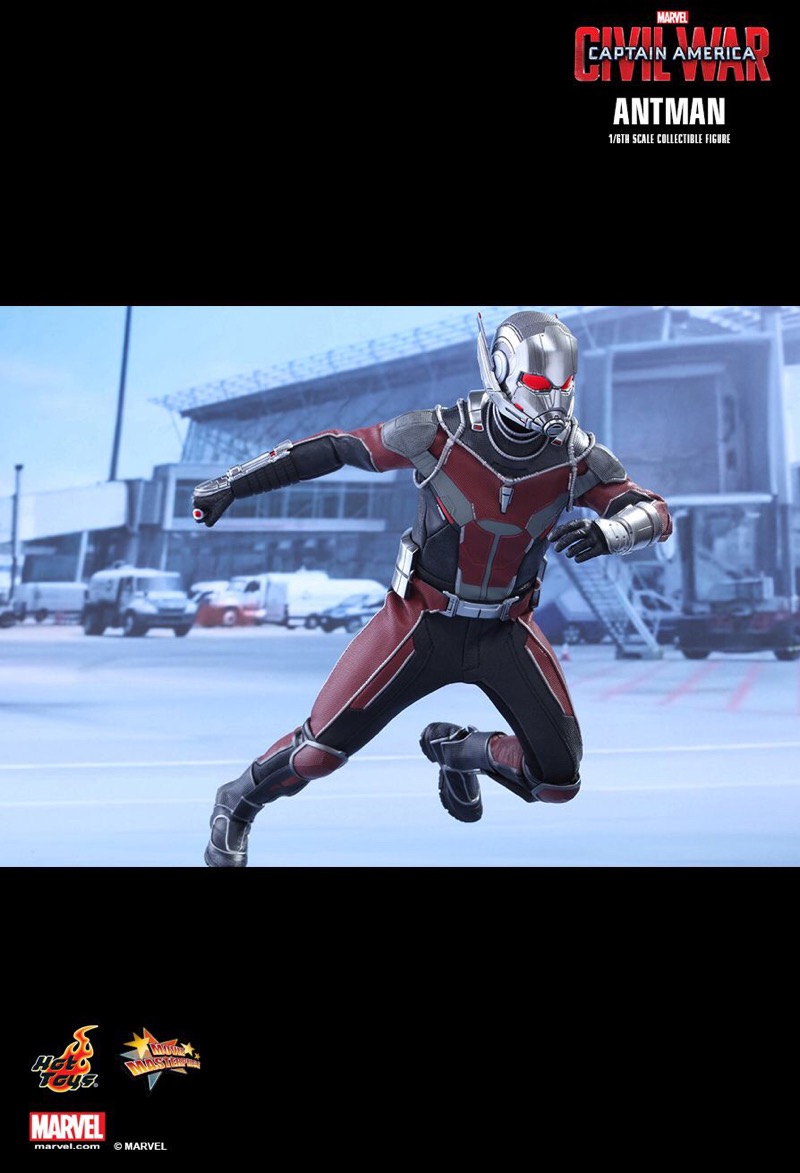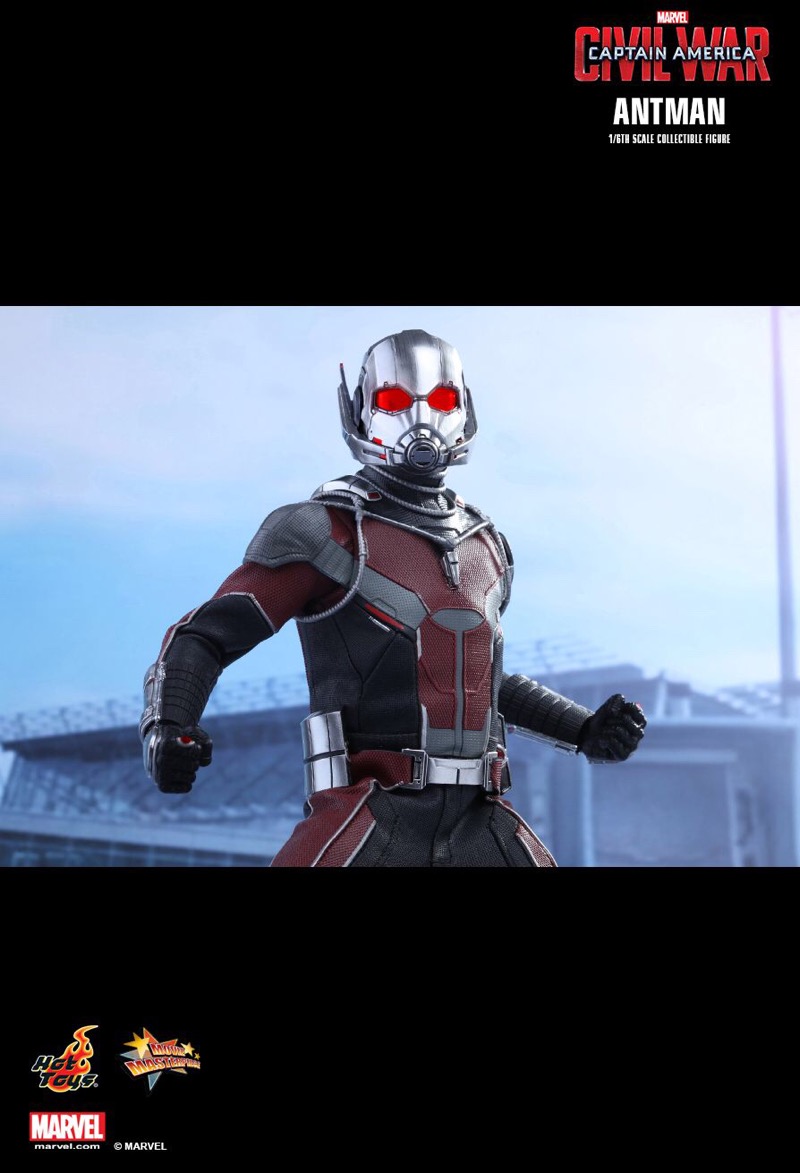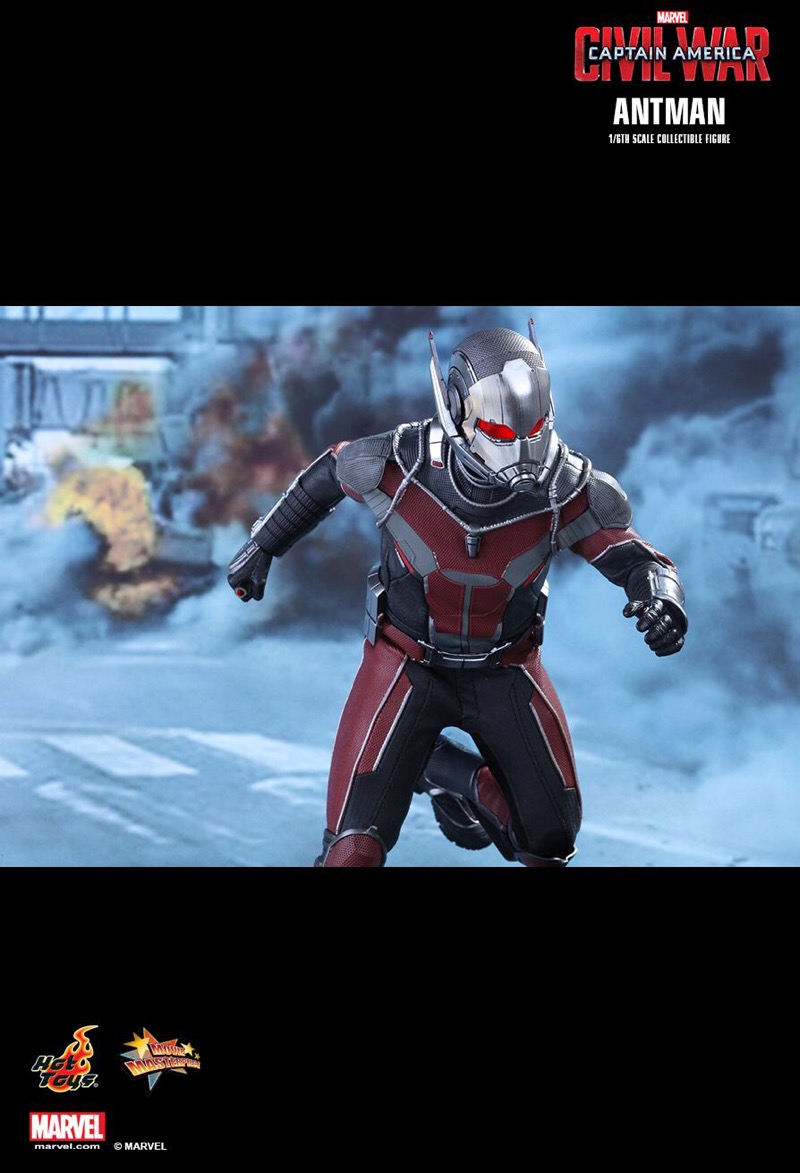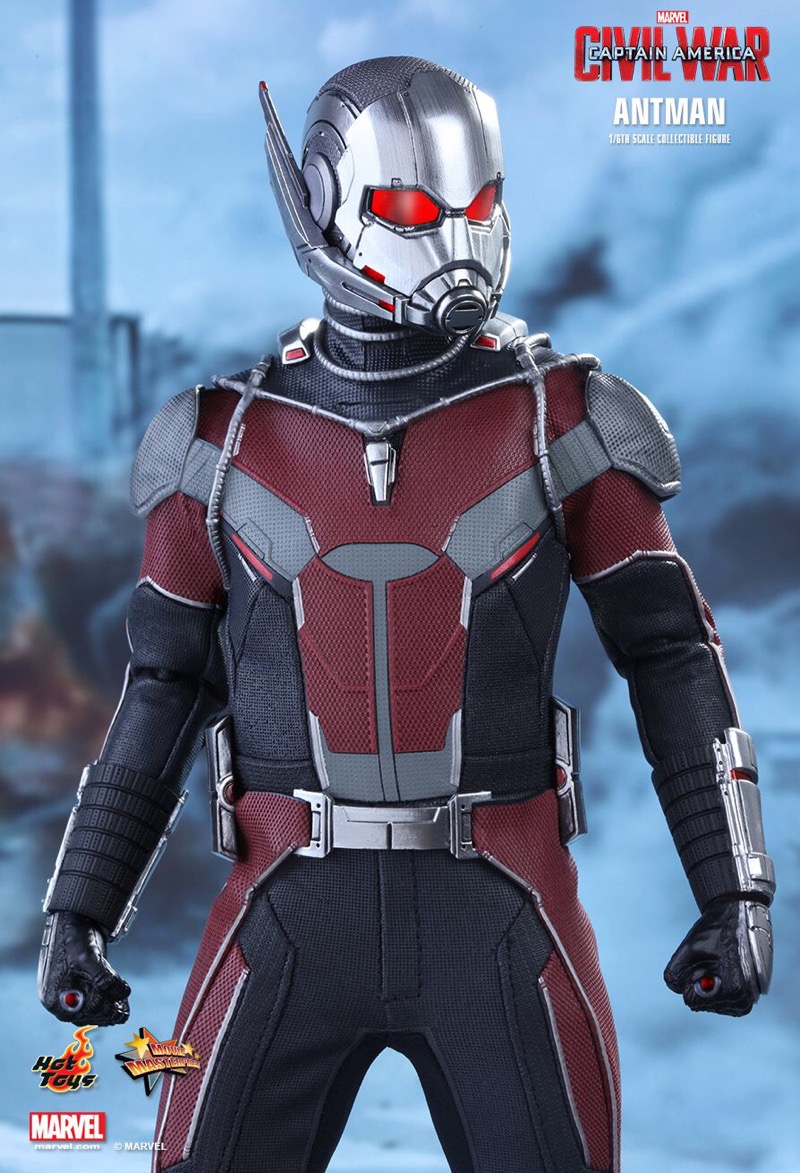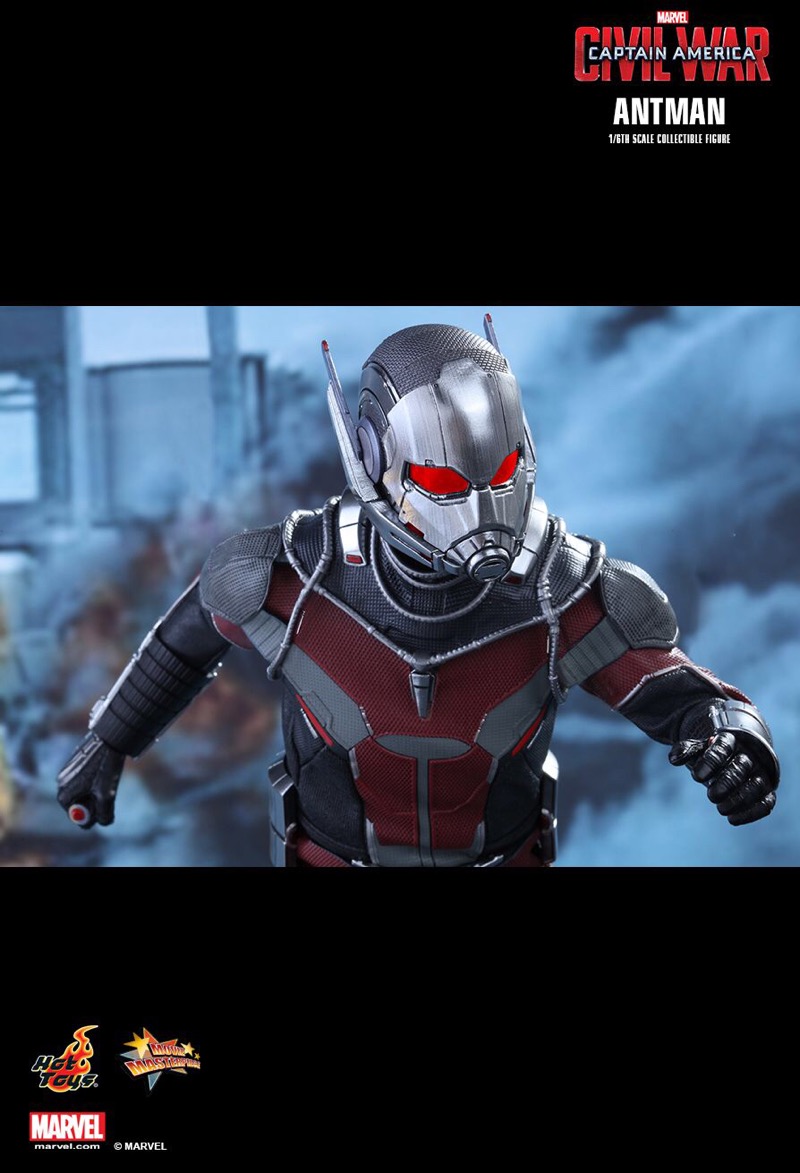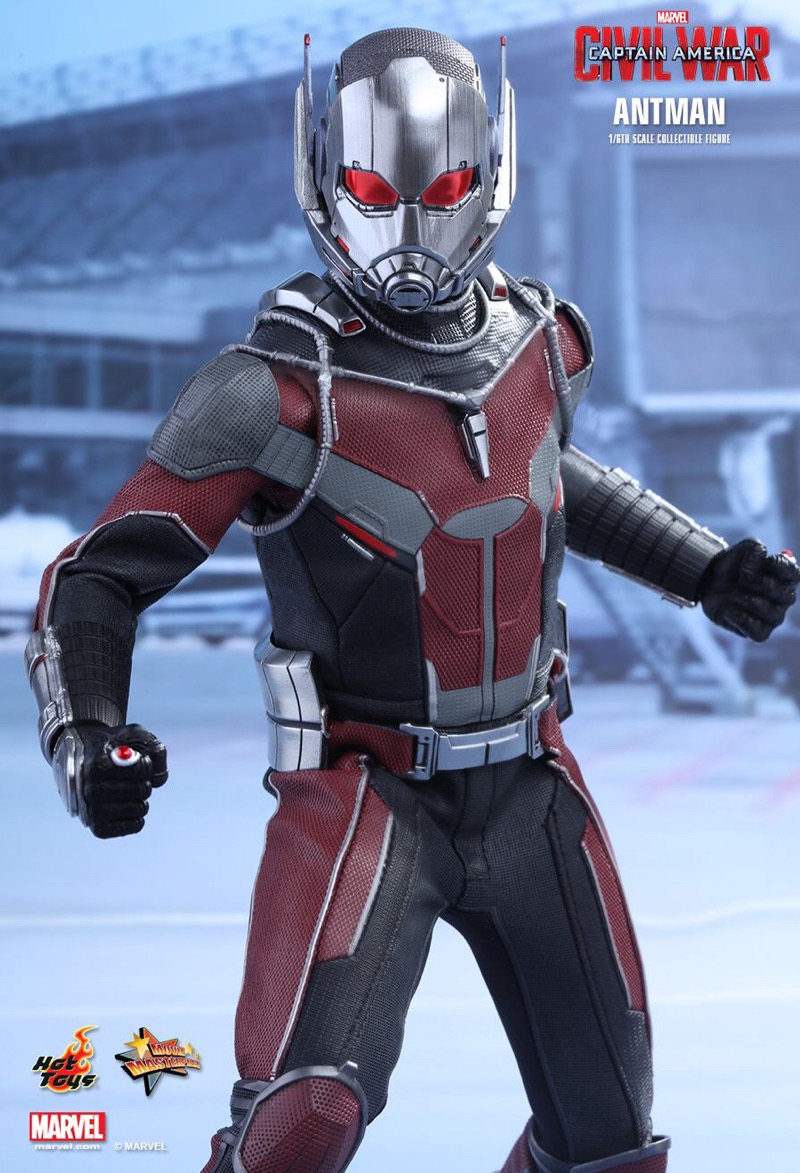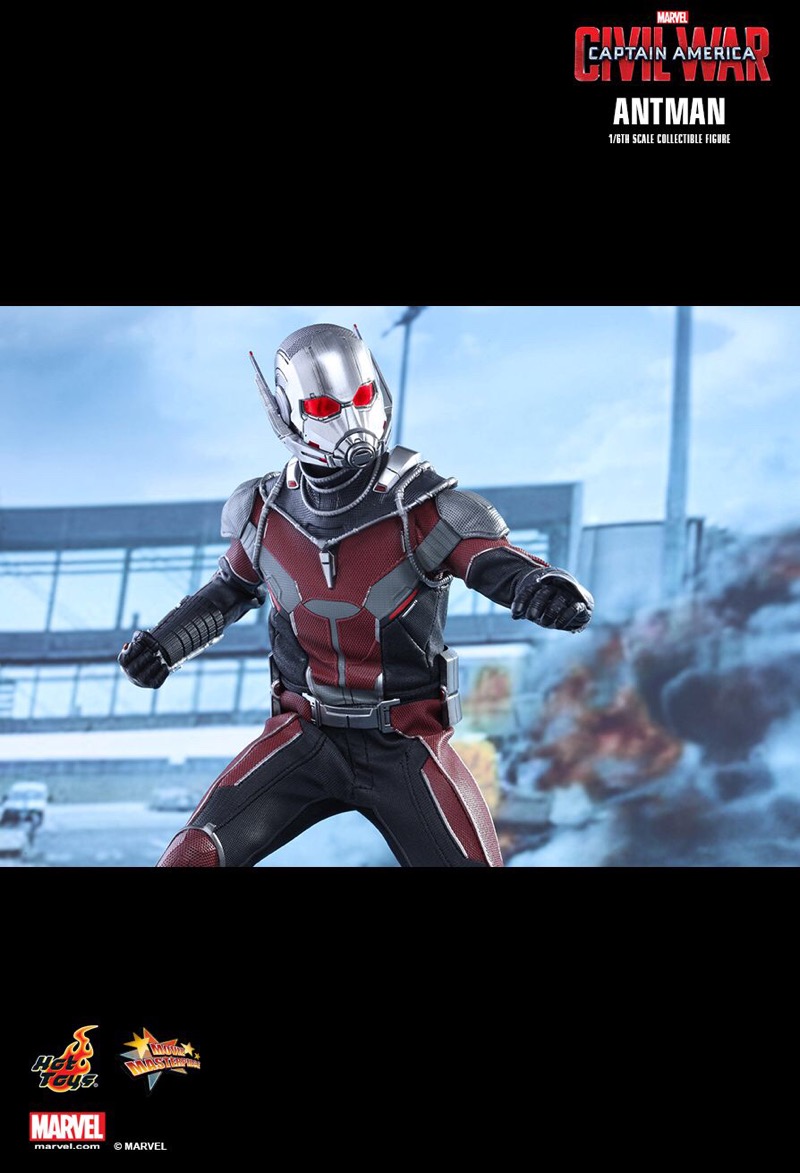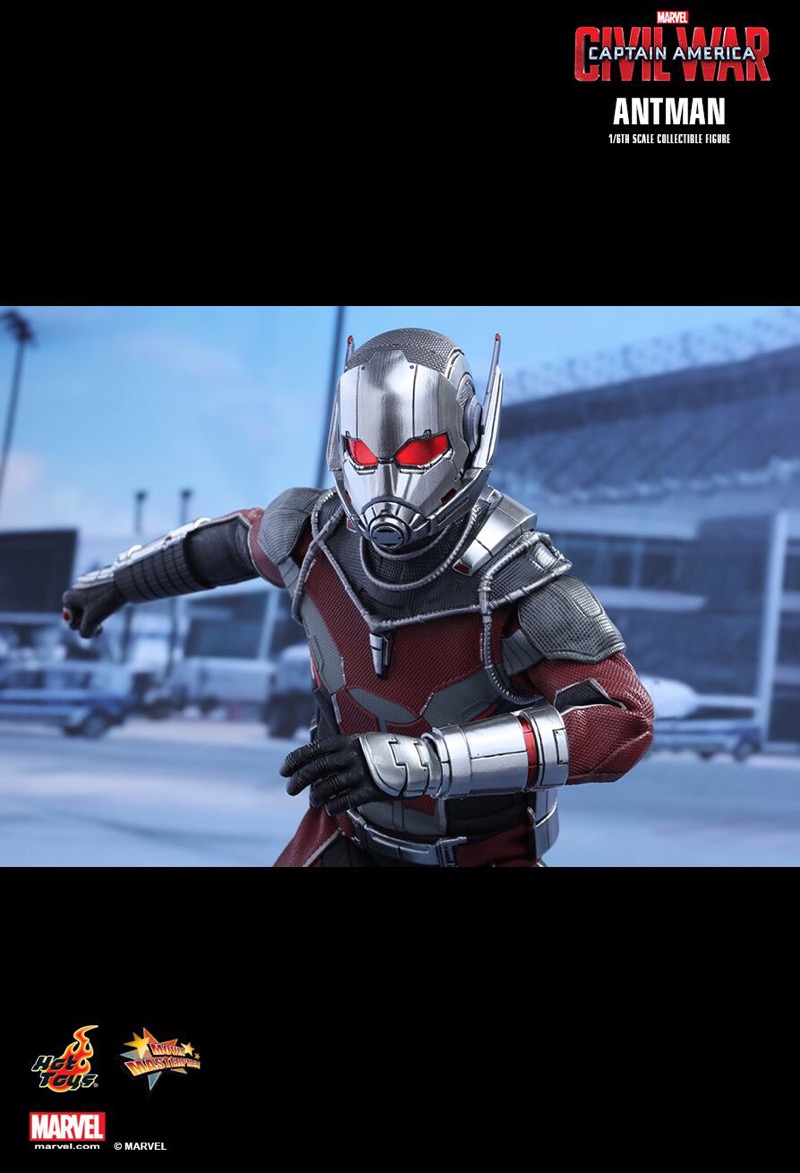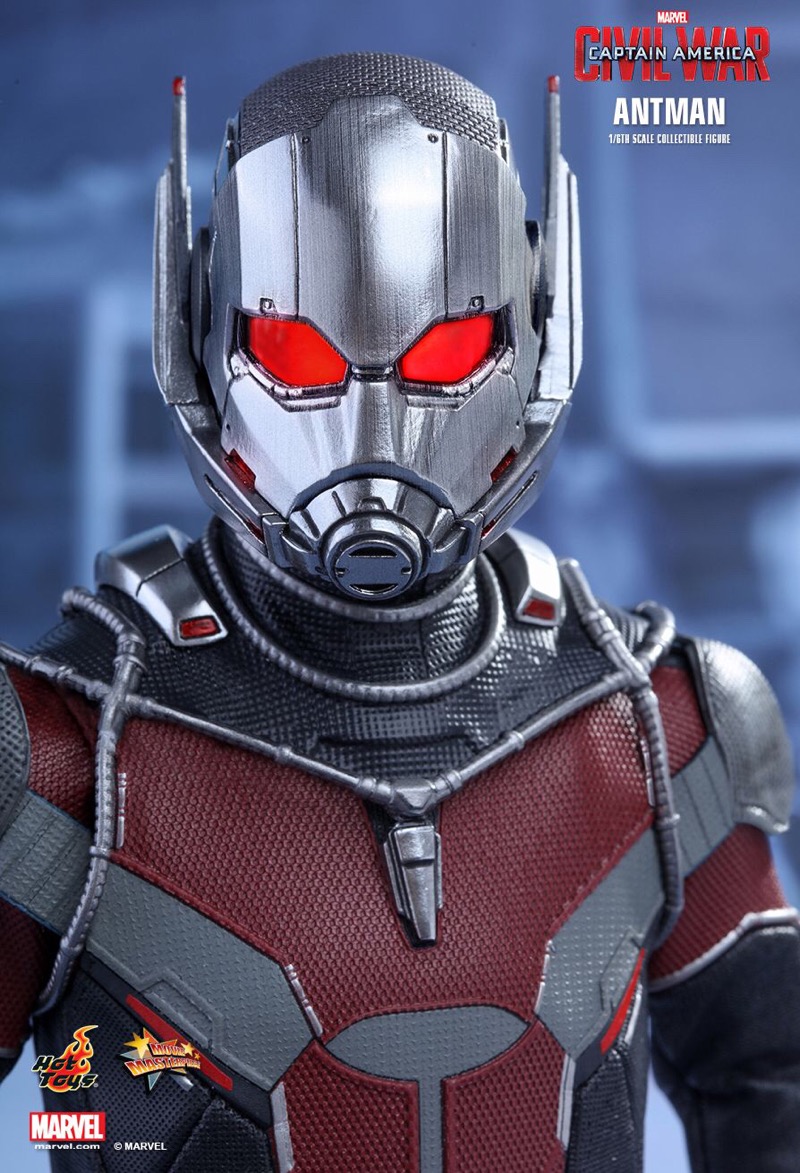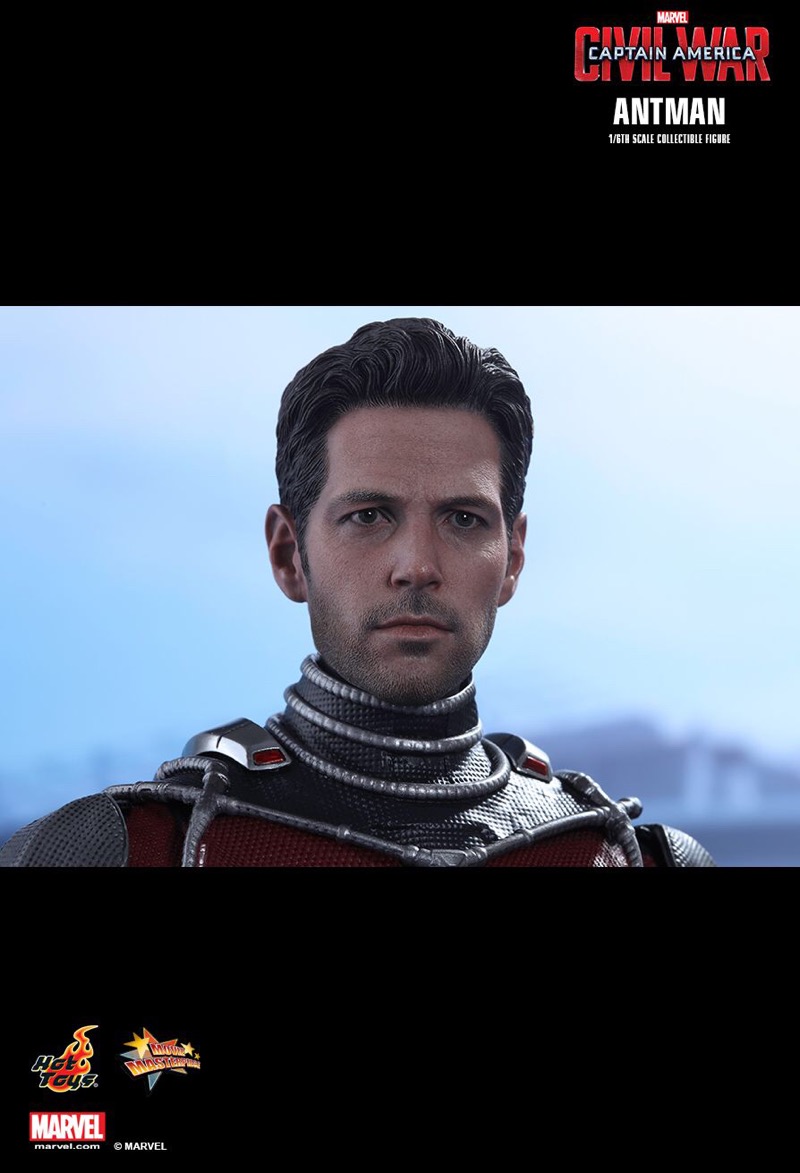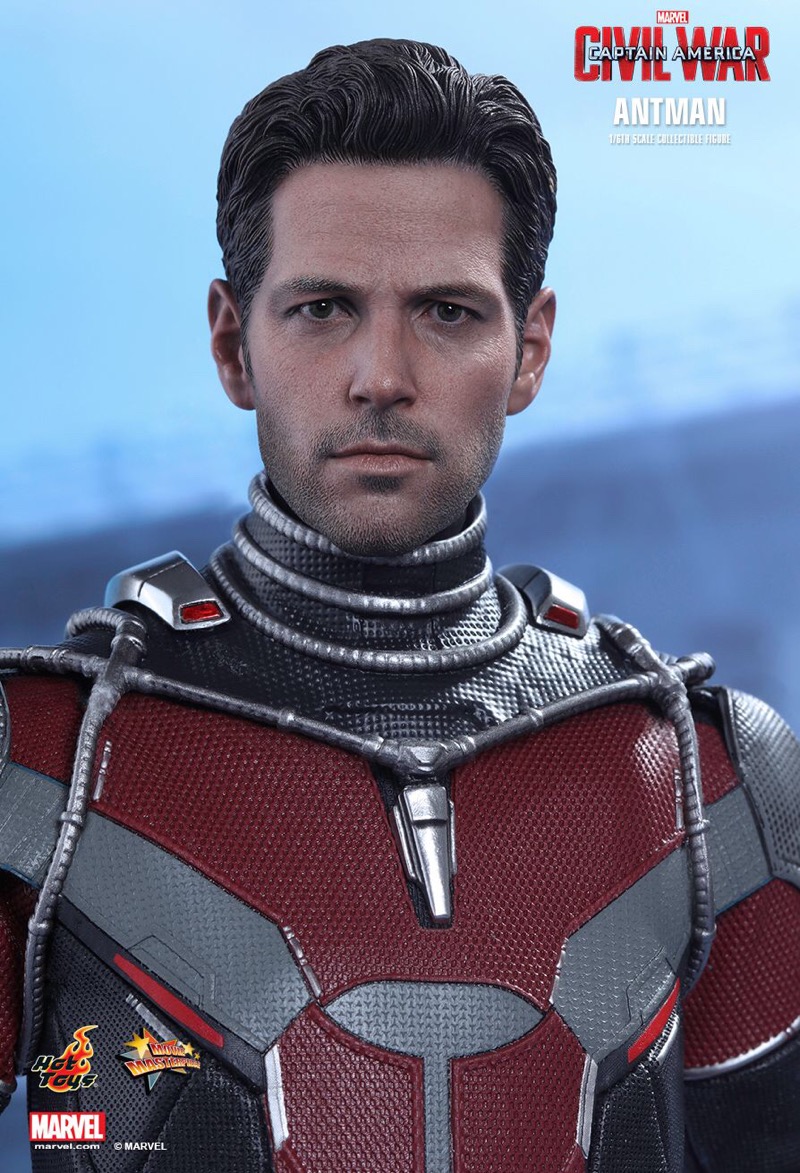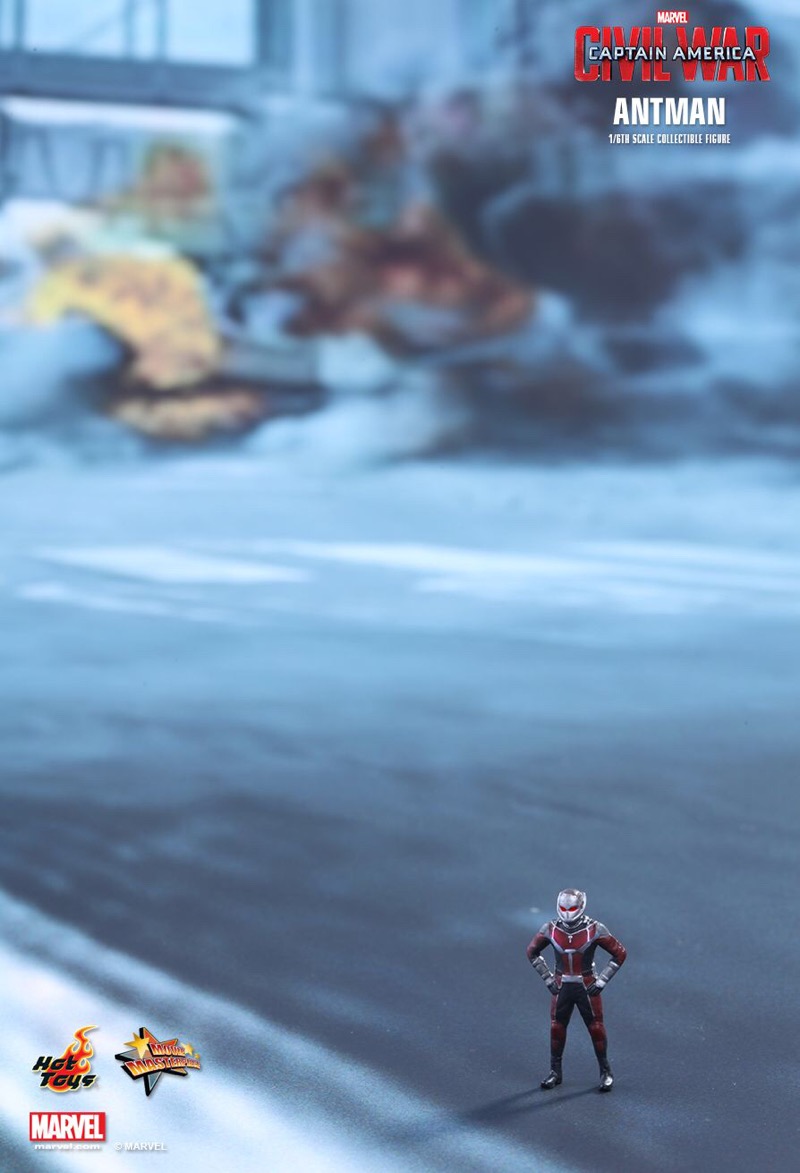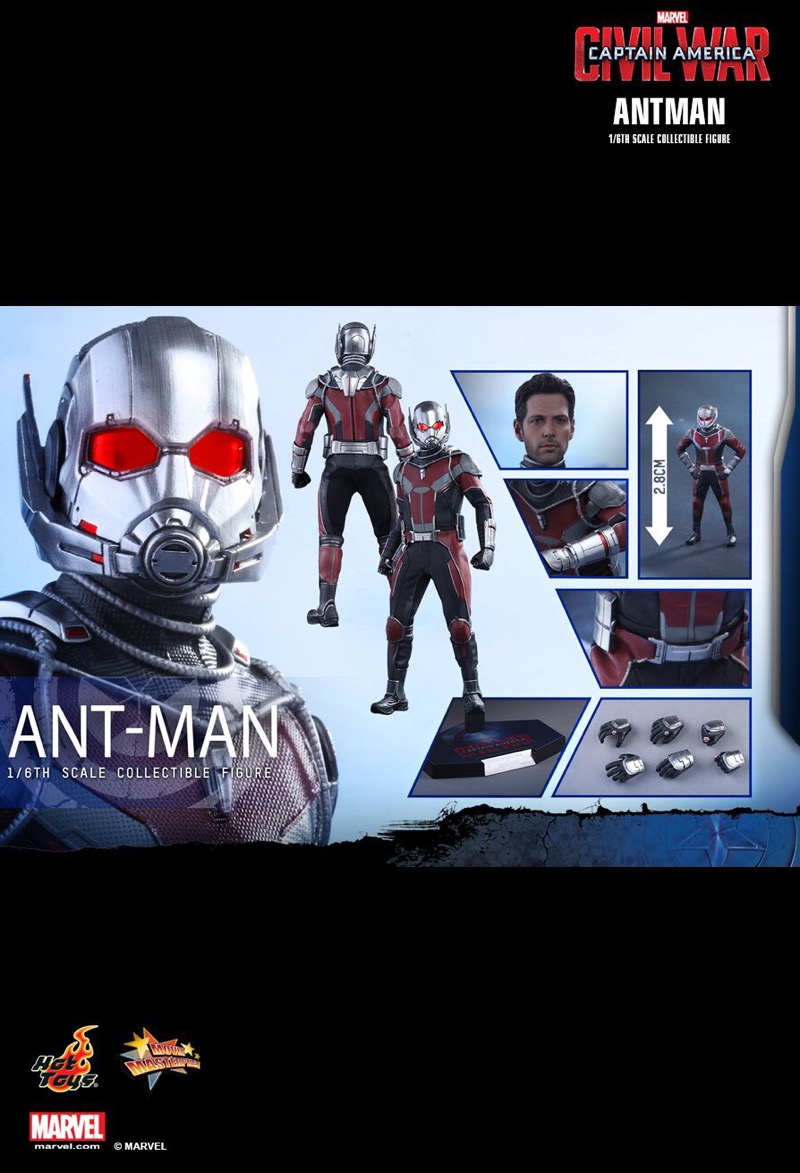 FEATURES
- Newly developed head sculpt with authentic likeness of Paul Rudd as Ant-Man in the movie
- New Interchangeable Ant-Man helmet with LED light-up function (white light, battery operated)
- Approximately 30 cm tall
- Six (6) pieces of interchangeable gloved hands including:
- One (1) pair of relaxed hands
- One (1) pair of fists
- One (1) pair of gesturing hands
- Each piece of head sculpt is specially hand-painted
COSTUME
- One (1) new specially tailored black, red, and grey Ant-Man suit with embossed patterns and silver trims
- One (1) pair of silver colored gauntlet
- One (1) pair of black boots
ACCESSORIES
- One (1) miniature Ant-Man (Approximately 2.8cm tall)
- Captain America: Civil War themed Team Captain America figure stand with character's nameplate and the movie logo
RELEASE DATE
Q3 - Q4 2016
---
17.12.2016, 10:51
Silver Surfer
Moderator


Beiträge: 16,264
Registriert seit: May 2013
RE: Captain America: Civil War - Ant-Man MMS - 1/6 Scale Figure
(Pics by "Beardy_Giant)
---
17.12.2016, 10:51
Silver Surfer
Moderator


Beiträge: 16,264
Registriert seit: May 2013
RE: Captain America: Civil War - Ant-Man MMS - 1/6 Scale Figure
(Pics by "Beardy_Giant")
---
17.12.2016, 10:52
Silver Surfer
Moderator


Beiträge: 16,264
Registriert seit: May 2013
RE: Captain America: Civil War - Ant-Man MMS - 1/6 Scale Figure
(Pics by "Beardy_Giant" & "Jingobell")
---

Benutzer, die gerade dieses Thema anschauen: 1 Gast/Gäste