1/6 Figure - CAPTAIN AMERICA "Battling Vers." (Captain America: Civil War)
17.04.2016, 17:42
(Dieser Beitrag wurde zuletzt bearbeitet: 22.06.2019 08:38 von Silver Surfer.)
Silver Surfer
Moderator


Beiträge: 16,264
Registriert seit: May 2013
1/6 Figure - CAPTAIN AMERICA "Battling Vers." (Captain America: Civil War)
CAPTAIN AMERICA:
CIVIL WAR
CAPTAIN AMERICA
(BATTLING VERSION)
~ 1/6 SCALE MOVIE PROMO EDITION FIGURE ~
Captain America: Civil War, Marvel's biggest blockbuster of 2016, is appearing in theatres around the world very soon! Following the events of Avengers: Age of Ultron, Captain America and the Avengers continue to protect the world, but the team becomes divided into two opposing factions - one led by Captain America and another by Iron Man after collateral damage prompts the government to oversee and hold accountability for the Avengers' actions.
To celebrate the release of this highly anticipated blockbuster, Sideshow and Hot Toys are delighted to present a special Captain America (Battling Version) sixth scale collectible figure as a MOVIE PROMO EDITION item available exclusively in select markets!
The highly-accurate Captain America collectible figure is specially crafted based on the image of Chris Evans as Captain America/Steve Rogers in Captain America: Civil War. In addition to the helmeted and newly painted un-helmeted head sculpt of Steve Rogers, the collectible figure also features a new Captain America suit with battle weathering effects, a metal shield with scratch marks and weathering effects, a broken Crossbones helmet, and a special debris diorama base!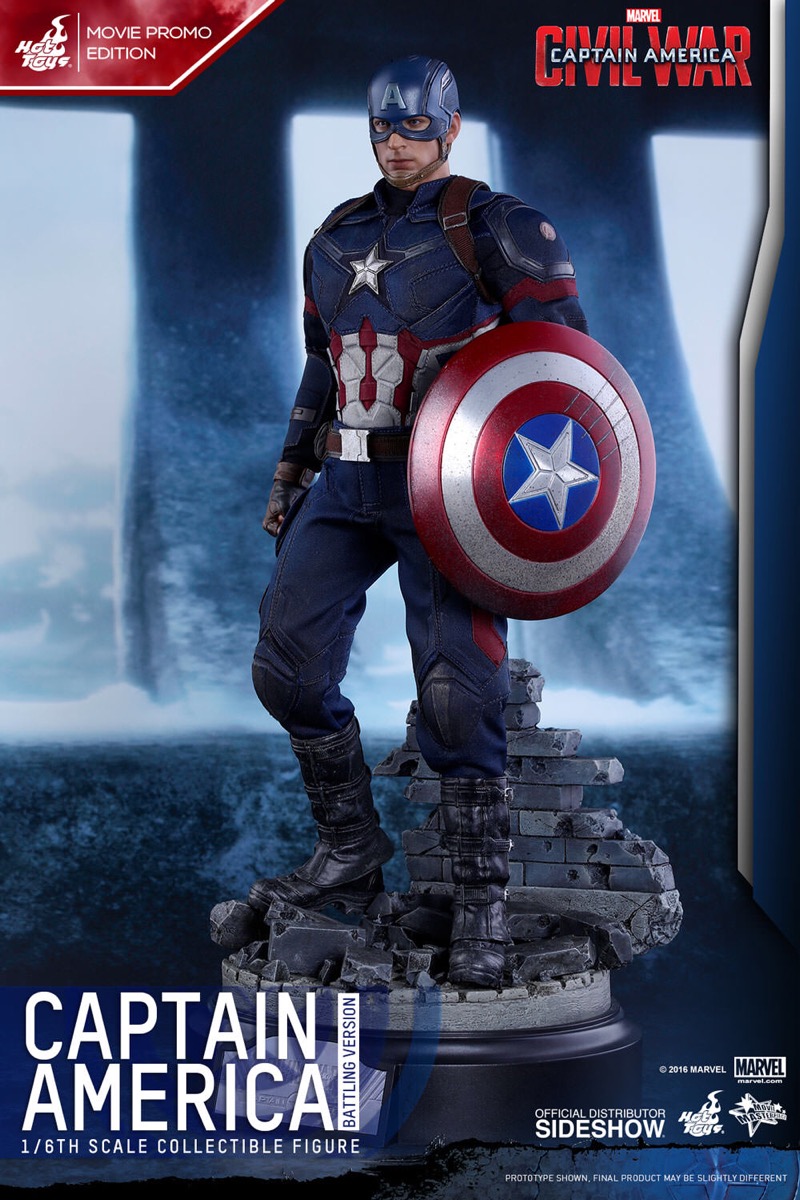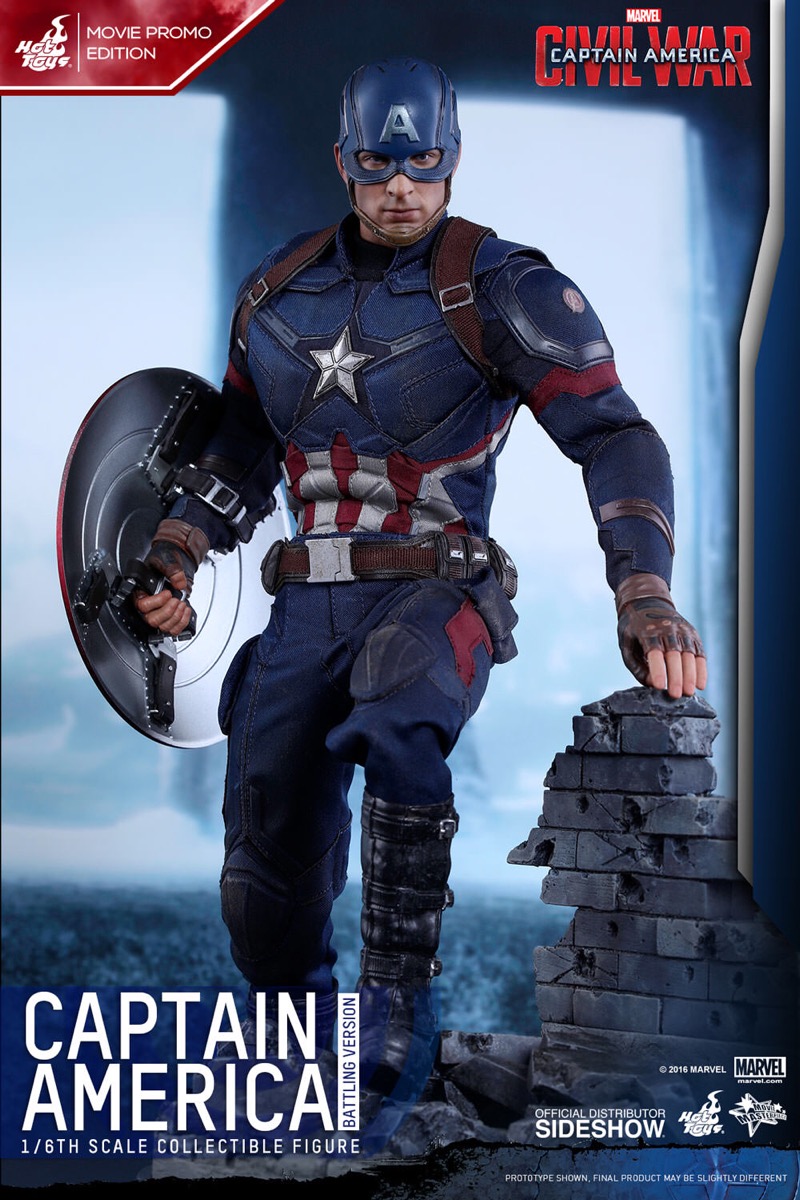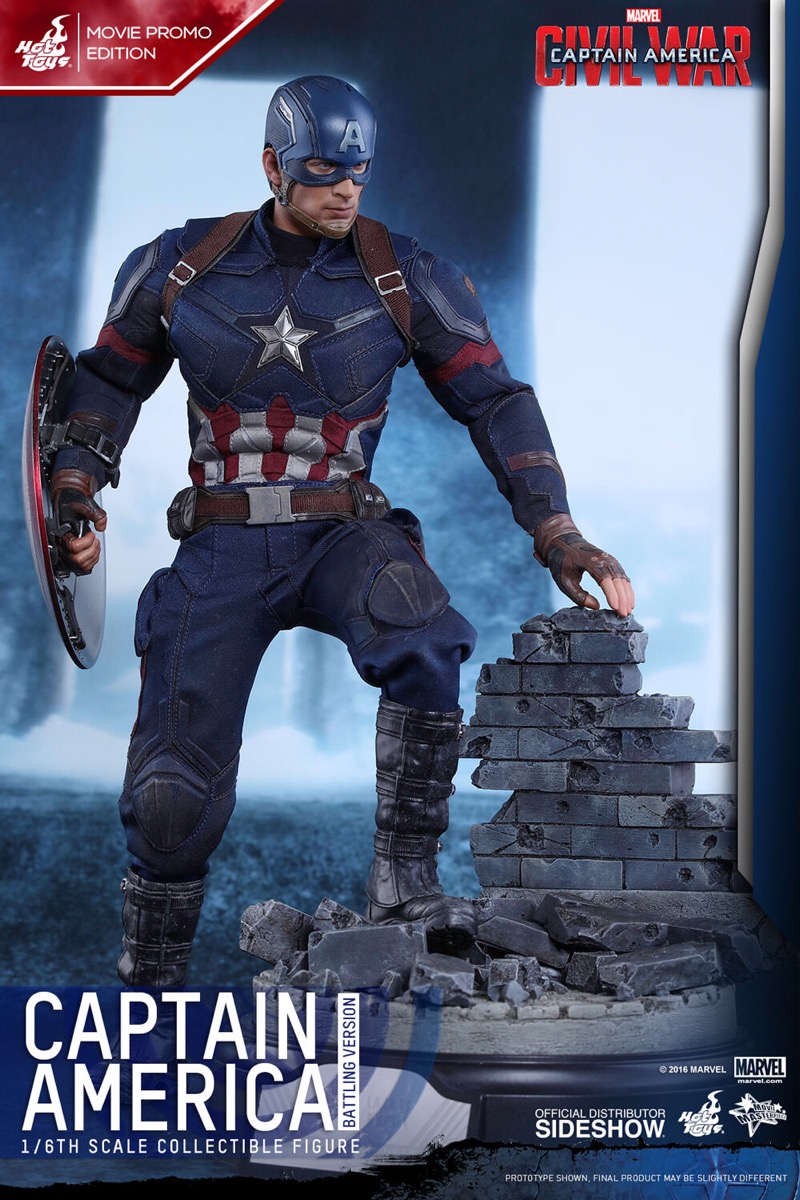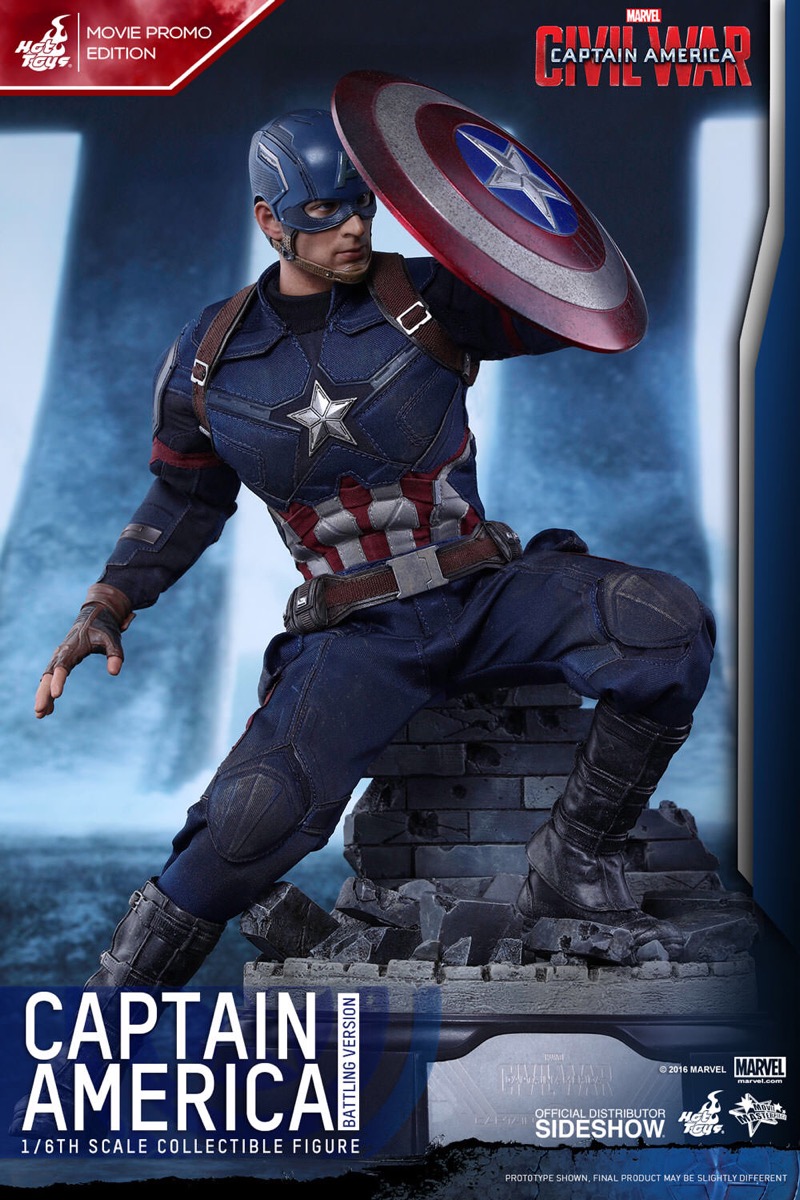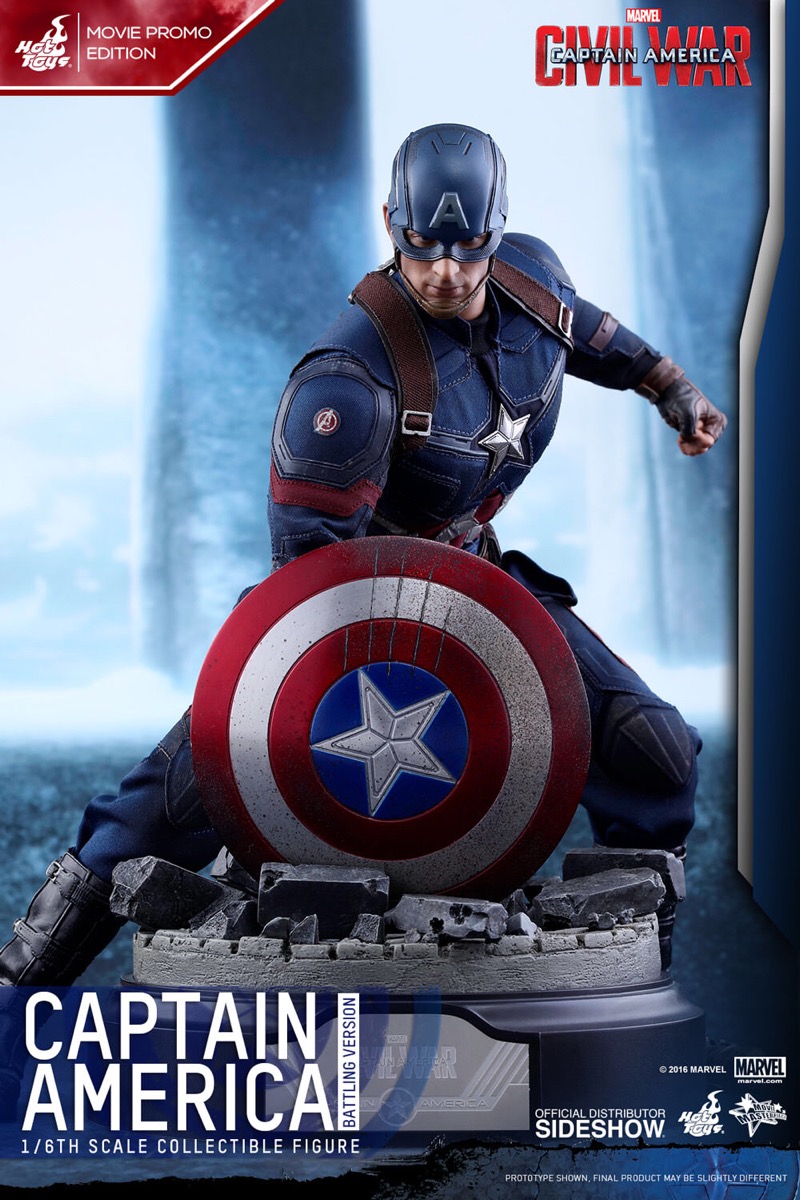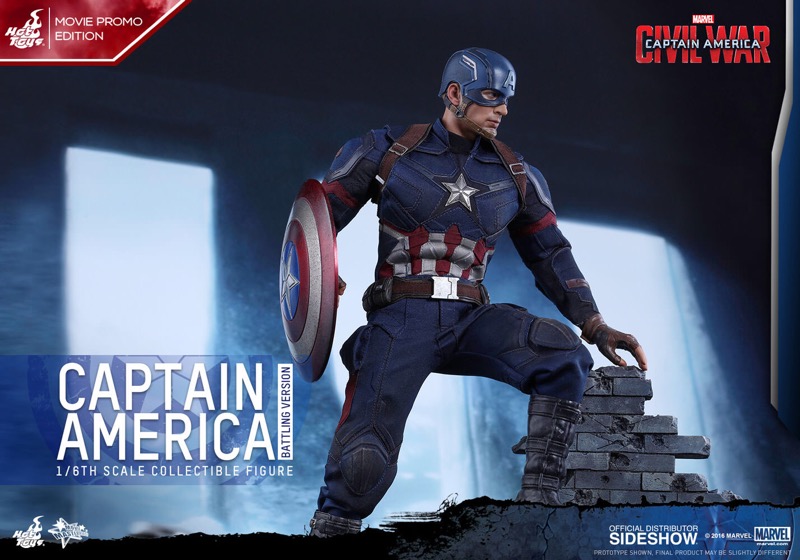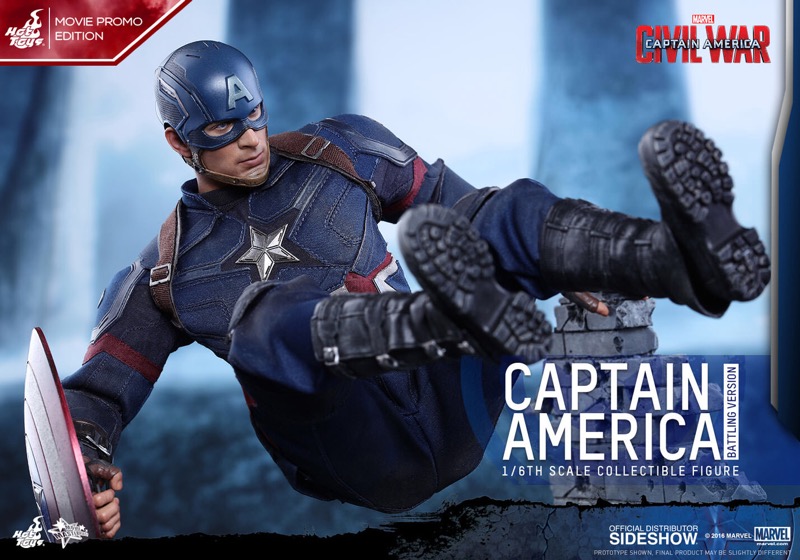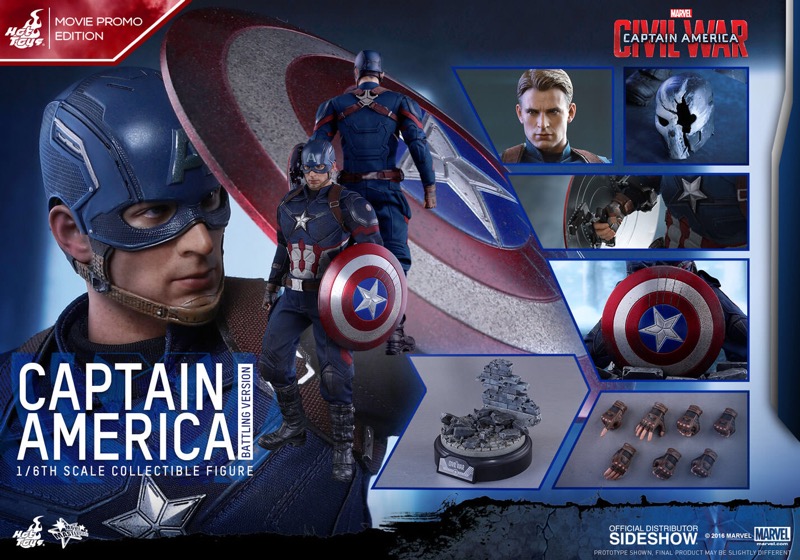 FEATURES
An authentic and detailed likeness of Chris Evans as Captain America in Captain America: Civil War
One (1) Captain America helmeted head sculpt
One (1) newly painted un-helmeted head sculpt
Movie-accurate facial expression with detailed wrinkles and skin texture
Newly developed body with over 30 points of articulation which naturally portray Captain America's muscular body in the film
Specially applied battle weathering effects on costume
Approximately 31 cm tall
Seven (7) pieces of interchangeable gloved palms including:
- One (1) pair of fists
- One (1) pair of shield holding palms
- One (1) shield throwing right palm
- One (1) shield catching left palm
- One (1) finger pointing right palm
Each head sculpt is specially hand-painted
COSTUME
One (1) newly tailored Captain America suit with star emblem and red and white patterns
One (1) pair of newly tailored blue embossed patterned pants with pouches, knee pads, and red trims
One (1) pair of fabric coated elbow pads
One (1) pair of fabric coated knee pads
One (1) brown leather-like back shield holder and body strap
One (1) brown leather-like belt with pouches
One (1) pair of black boots
WEAPON
One (1) metal circular red and blue Captain America shield with scratch marks and weathering effects
ACCESSORIES
One (1) broken Crossbones helmet
Debris diorama base with Captain America nameplate and movie logo
---

Benutzer, die gerade dieses Thema anschauen: 1 Gast/Gäste