1/6 Figure - DEADSHOT (Suicide Squad)
23.07.2016, 10:03
(Dieser Beitrag wurde zuletzt bearbeitet: 01.05.2019 08:40 von Silver Surfer.)
Silver Surfer
Moderator


Beiträge: 16,264
Registriert seit: May 2013
1/6 Figure - DEADSHOT (Suicide Squad)
SUICIDE SQUAD
D

EADSH

O

T
~ 1/6 SCALE COLLECTIBLE FIGURE ~
"So that's it, huh? We're the patsies. We're some kind of suicide squad. Let's go save the world!"
DC Comics' upcoming blockbuster, Suicide Squad, will finally land in theaters around the globe in the coming weeks and see how a secret government agency recruits imprisoned super villains to execute dangerous black ops missions in exchange for clemency and saving the world from an unknown but powerful threat. One of the highlights of the film is the widely popular and talented Will Smith taking on the role of Deadshot and today Hot Toys is pleased to officially present the 1/6th scale collectible figure of "Human Arsenal" Deadshot!
The movie-accurate collectible figure is specially crafted based on Will Smith's image as Deadshot in the film. Highlight of the features are the newly developed head sculpt, interchangeable masked head with aiming device, meticulously tailored armored costume, a selection of weapons including machine gun, pistols, dagger, and forearm-mounted guns, and a specially designed Suicide Squad themed figure stand with character backdrop.
A Special Edition only available in selected countries will specially include Batman's rebreather and handcuffs as bonus accessories.
DC fans, it's time to expand your collection with the amazing 1/6th scale Deadshot collectible figure!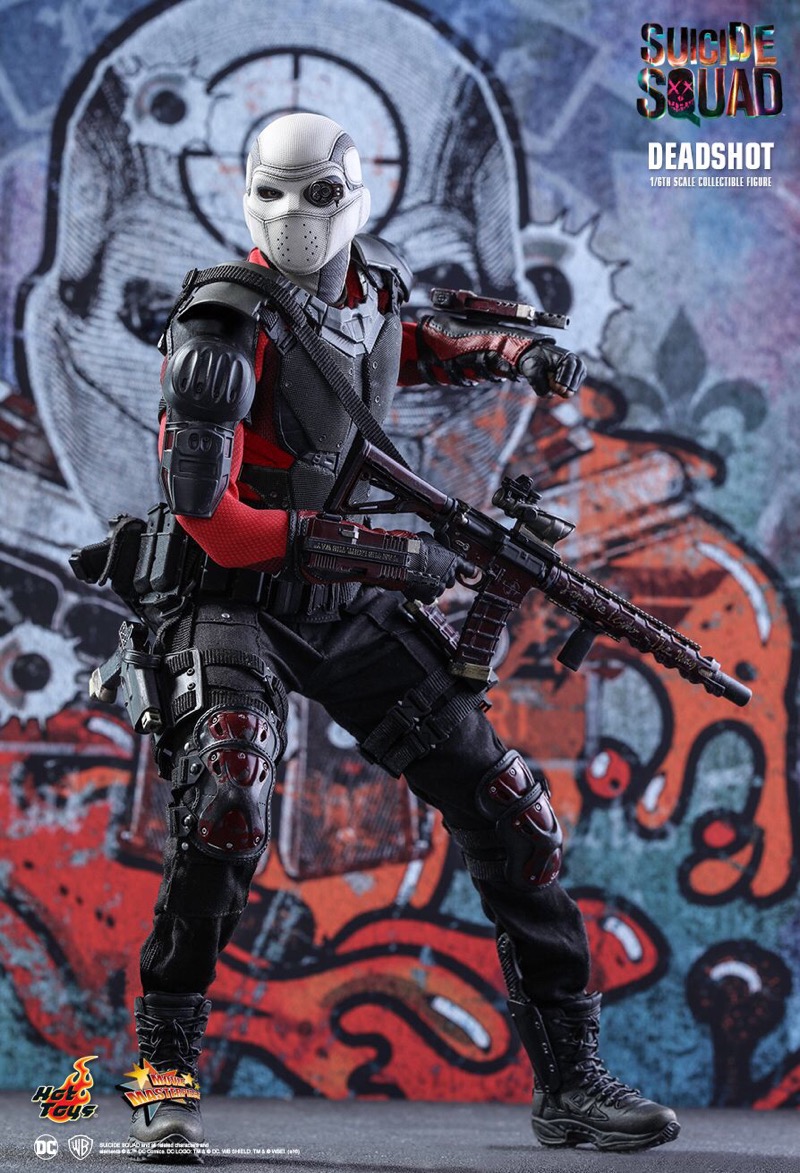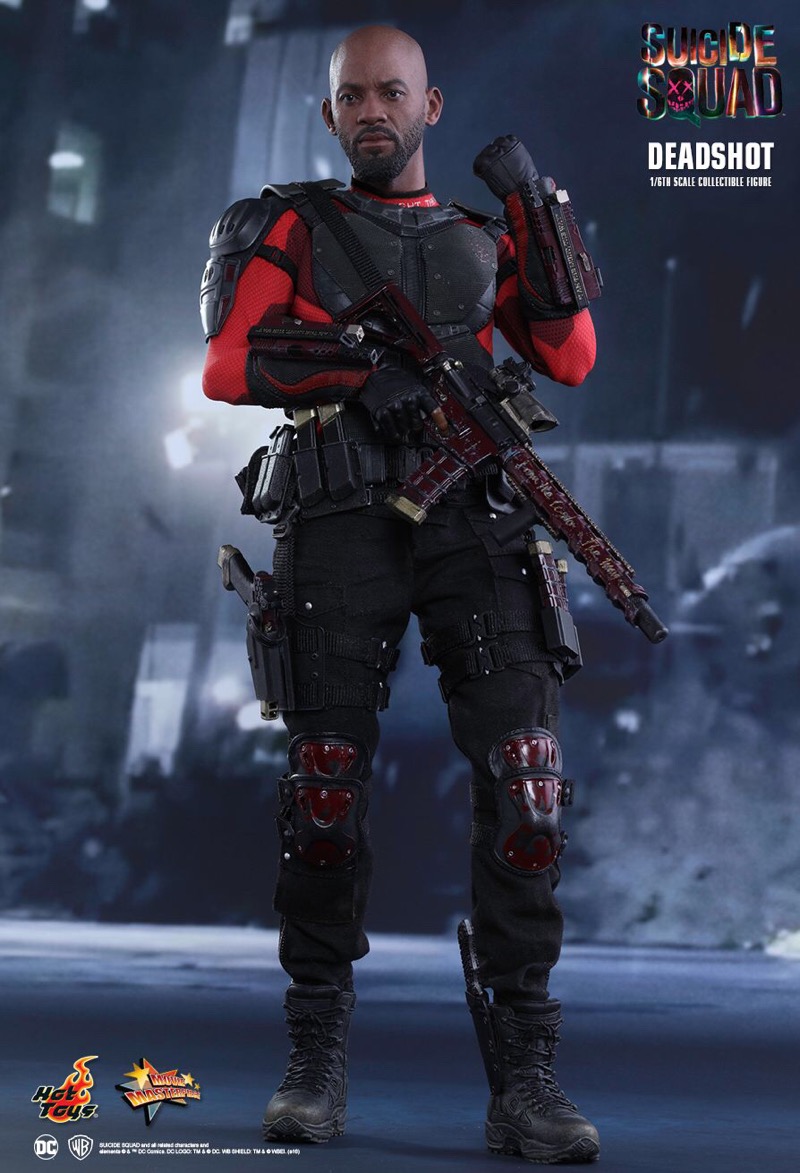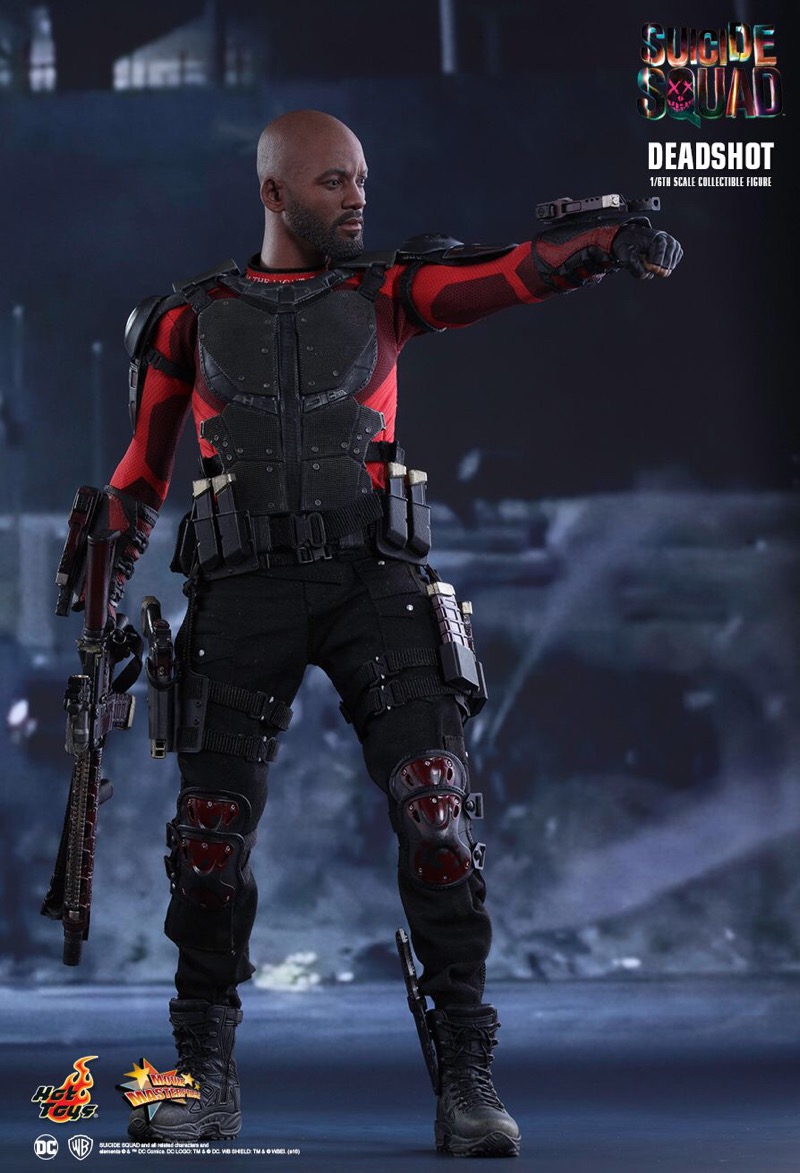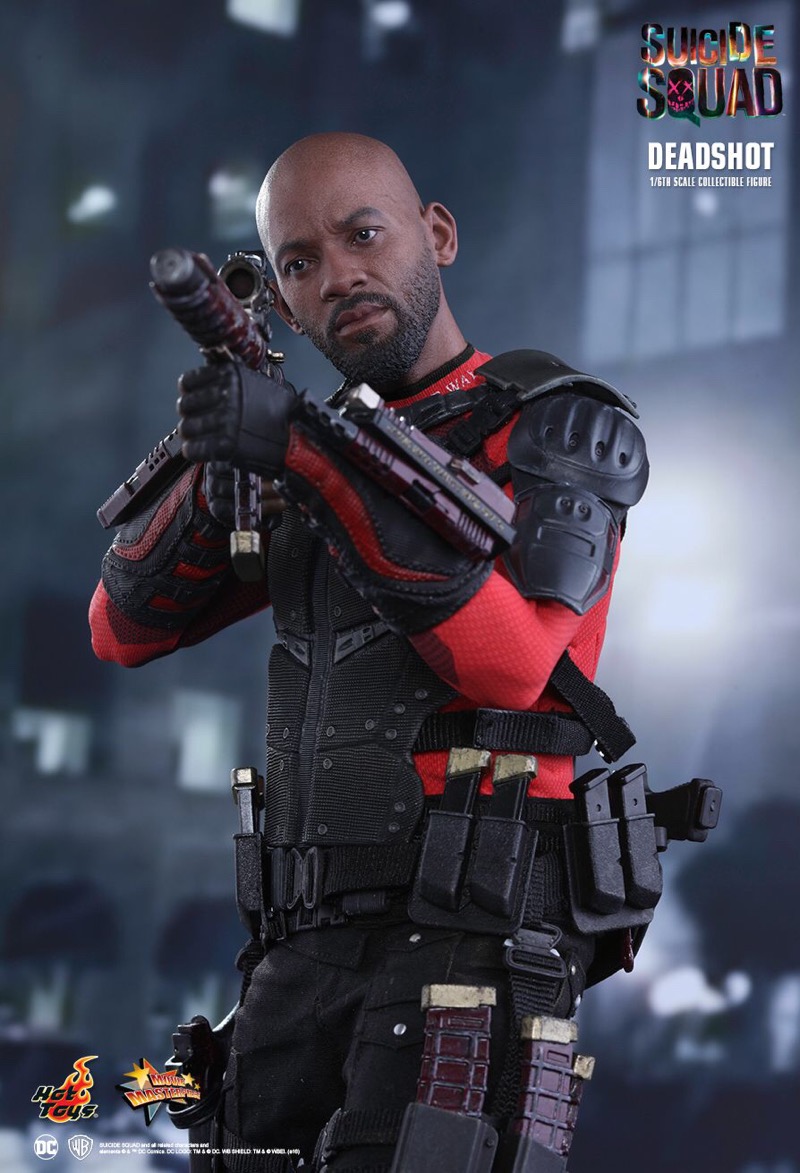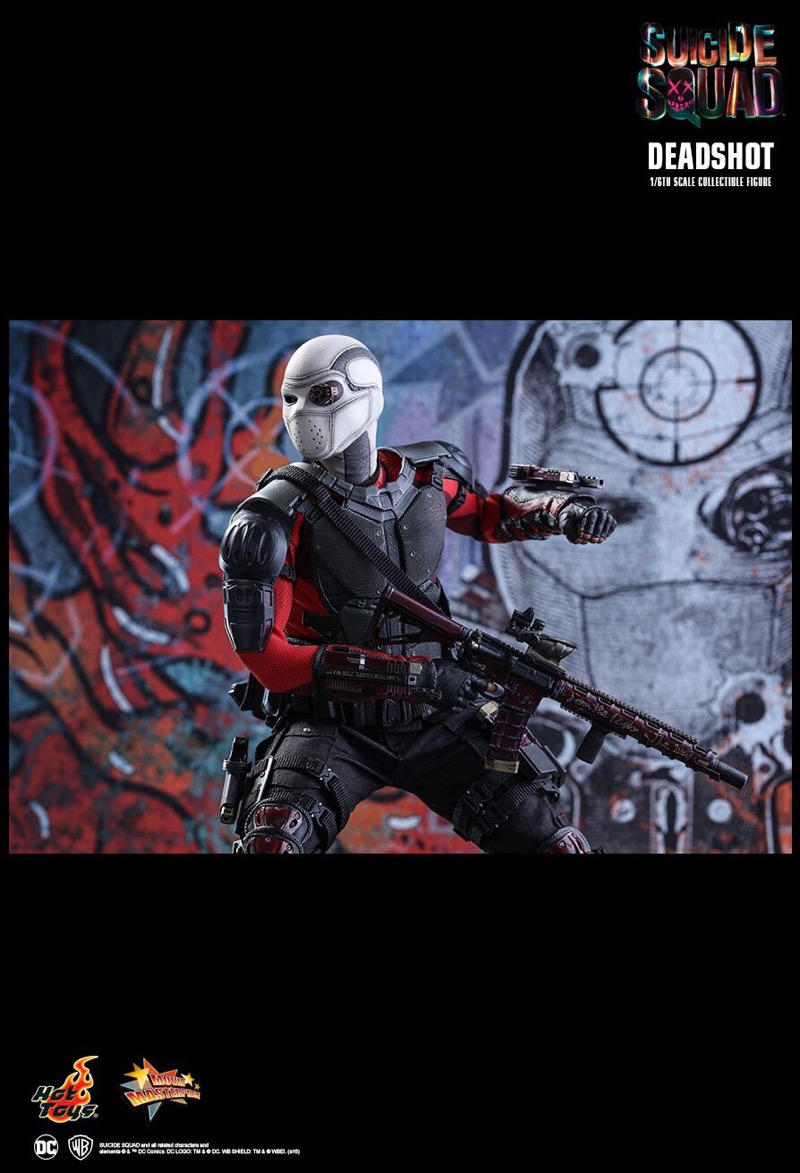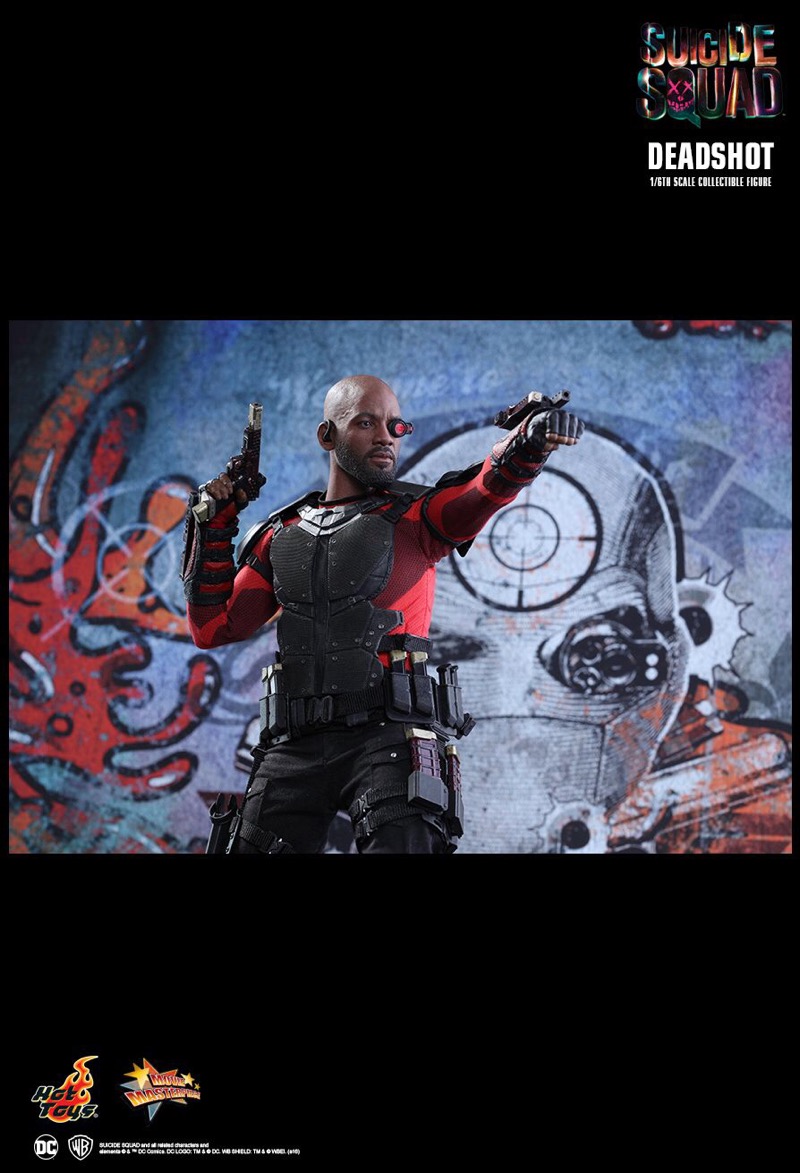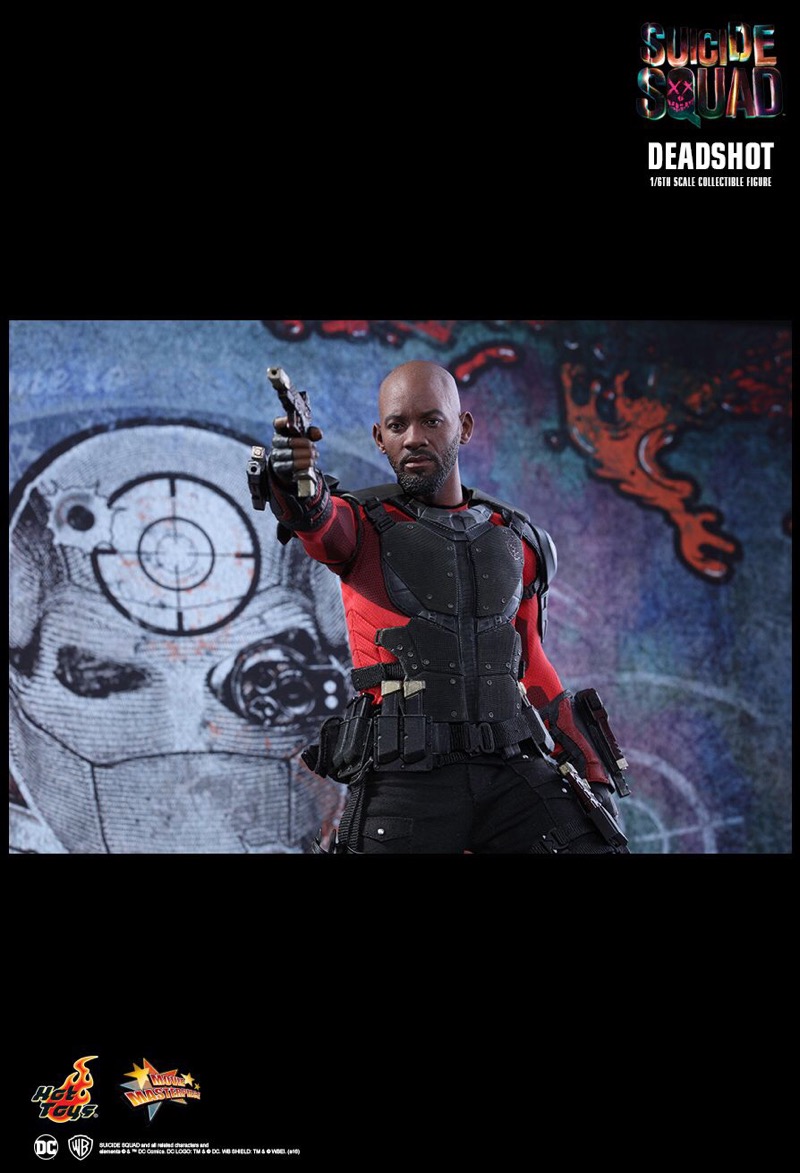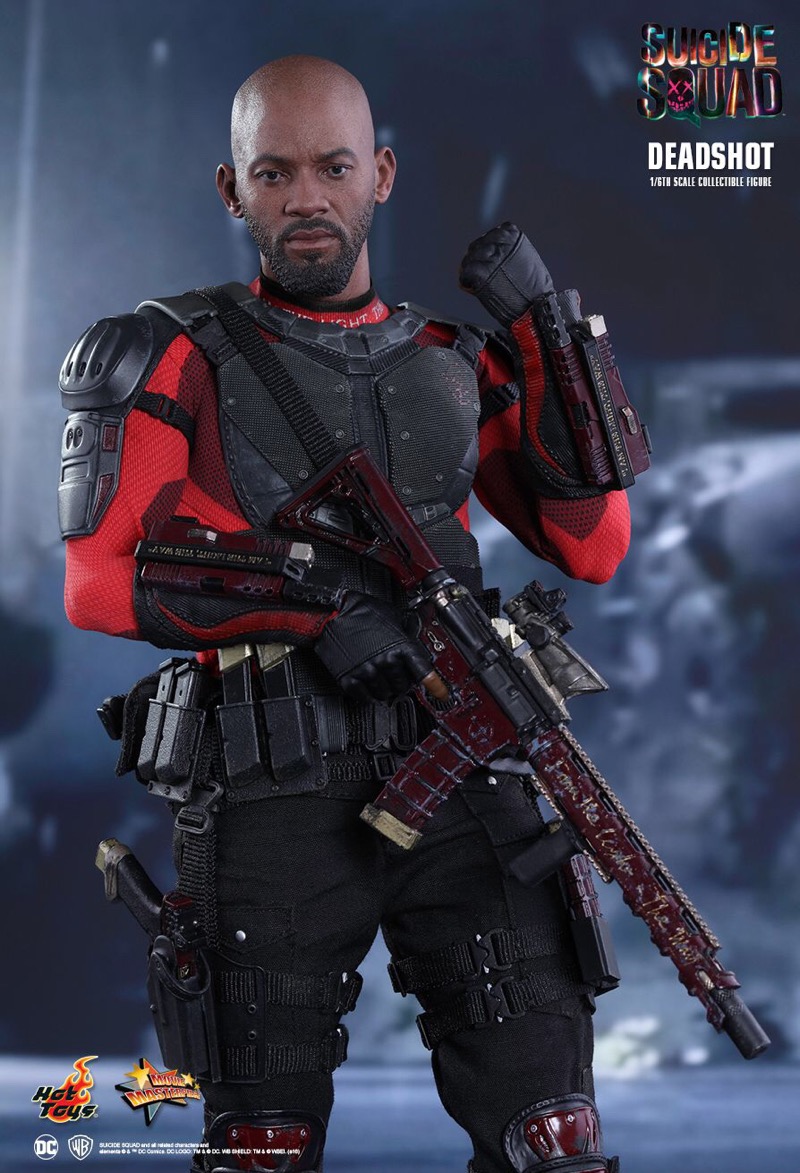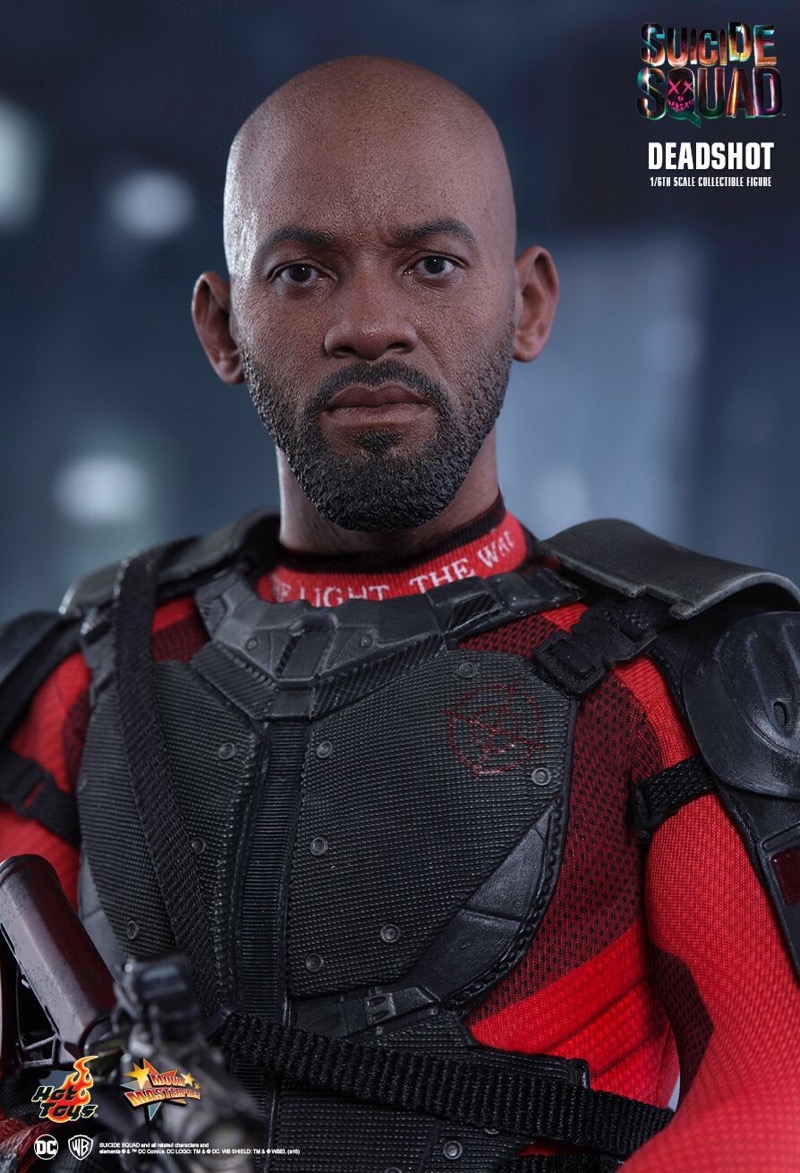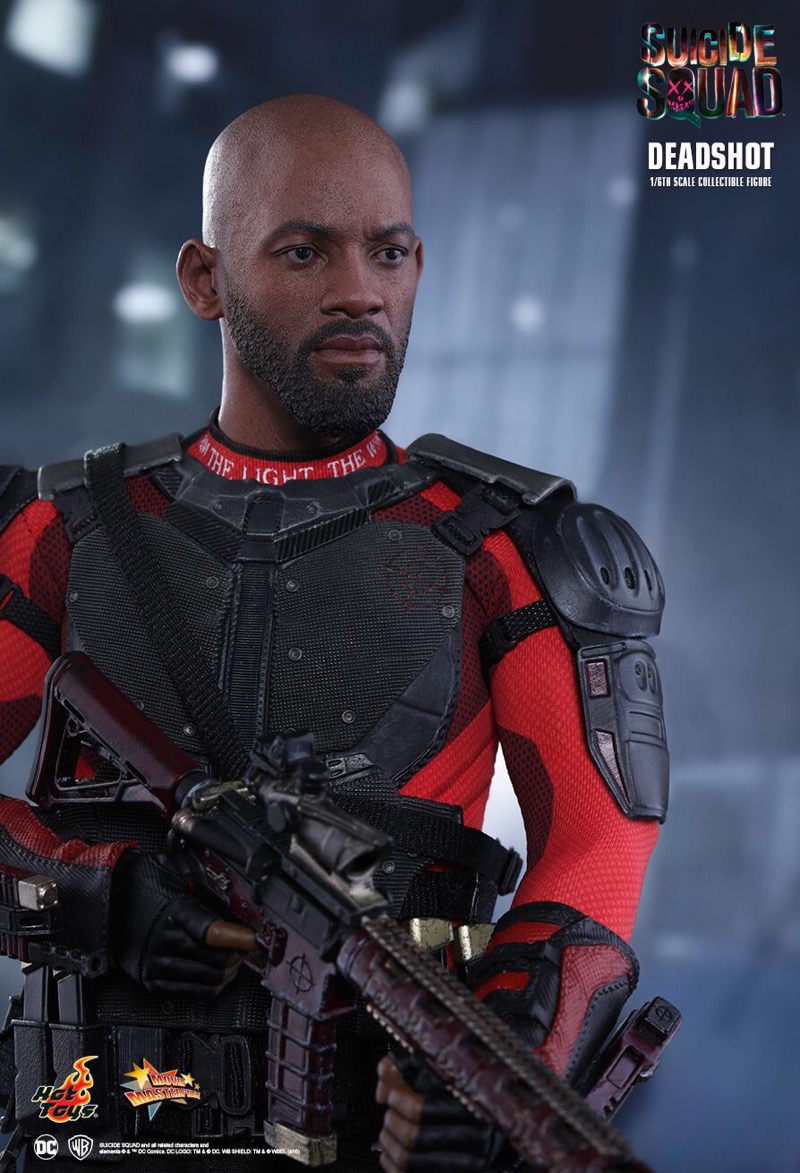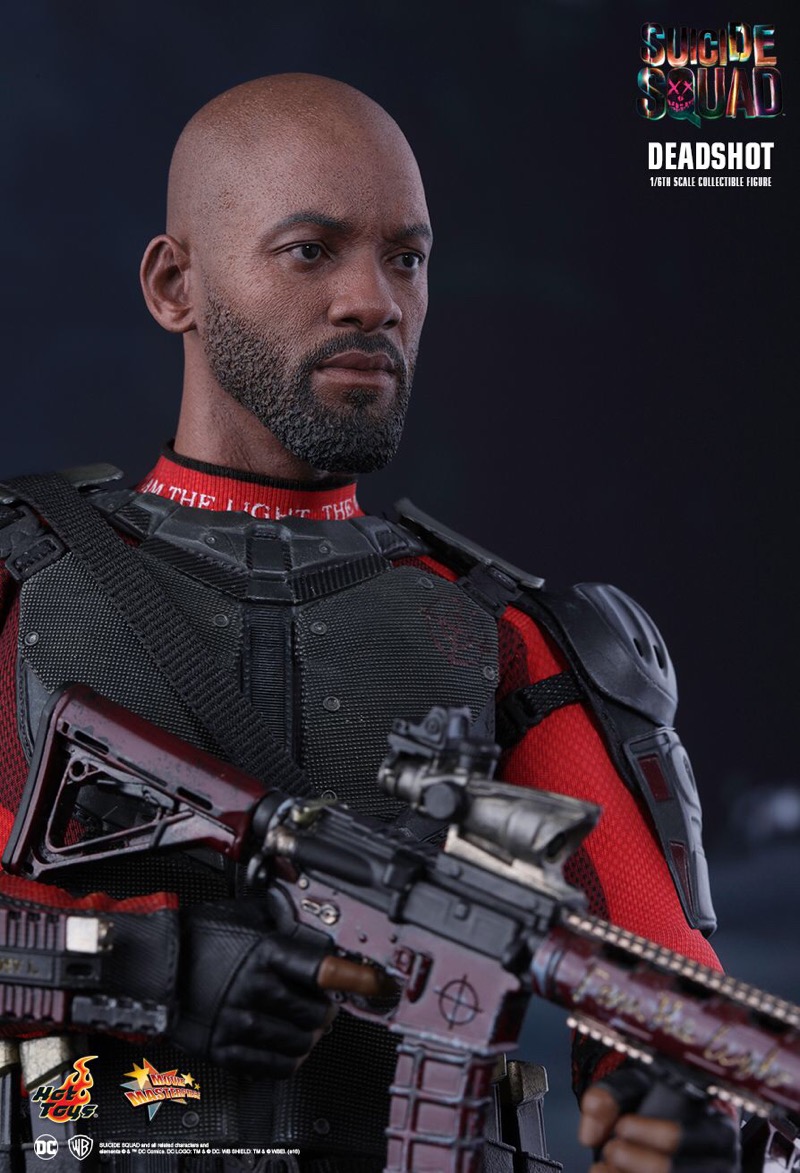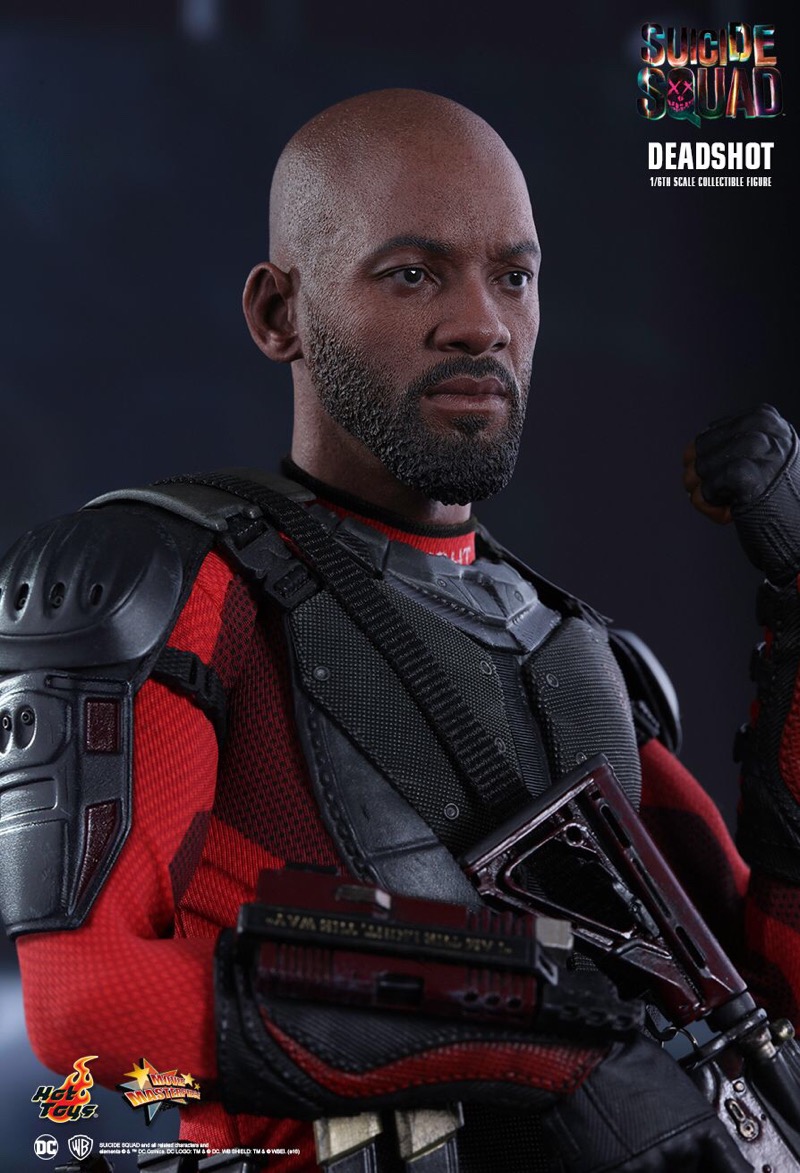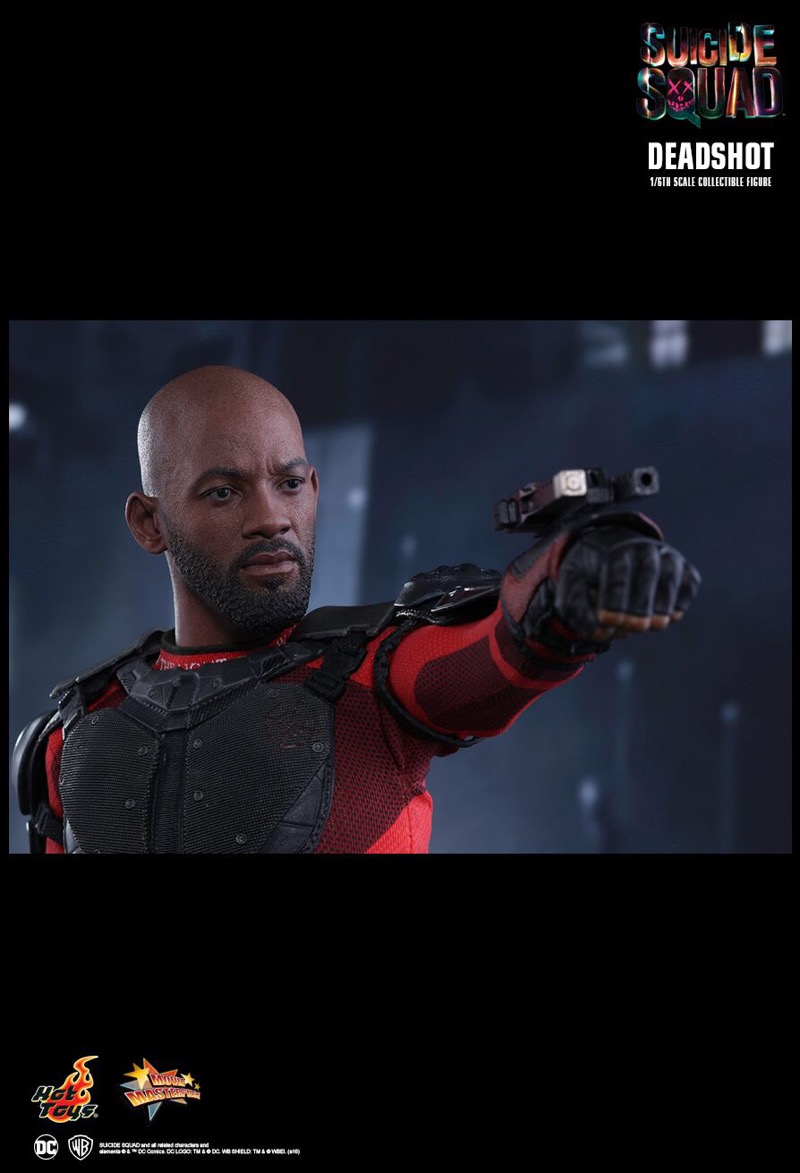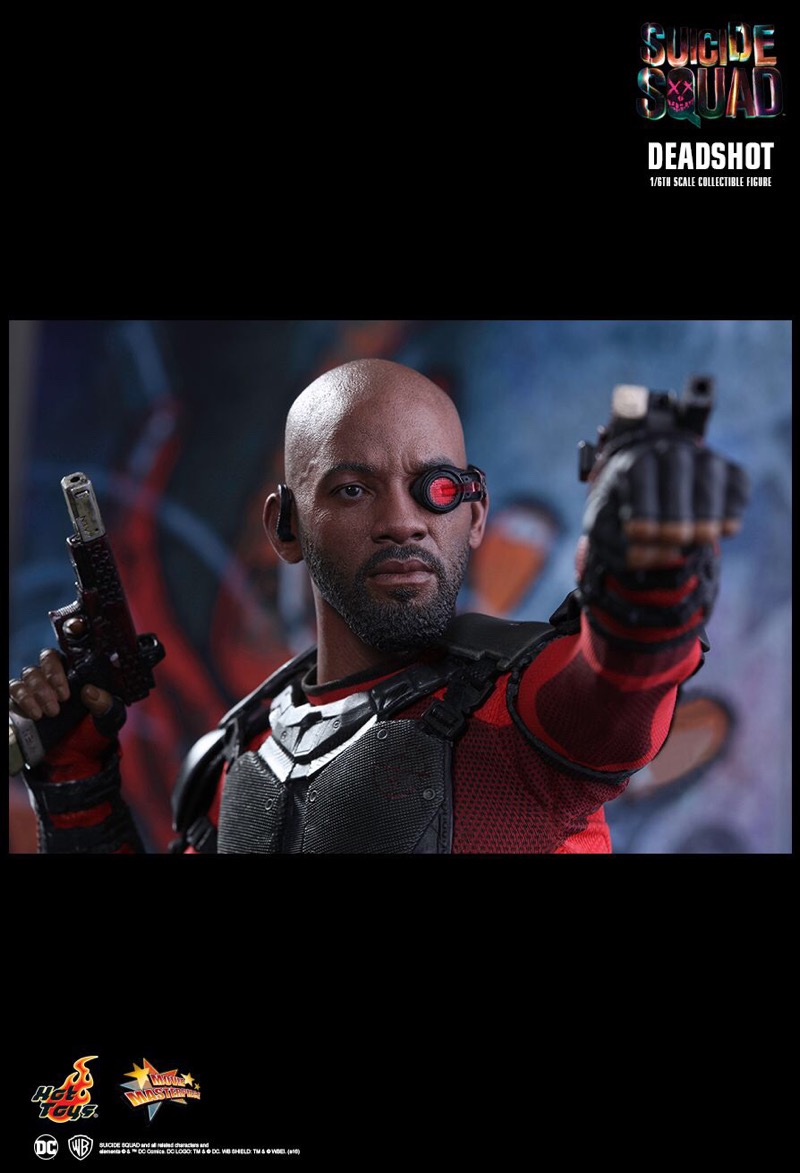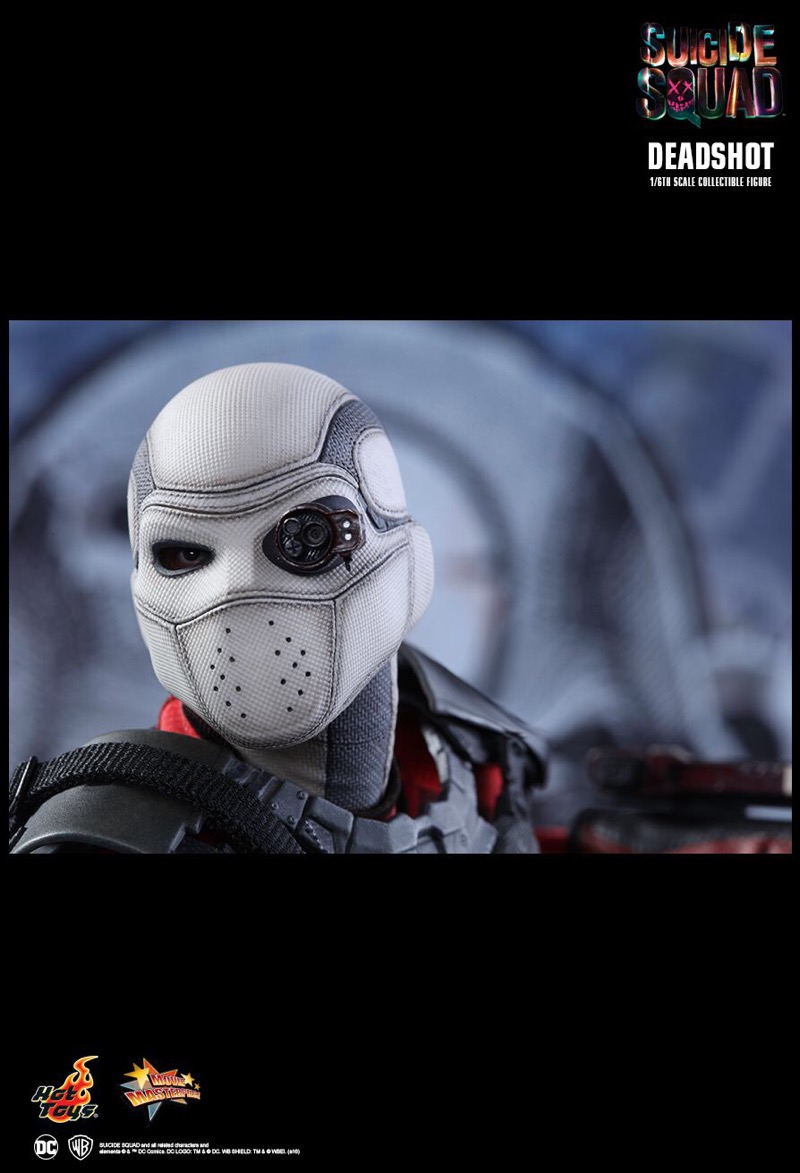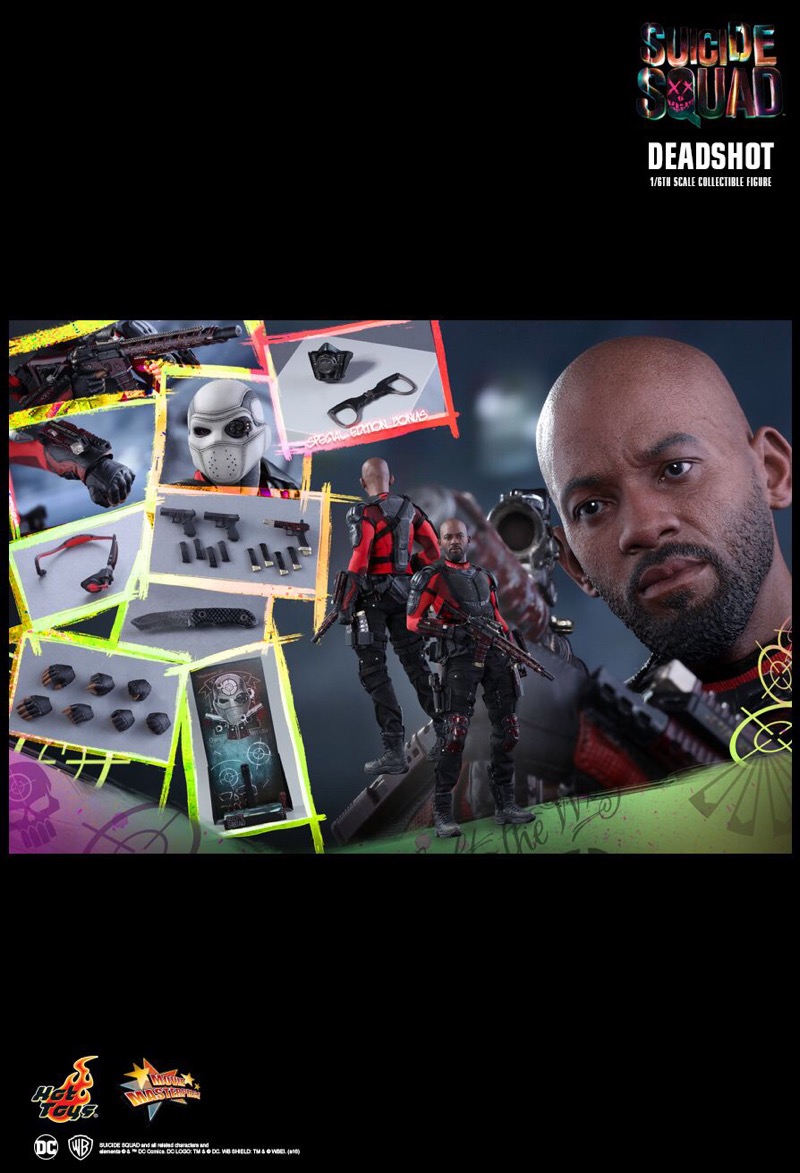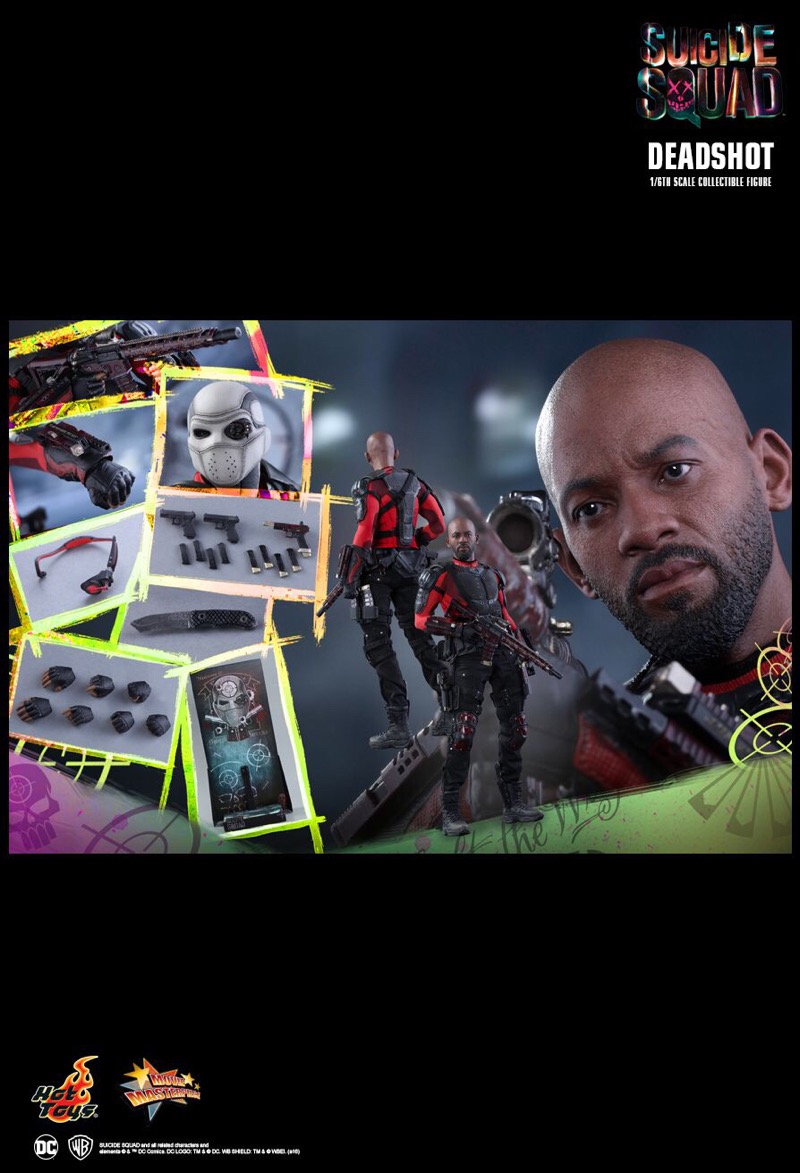 FEATURES
- Newly sculpted head sculpt with authentic and detailed likeness of Will Smith as Deadshot in Suicide Squad
- One (1) interchangeable masked head sculpt with aiming device on left eye
- Movie-accurate facial expression with detailed beard sculpture and skin texture
- Body with over 30 points of articulations
- Approximately 32 cm tall
- Seven (7) pieces of interchangeable hands including:
- One (1) pair of fists
- One (1) pair of relaxed hands
- One (1) pair of gun firing hands
- One (1) gun supporting left hand
- Each piece of head sculpt is specially hand-painted
COSTUME
- One (1) meticulously tailor-made red colored combat shirt with black pants
- One (1) black body armor and one (1) pair of black arm armors
- One (1) pair of black forearm armor with articulated forearm guns
- One (1) pair of burgundy & black color knee armors
- One (1) thigh holster
- One (1) belt with ammo clips, gun holster, carabiner & pouch
- One (1) pair of black boots
- One (1) knife sheath attached to boot
WEAPONS
- One (1) machine gun and three (3) extra magazines
- One (1) dagger
- One (1) high caliber pistol and four (4) extra magazines
- Two (2) pistols and four (4) extra magazines
ACCESSORIES
- One (1) aiming device attachable to head sculpt
- Specially designed Suicide Squad themed figure stand with character nameplate, movie logo, and character backdrop, featuring a weathered STOP road sign
SPECIAL EDITION BONUS ACCESSORIES
(only available in selected markets)
- One (1) Batman's rebreather
- One (1) pair of handcuffs
RELEASE DATE
Q1 – Q2, 2017
---
23.07.2016, 10:05
Silver Surfer
Moderator


Beiträge: 16,264
Registriert seit: May 2013
RE: Suicide Squad - Deadshot MMS - 1/6 Scale Figure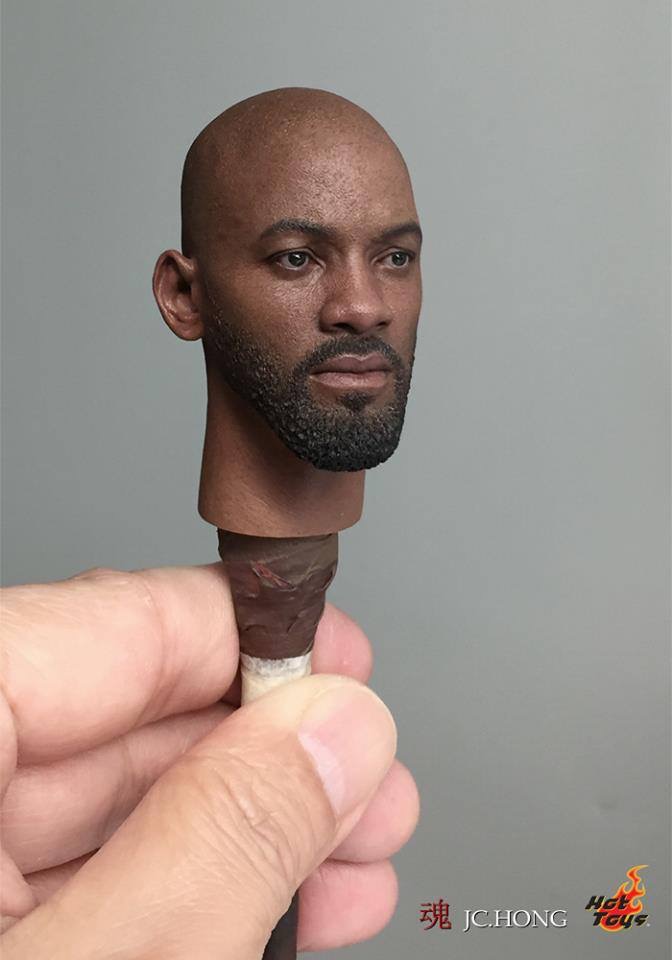 (Pic by JC. Hong)
---
30.07.2016, 12:50
Silver Surfer
Moderator


Beiträge: 16,264
Registriert seit: May 2013
RE: Suicide Squad - Deadshot MMS - 1/6 Scale Figure
Das nächste Mitglied der Suicide Squad steht mit Bildern und Daten im Posting 1 zur Verfügung
---

Benutzer, die gerade dieses Thema anschauen: 1 Gast/Gäste