1/6 Figure - DOCTOR STRANGE (Doctor Strange Movie)
29.07.2016, 18:23
(Dieser Beitrag wurde zuletzt bearbeitet: 13.03.2019 11:30 von Silver Surfer.)
Silver Surfer
Moderator


Beiträge: 16,264
Registriert seit: May 2013
1/6 Figure - DOCTOR STRANGE (Doctor Strange Movie)
DOCTOR STRANGE
~ 1/6 SCALE COLLECTIBLE FIGURE ~
This fall, embark on a mind-blowing adventure across dimensions with Doctor Strange! The Marvel Comics superhero makes his highly anticipated big-screen debut in the upcoming movie of the same title, which is set to expand the Marvel Cinematic Universe in unprecedented ways with the introduction of the Mystic Arts. Acclaimed actor Benedict Cumberbatch stars as Dr. Stephen Strange, a brilliant but arrogant surgeon whose career is destroyed in a near-fatal car crash, but finds a new perspective on life when he meets the Ancient One and discovers the hidden world of magical powers.
In anticipation of the opening of the movie, Hot Toys is proud to present the 1/6th scale collectible figure of this charismatic and powerful superhero!
The movie-accurate collectible figure is specially crafted based on the image of Benedict Cumberbatch as Doctor Strange in the movie, featuring a newly developed head sculpt, sophisticatedly tailored and highly detailed outfit, two styles of costume display options with a magnetically attachable Cloak of Levitation with intricate embroidery, a variety of mystical artifacts including the Eye of Agamotto, and a Doctor Strange-themed figure stand with character backdrop.
Take your Hot Toys collection to a brand new dimension with this Doctor Strange collectible figure now!
FEATURES
- Newly developed head sculpt with authentic and detailed likeness of Benedict Cumberbatch as Doctor Strange in the eponymous movie
- Movie-accurate facial features, wrinkles, and skin texture
- Newly developed body with over 30 points of articulation
- Approximately 31cm tall
- Nine (9) pieces of interchangeable hands including:
One (1) pair of fists
One (1) pair of open hands
One (1) pair of clenching hands
One (1) pair of mystic power-using hands
One (1) finger pointing right hand
- Each piece of head sculpt is specially hand-painted
COSTUME
- One (1) delicately woven red cape (The Cloak of Levitation) adorned with intricate embroidery with special magnetic clip-on design
- One (1) multi-layered blue and navy tunic
- One (1) brown colored cummerbund
- One (1) pair of black and blue colored boots
ACCESSORIES
- One (1) miniature Book of Cagliostro
- Two (2) amulets (The Eye of Agamotto) with an open and closed Eye, respectively
- Two (2) orange colored mandalas of light
- Three (3) green colored mandalas of light in three different sizes
- Specially designed Doctor Strange-themed figure stand with movie logo, golden nameplate and character backdrop
ARTISTS
- Head Sculpted by Viva Lai & Koh hyeong, Seok
- Head Painted by JC. Hong
- Head Art Directed by Kojun
RELEASE DATE
Q2 – Q3, 2017
---
29.07.2016, 18:26
Buzzie
Großadministrator


Beiträge: 12,499
Registriert seit: May 2013
RE: Doctor Strange MMS - 1/6 Scale Figure
Wünsche mir definitiv einen 1/4 Film-Strange von Iron Studios...
---
30.07.2016, 21:27
Silver Surfer
Moderator


Beiträge: 16,264
Registriert seit: May 2013
RE: Doctor Strange MMS - 1/6 Scale Figure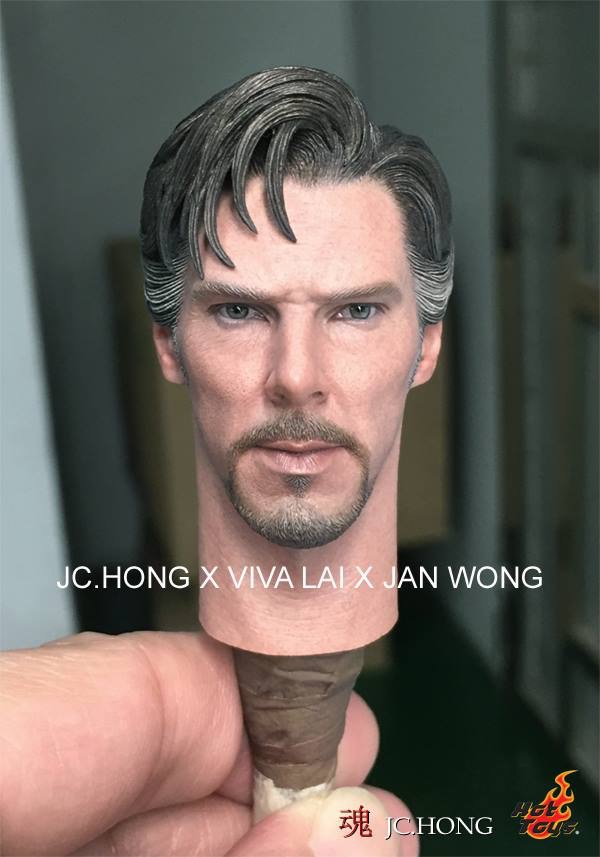 (Pic by JC. Hong)
---
17.09.2016, 21:43
Silver Surfer
Moderator


Beiträge: 16,264
Registriert seit: May 2013
RE: Doctor Strange MMS - 1/6 Scale Figure
Und der Zauberer füllt Post 1 mit Bildern & Daten. Was freu ich mich auf den Film
DOCTOR STRANGE
~ TRAILER 2 ~
---
17.09.2016, 23:38
Silver Surfer
Moderator


Beiträge: 16,264
Registriert seit: May 2013
RE: Doctor Strange MMS - 1/6 Scale Figure
(Pic by "Hot Toys Mad Man")
---

Benutzer, die gerade dieses Thema anschauen: 1 Gast/Gäste