1/6 Figure - IRON MAN VII Sub-Zero Vers.(The Avengers)
01.08.2016, 23:16
(Dieser Beitrag wurde zuletzt bearbeitet: 01.05.2019 08:43 von Silver Surfer.)
Silver Surfer
Moderator


Beiträge: 16,264
Registriert seit: May 2013
1/6 Figure - IRON MAN VII Sub-Zero Vers.(The Avengers)
THE

A

VENGERS
IRON MAN
MARK VII SUB-ZERO VERSION
~ 1/6TH SCALE COLLECTIBLE FIGURE ~
The Iron Man Mark VII has been a favorite armor among Iron Man fans as many collectors have sought after the original 1/6th scale Mark VII and Hot Toys' originally designed Mark VII (Stealth Mode Version) collectible figures since their debut. Today Hot Toys is excited to introduce yet another original take on this iconic armor by presenting the new 1/6th scale Mark VII (Sub-Zero Version) Collectible Figure!
The Sub-Zero version Mark VII's design is inspired by the concept of Tony Stark creating a specialized armor for carrying out missions in the frigid zones with its color scheme acting as camouflage to conceal itself in areas filled with heavy snow.
The Mark VII (Sub-Zero Version) Collectible Figure is only available exclusively in selected markets and features multiple layers and various shades of white and light grey colors on armor with white carbon-fiber like designs, Stark Industries decals at various parts of the armor, LED light-up functions, interchangeable armor parts, and a specially designed white colored dynamic figure stand.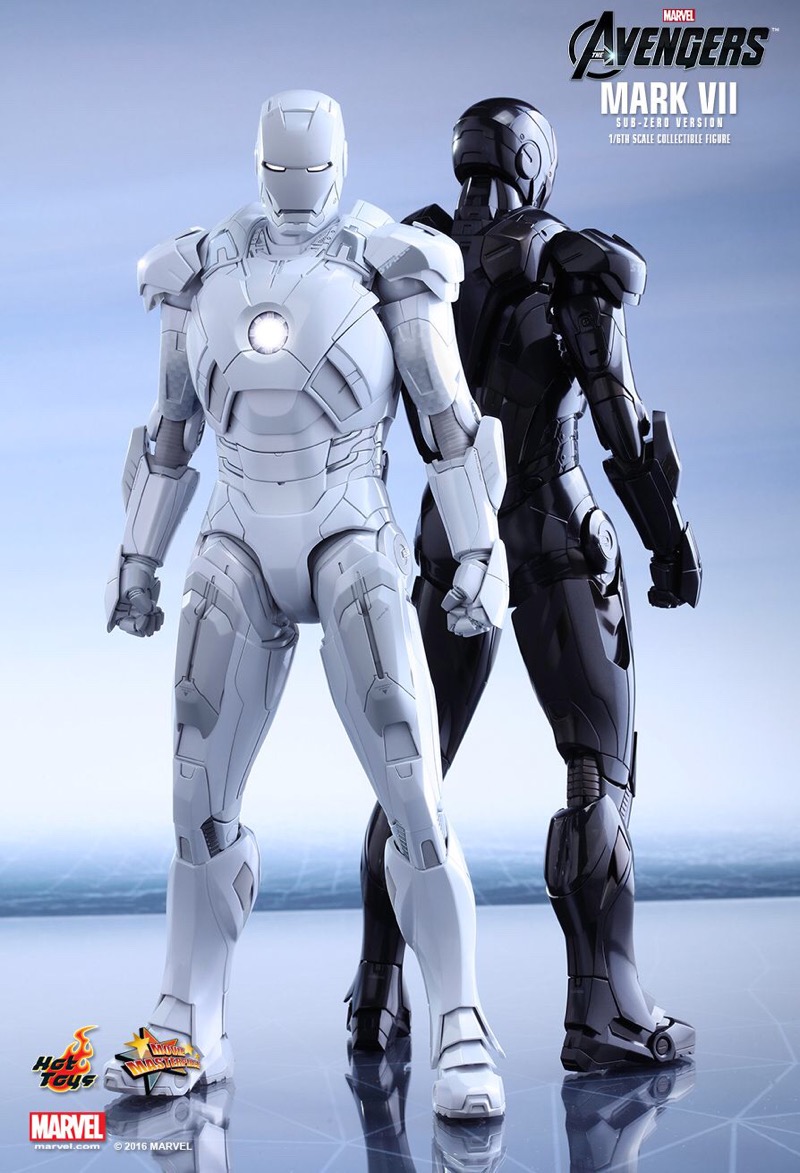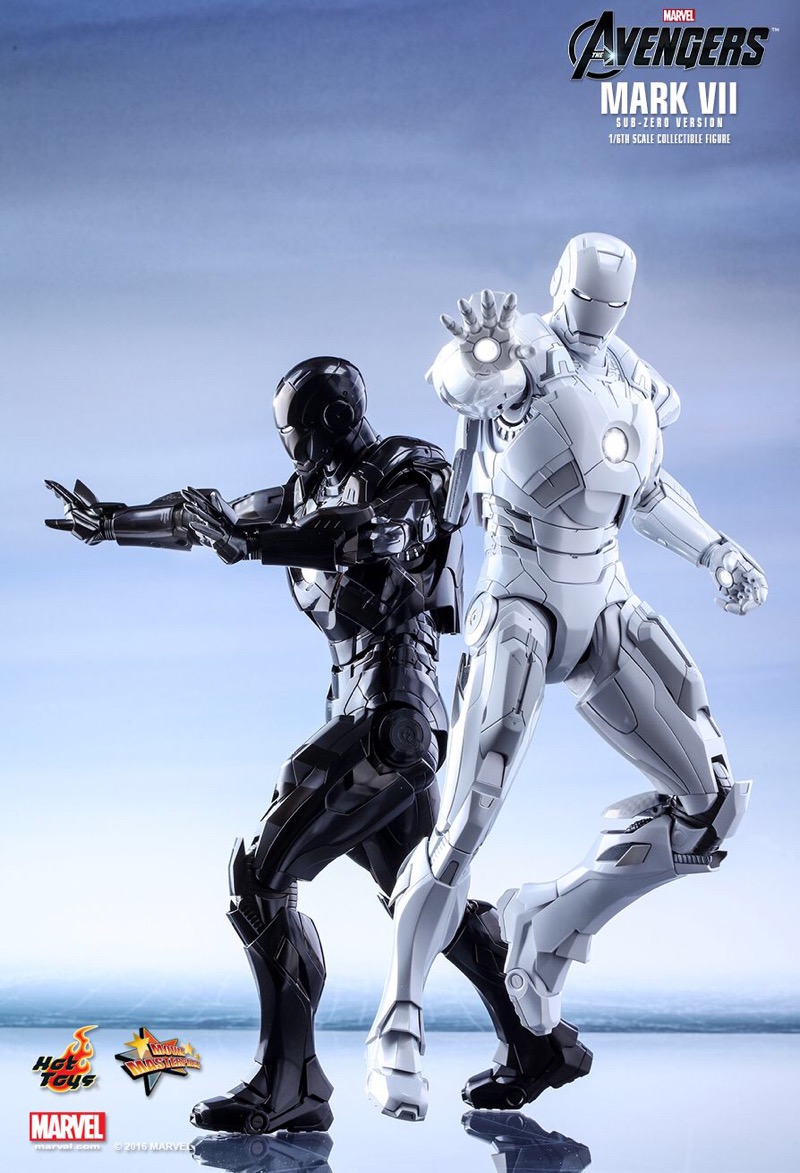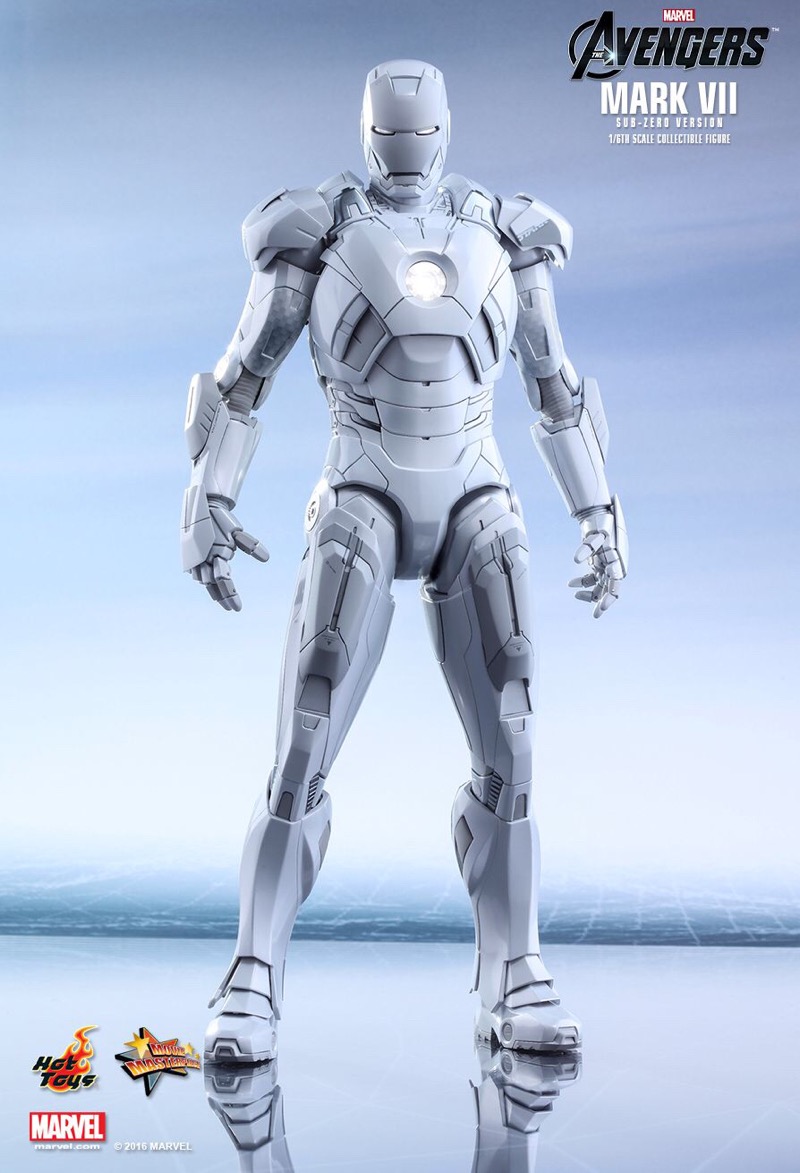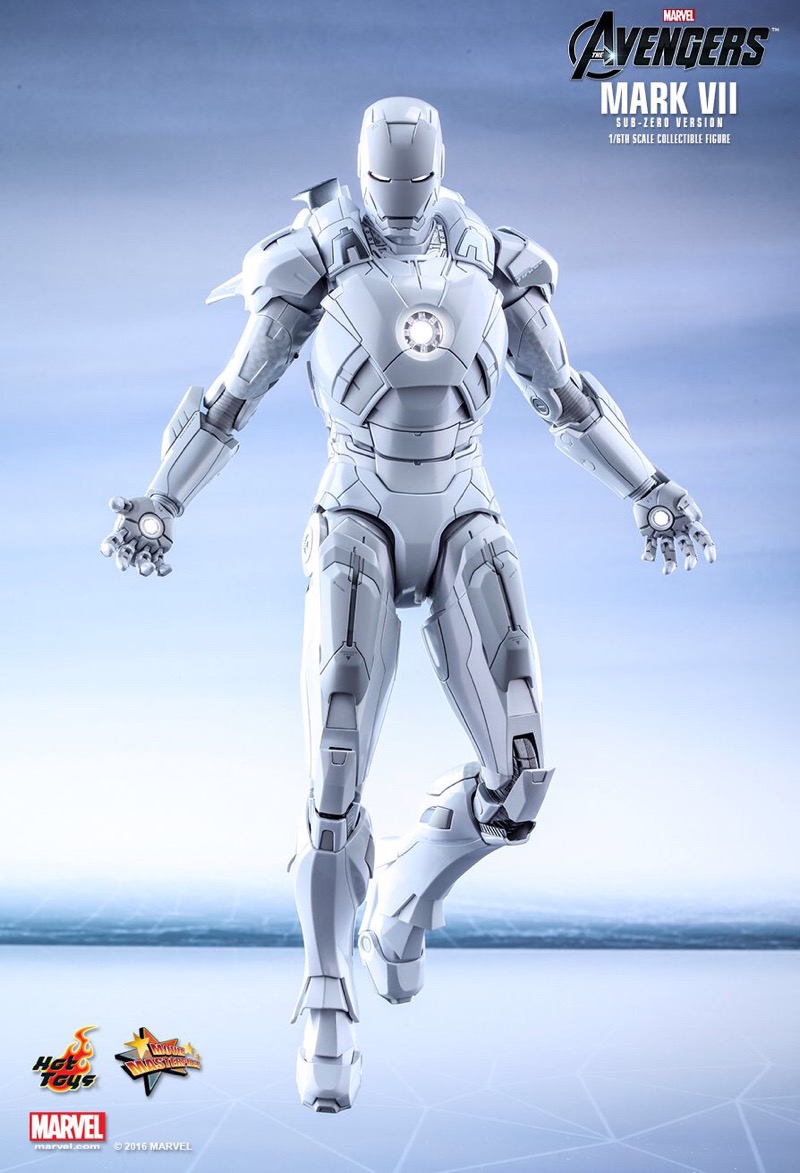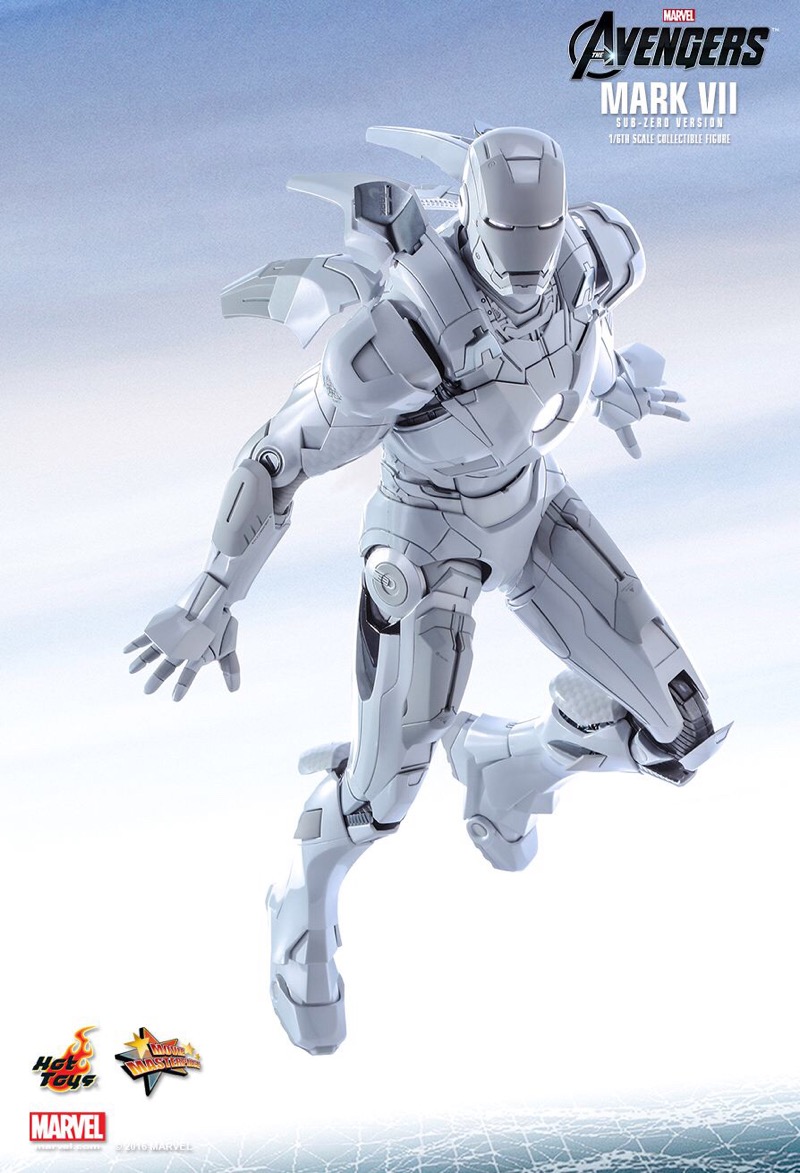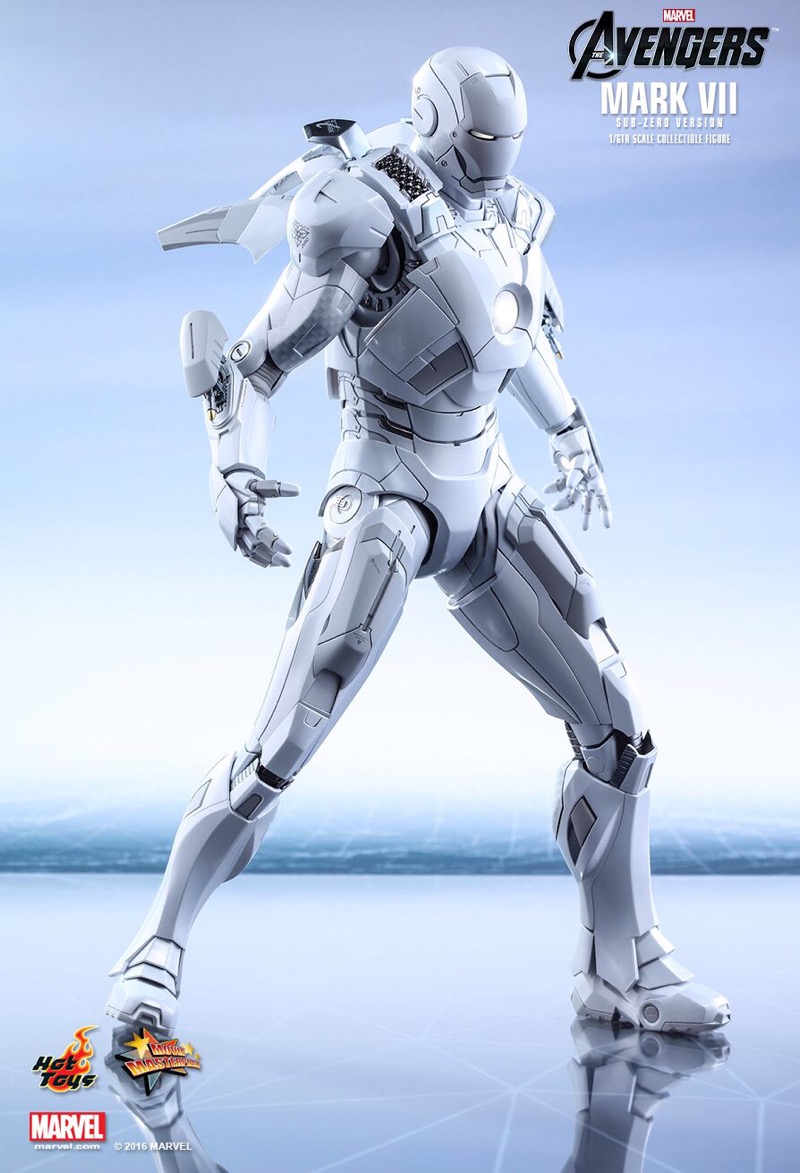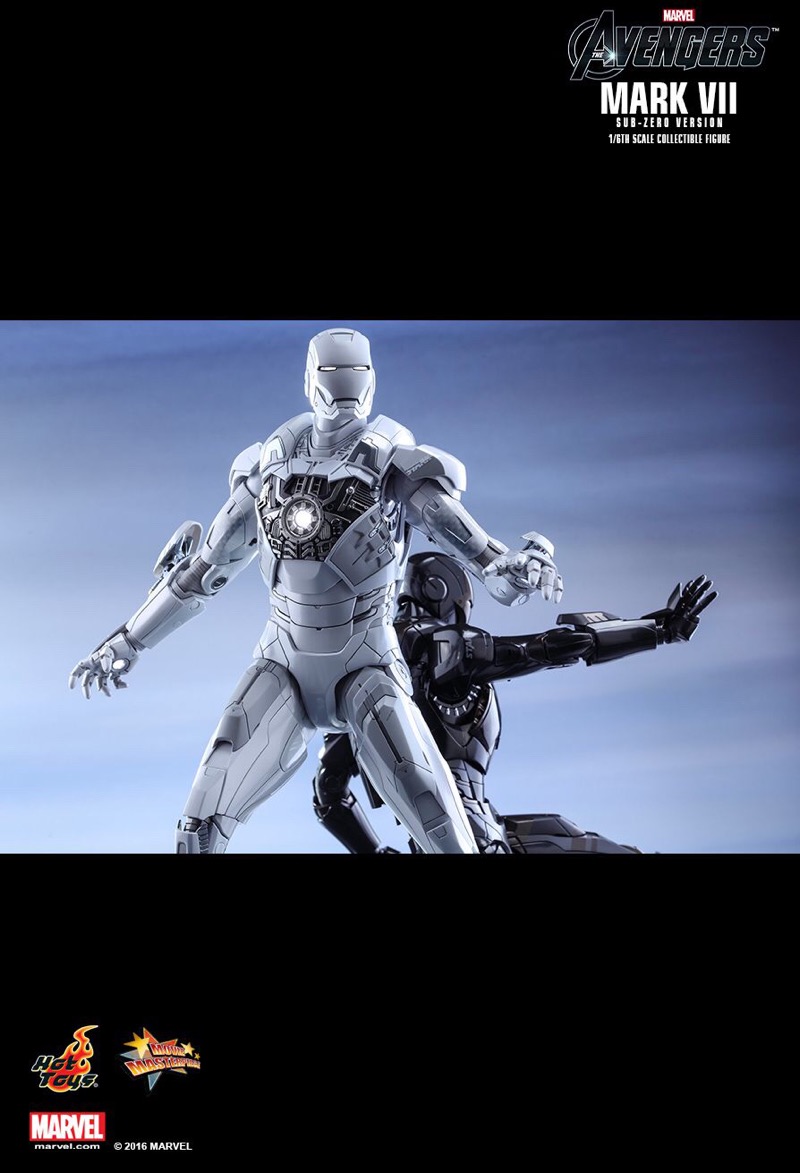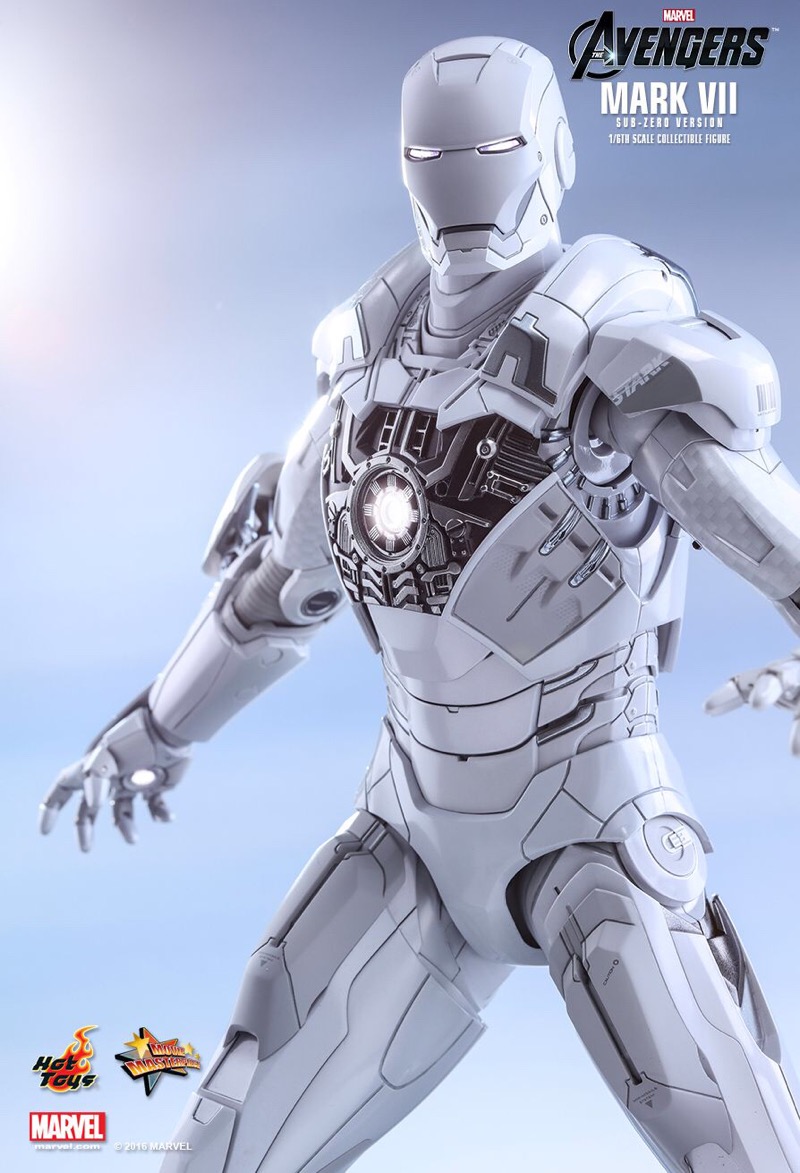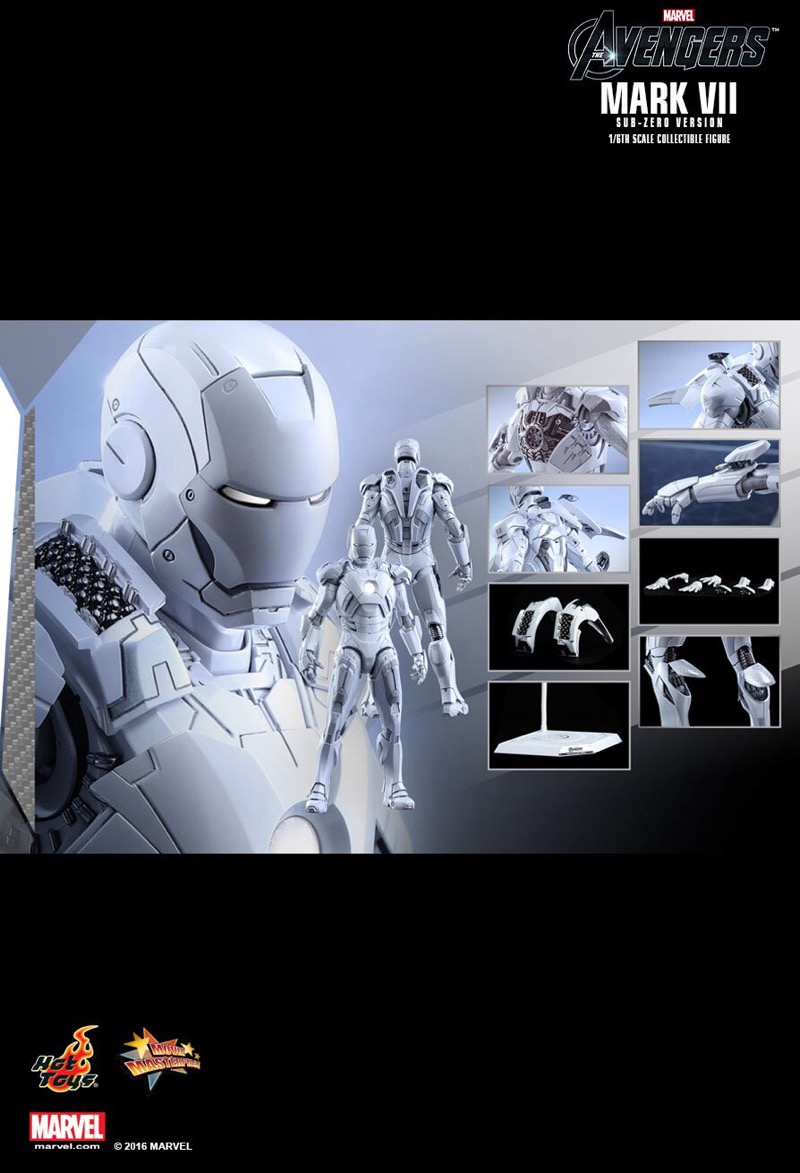 FEATURES
- Authentic and detailed likeness of Mark VII in The Avengers
- Specially applied multiple layers and shades of metallic and pearl white and light grey-colored painting with white colored carbon-fiber like design on armor
- Approximately 30 cm tall
- Over 30 points of articulations
- LED-lighted eyes and circle-shaped Arc Reactor on chest (white light, battery operated)
- Stark Industries and Project Sub_Zero decals on various parts of the armor
- One (1) matte grey mask
- One (1) pair of interchangeable forearm rockets
- One (1) pair of interchangeable wrist guards for posing with repulsor firing hands
- Three (3) pairs of interchangeable hands including:
- One (1) pair with movable fingers and light-up repulsors (white light, battery operated)
- One (1) pair of fists
- One (1) pair of repulsor firing hands with light-up function (white light, battery operated)
- Two (2) sets of interchangeable shoulder armors (normal & missile styles)
- Articulations on waist armor which allow flexible movement
- Fully deployable air flaps on the back of the armor
ACCESSORIES
- Specially designed dynamic figure stand with Mark VII nameplate and movie logo
RELEASE DATE
Q3 – Q4, 2016
---

Benutzer, die gerade dieses Thema anschauen: 1 Gast/Gäste