[DARKSIDE] AERIAL HUNTER KILLER TERMINATOR 2 JUDGEMENT DAY 30TH ANNIVERSARY MAQUETTE 
05.07.2022, 22:18
pielandreas
Supporter


Beiträge: 2,792
Registriert seit: May 2013
[DARKSIDE] AERIAL HUNTER KILLER TERMINATOR 2 JUDGEMENT DAY 30TH ANNIVERSARY MAQUETTE 
Darkside Collectibles Studio proudly presents The Terminator 2 30TH Anniversary Aerial Hunter Killer Maquette.

As a final installment to the 30th Anniversary celebration series comes the Aerial Hunter Killer Maquette.

With an astonishing 60 cm (23.62 inches) Length, 47 cm (18.51 inches) Width and 42 cm (16.54 inches) Height the maquette is masterfully hand crafted and individually hand-painted to the highest quality standards.

Fully sculpted to the finest detail this masterpiece features authentic light up functions, rotatable plasma canon, rotatable landing gear and rotatable turbine engines.

The Aerial HK fights atop a themed base that features stunningly detailed endoskeletons marching within the destroyed playground environment. Sculpted to the finest detail the highly detailed environment completes a screen accurate iconic representation of the future war as seen in the prologue of the movie.

Aerial Hunter Killer Maquette is the final Statue of the line of Terminator 2 Judgment Day series developed by Darkside Collectibles Studio, under license by Studio Canal and Oak Productions.

A printed Certificate of Authenticity, guaranties the authenticity of the work of art produced by Darkside Collectibles Studio

This is a must have piece for all Terminator fans!

*IMPORTANT* Whether we reach our edition size or not on the cutoff date of September 30th 2022, the pre-order window will be permanently closed. There will be no more editions made. We will not do a second run so don't miss out!

Limited Edition TBD

Specifications

License: Terminator 2 Judgment Day.
Type: Polystone, ABS, PU and other Materials.
Manufacturer: Darkside Collectibles Studio.
Scale: Maquette.
Product Size:
L: 60 cm (23.62 inches)

W: 47 cm (18.51 inches)

H: 42 cm (16.54 inches)

Product Weight: 15 Kgr

Box Dimensions: TBD

Features

One (1) Fully sculpted maquette with light up features.
One (1) Rotatable plasma canon
Two (2) Rotatable turbine engines
Four (4) Highly detailed miniature endoskeletons
Four (4) Rotatable landing gear.
One (1) Destroyed Slider base accessory.
Two (2) Destroyed Teeter-totter (US), see-saw (UK) base accessory.
One (1) Destroyed swing base accessory
One (1) Destroyed platform Whirl
More than (100) miniature head skulls
One (1) removable magnetic theme plaque base accessory.
Prototype sample shown. Product details could be subjected to change without further notice.

     
05.07.2022, 22:23
pielandreas
Supporter


Beiträge: 2,792
Registriert seit: May 2013
RE: [DARKSIDE] AERIAL HUNTER KILLER TERMINATOR 2 JUDGEMENT DAY 30TH ANNIVERSARY MAQUETTE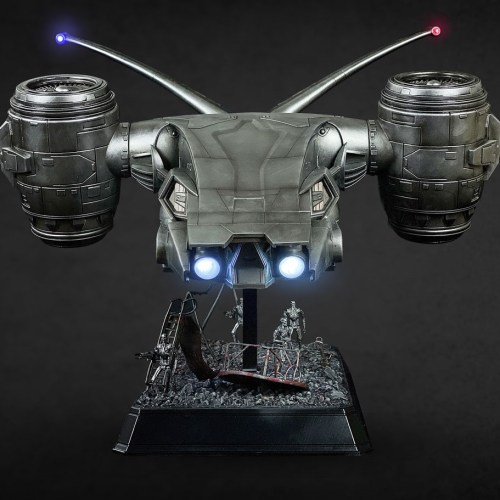 https://darksidetoy.com/shop-by-theme/th...etail.html
Preis von 1499 Euro halte ich für total überteuert

Benutzer, die gerade dieses Thema anschauen: 1 Gast/Gäste