Farmboy Luke (Yellow) ROTJ SDCC EX 2016 Jumbo Figure
01.07.2016, 07:18
Laubi
Royal Guard


Beiträge: 1,220
Registriert seit: May 2013
Farmboy Luke (Yellow) ROTJ SDCC EX 2016 Jumbo Figure
Farmboy Luke (Yellow) ROTJ SDCC EX 2016 Jumbo Figure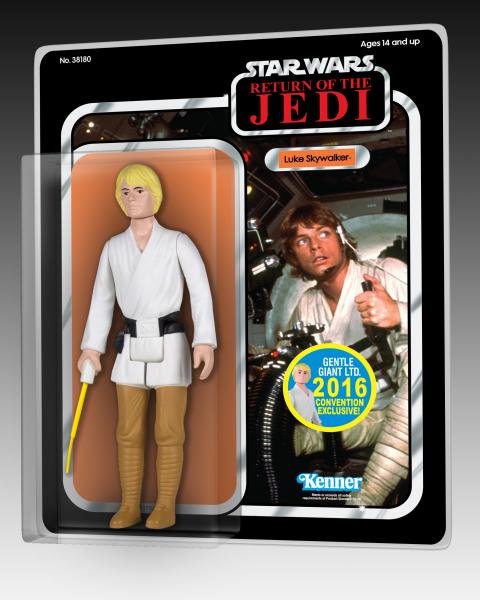 Inspired by the vintage Kenner Star Wars figures, Gentle Giant is proud to bring you the Tattooine, Luke Skywalker, in jumbo size! This San Diego Comic Con Exclusive is based off of the Return of the Jedi backer card figure.
Digitally scanned from original 3 ¾" Kenner figure and reproduced in 1:6 scale, no detail has been overlooked. Roto-cast and injection molded from durable plastics, this fully-articulated jumbo figure includes a faithfully re-produced lightsaber that extends from his right arm. The Tattooine version of Luke was previously released for Star Wars A New Hope. However, this version was re-released on Return of the Jedi backer cards. Also, fans around the world found that there were variations on Luke's hair color, which made the "Yellow Hair" and "Brown Hair" versions even more popular.
To further capture the vintage feel, Gentle Giant has packaged this figure with a Return of the Jedi inspired backer card featuring original photos and artwork. Designed with the collector in mind, the figure comes in a re-sealable plastic outer clam shell to help protect and display this limited edition figure.
Price: $80.00
---
Macht's gut, und danke für den Fisch....


Benutzer, die gerade dieses Thema anschauen: 1 Gast/Gäste