[GG] Durotan SDCC 2016 Exclusive Classic Mini Bust (Warcraft)
01.07.2016, 07:25
Laubi
Royal Guard


Beiträge: 1,220
Registriert seit: May 2013
[GG] Durotan SDCC 2016 Exclusive Classic Mini Bust (Warcraft)
Durotan SDCC 2016 Exclusive Classic Mini Bust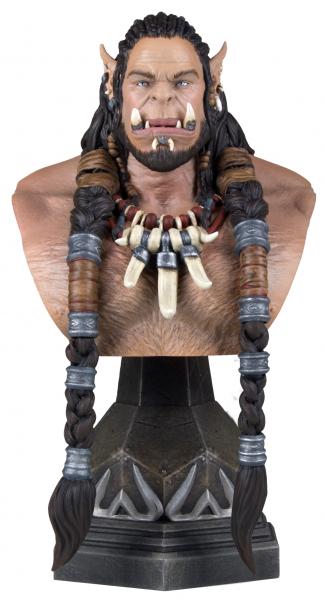 From Universal Pictures, Legendary Pictures and director Duncan Jones (Moon, Source Code) comes Warcraft, an epic adventure of world-colliding conflict based on the global phenomenon from Blizzard Entertainment. The peaceful realm of Azeroth stands on the brink of war as its human civilization faces a fearsome race of invaders: Orc warriors fleeing their dying home to colonize another. As a portal opens to connect the two worlds, one army faces destruction and the other faces extinction. From opposing sides, two heroes are set on a collision course that will decide the fate of their family, their people and their home. So begins a spectacular saga of power and sacrifice in which war has many faces, and everyone fights for something.
From Gentle Giant LTD/3D Systems comes our amazing line of collectibles to celebrate the release of WARCRAFT! Warcraft utilizes the cutting edge of digital technology to bring the massively multilayer online role-playing game to life.
Gentle Giant LTD/3D Systems has used cutting edge 3D sculpting and printing to bring this amazing series of collectibles to life as well. From Gentle Giant LTD/3D Systems comes The Orc Chieftain of the Frostwolf Clan, DUROTAN! Noble Orc Leader, driven from his home, responsible for the survival of his people.
This incredible San Diego Comic Con EXCLUSIVE Classic Mini Bust was created using digital files provided by Legendary Pictures. This stunning, screen accurate Classic Mini Bust of Durotan has been replicated in every detail, and will be hand casted, hand painted and include a hand numbered edition size.
Price: $80
---
Macht's gut, und danke für den Fisch....

01.07.2016, 07:26
Laubi
Royal Guard


Beiträge: 1,220
Registriert seit: May 2013
RE: [GG] Durotan SDCC 2016 Exclusive Classic Mini Bust (Warcraft)
Auch Interessant - gerade, wenn man sich die Statuen-Brocken nicht leisten kann oder will. Bin echt am Überlegen, sollte sich die Gelgenheit ergeben!
---
Macht's gut, und danke für den Fisch....


Benutzer, die gerade dieses Thema anschauen: 1 Gast/Gäste