Premium Format - BATMAN (Batman Begins)
06.08.2021, 07:09
(Dieser Beitrag wurde zuletzt bearbeitet: 06.08.2021 09:02 von GuteLaune.)
Laubi
Royal Guard


Beiträge: 1,217
Registriert seit: May 2013
Premium Format - BATMAN (Batman Begins)
Batman Premium Format
"It's not who I am underneath … but what I do … that defines me."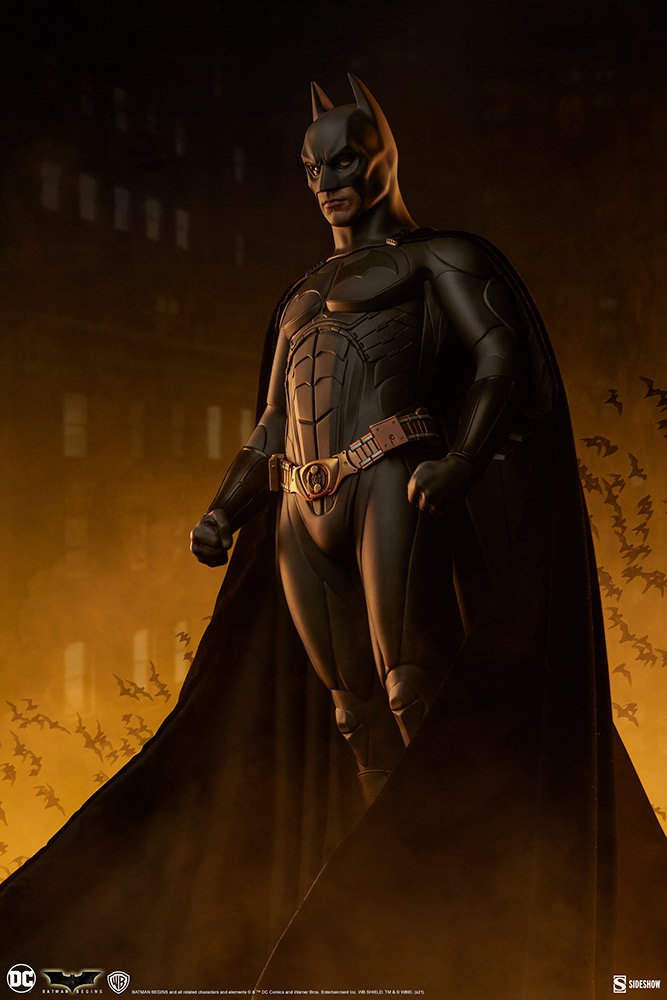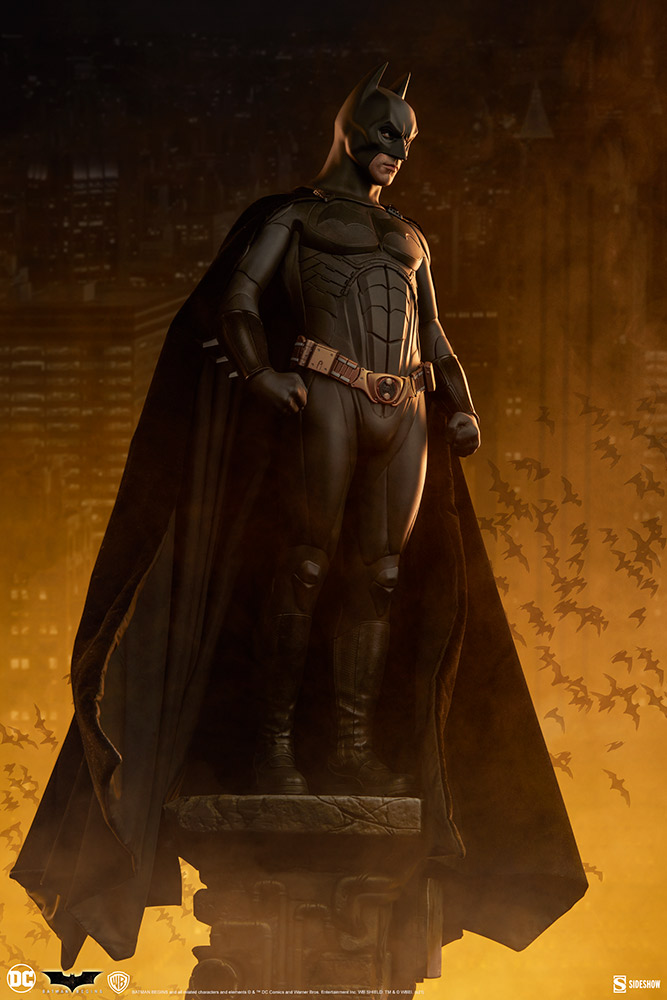 mehr Bilder & Pre-Order
Zitat:Sideshow presents the Batman Premium Format Figure, a cinematic take on the Dark Knight stepping into your roster of DC Comics collectibles.

Inspired by actor Christian Bale's turn as the iconic superhero in the film Batman Begins (2005), this statue captures the signature stylings of his own unique Batsuit and memorable on-screen presence. The Batman Premium Format Figure stands 25.75" tall on a 9" wide base inspired by the Narrows, the crumbling Gotham neighborhood riddled with crime. Looming above the decaying infrastructure of his city, Batman looks out with a stern gaze beneath his cowl in search of criminal lowlifes to stop in the pursuit of justice.

The polyresin Batman Premium Format Figure features a mixed media costume application consisting of a fully sculpted suit and cowl design paired with a tailored fabric cape. The cape has a textured exterior and sleek interior, and metal wiring in the hem allows for dramatic posing opportunities with this material element. This iteration of the Batsuit features matte black coloring and tactical, more armored aspects to the torso, arms, and legs. He has spined gauntlets, dark boots, and a gold utility belt to complete the costume and give him a distinct pop of color in the darkness.
Zitat:

Price:

$620


Limited Edition:

TBD


Expected to Ship:

May 2022 - Jul 2022



Brand:

DC Comics


Manufacturer:

Sideshow Collectibles


Type:

Premium Format Figure



Artists:

Aaron McNaught (Sculpt)
Steve Lord (Sculpt)
David Igo (Design)
Richard Luong (Design)
Tim Hanson (Design) (Cut and Sew)
Bernardo Esquivel (Paint)




Materials:

Fabric , Polyresin



Product Size:

[list][*] Height: 25.75" (65.4 cm)
[*] Width: 9" (22.9 cm)
[*] Depth: 9" (22.9 cm)
[*] Weight: 12 lbs (5.4 kg) *



SKU:

300763


UPC:

747720244047
---
Macht's gut, und danke für den Fisch....

06.08.2021, 07:12
Laubi
Royal Guard


Beiträge: 1,217
Registriert seit: May 2013
RE: Premium Format - Batman (Batman Begins)
Jetzt mal ehrlich, hab ich den hier irgendwo übersehen? Konnte trotz Suche nichts finden und der kann ja nicht einfach so aus dem nichts kommen? Oder bin ich blind? Egal - find die Statue auf jeden Fall richtig stark, vor allem in der ruhigen Pose strahlt die Figur dennoch Kraft und Entschlossenheit aus. Man spürt richtig den Willen zum Sieg. Braucht halt etwas Platz um wirken zu können, aber da könnte ich echt schwach werden....
---
Macht's gut, und danke für den Fisch....

06.08.2021, 16:38
Asgard
Balrog


Beiträge: 4,856
Registriert seit: Jul 2017
RE: Premium Format - BATMAN (Batman Begins)
Schaut gut aus.

Benutzer, die gerade dieses Thema anschauen: 1 Gast/Gäste