[Pure Arts] Michael Jackson (Smooth Criminal) - 1/3 Statue
22.01.2021, 18:54
Silver Surfer
Moderator


Beiträge: 16,264
Registriert seit: May 2013
[Pure Arts] Michael Jackson (Smooth Criminal) - 1/3 Statue
Smooth Criminal
MICHAEL JACKSON
~ 1/3 Hyper-Realistic Premium Statue ~
PureArts presents Michael Jackson in his iconic lean from the famous Smooth Criminal short film that premiered on MTV on October 13th, 1988. Smooth Criminal was also a part of the full length movie Moonwalker, released on October 29th of the same year. This hyper-realistic 1/3 scale premium statue with custom tailored clothing and incredible details will be the centerpiece of any collection. Clothing includes hat, shirt, jacket, pants, suspenders, necktie, and 2 spats (shoe covers), all tailored with real fabric. Polystone shoes, 1930's money, microphone, base with metallic logo, and diamond like cufflinks.
~ Deluxe Edition ~
~ Exclusive ~
All Orders from purearts.com will receive a 1/3 scale Smooth Criminal vinyl single replica.
Product Details
Licensed by: Triumph International, Inc.
Territory: Worldwide
Scale: 1/3
Material: Polyresin and fabrics
Price Regular: 899,00.-$
Price Deluxe: 1.399,00.-$
Edition Size Regular: TBA
Edition Size Deluxe: TBA
Release Date: Q4/2021
Features
Standard Edition includes Michael Jackson, the club floor base and a microphone.
Deluxe Edition includes the club floor base with its extension, and a 1/3 Scale Replica of the jukebox from the short film.
Real tailored clothes, synthetic hair and eyelashes for a hyper-realistic look and feel.
Jukebox with a sound-responsive LED light system and a hidden storage area for a Bluetooth speaker.
Steel re-enforced body pin to prevent flexing over time.
Product & Packaging Information
Standard Statue Size: 9.8" x 15.3" x 23.6" (25cm x 39cm x 60cm)
Deluxe Statue Size: 15.7" x 15.3" x 23.6" (40cm x 39cm x 60cm)
Jukebox Size: 10.6" x 5" x 18" (27cm x 12.5cm x 46cm)
Jukebox Hidden Storage Size: 2.8" x 6.3" x 6.3" (7cm x 16cm x 16cm)
Weight (Deluxe): 42.8 lbs (19.4 kg)
Box Size: 23" x 27" x 10.6" (58.5cm x 69cm x 27cm)
Box Weight: 22.5lbs (10.15kg)
Box Weight (Jukebox): 26lbs (11.7kg) [Deluxe come in 2 boxes]
---
23.01.2021, 12:53
Mithrandir
Supporter


Beiträge: 270
Registriert seit: May 2013
RE: [Pure Arts] Michael Jackson (Smooth Criminal) - 1/3 Statue
Die Statue ist sicher ziemlich cool, wenn man aber diese
Dokumentation
kennt, kann ich mir nicht vorstellen, wie man sich die in die Wohnung stellen kann. Dann lieber irgendwas Nettes von Court of the Dead oder so.
23.01.2021, 19:04
punisher2000
Supporter


Beiträge: 2,569
Registriert seit: Jun 2013
RE: [Pure Arts] Michael Jackson (Smooth Criminal) - 1/3 Statue
Wenn die mal ein LEANING Problem bekommt, steht er gerade wie ne 1.
---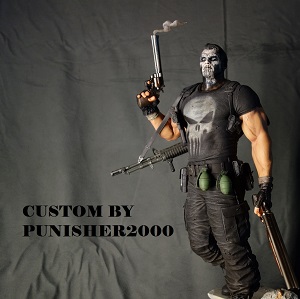 TTC
03.05.2022, 16:36
pielandreas
Supporter


Beiträge: 2,977
Registriert seit: May 2013
RE: [Pure Arts] Michael Jackson (Smooth Criminal) - 1/3 Statue

Benutzer, die gerade dieses Thema anschauen: 1 Gast/Gäste