Shopping-Tipp vom 10.02.2020 DarkSide SPOCK 1/3 Star Trek Scale Statue - by DarkSide
10.02.2020, 11:32
Buzzie
Großadministrator


Beiträge: 12,423
Registriert seit: May 2013
Shopping-Tipp vom 10.02.2020 DarkSide SPOCK 1/3 Star Trek Scale Statue - by DarkSide
Exclusive Leonard Nimoy as Captain Spock 1/3 Scale Museum Statue
by DarkSide Collectibles Studio
Kauflink:
LINK

Zitat:Live Long and Prosper

Darkside Collectibles StudioTM proudly presents Leonard Nimoy as Captain Spock 1/3 scale museum statue.

In the events of The Wrath of Khan Admiral James T. Kirk (William Shatner) and Captain Spock (Leonard Nimoy) monitor trainees at Kobayashi Maru simulation, meanwhile the starship Reliant is on a mission to search for a lifeless planet to test the Genesis Device, a technology designed to reorganize dead matter into habitable worlds. In the process, two of Kirk's officers are captured by Khan, an enemy Kirk thought he'd never see again. Once more, Kirk takes the Enterprise's helm, where he meets Khan's ship in an intergalactic showdown leading to the noble sacrifice of Spock in order to save the crew of the USS Enterprise.

Product Description

Recreated from, original CBS Studio Inc, archived materials and through thorough examination of the original filming costumes the statue Features a breathtaking likeness of actor Leonard Nimoy as Captain Spock of the U.S.S. ENTERPRISE as he appears in the Paramount Pictures STAR TREK II The Wrath of Khan film directed by Nicholas Meyer in 1982.

Leonard Nimoy is posed in the official Starfleet salutation, measures 65.5 cm (25.79 inches) and is presented in authentically sculpted in detail captain's costume. The statue captures the noble feeling and character of Spock and is accompanied with the United Federation of Planets flag.

The Exclusive version also features the characteristic Vulcan Salutation of Live Long and Prosper.

Chiselled in top quality polystone resin, featuring life like skin details, each unit is hand crafted to meet the highest collector's standards. Every statue is strictly limited in the number produced and sold to enhance its value and protect your investment.

Your DarkSide Collectibles StudioTM Statue is also marked with the copyright of both CBS Studios Inc. and Darkside Collectibles StudioTM to guarantee authenticity.

The first Statue from the Star Trek Captains of The USS Enterprise collection!

Specifications

Limited Edition Exclusive

• License: STAR TREK

• Manufacturer: Darkside Collectibles Studio / Infinite Statue.

• Type: Polystone Statue.

• Scale: 1/3.

• Product Dimensions: H 65,5 cm (25,79 inches) x D 29.5 cm (11.61 inches)
Height including Flag 81 cm (31.89 inches)

• Product Weight: 15 Kgr

Edition Size TBD

Features:

• One (1) fully sculpted statue with lifelike skin details of Leonard Nimoy as Spock.

• One (1) Starfleet Command designed theme base.

• One (1) Flag of the United Federation of Planets.

• One (1) Certificate of Authenticity.

• One (1) right Arm with the Live Long and Prosper Vulcan Salutation.

• Prototype sample shown.

• Product details could be subjected to change without further notice.

DarkSide Collectibles Studio Design and Development Team.

2019 E.M.A Legendary Collectibles Group Ltd / DarkSide Collectibles StudioTM

TM & 2019 CBS Studios Inc. 2019 Paramount Pictures Corp. STAR TREK and related marks and logos are trademarks of CBS Studios Inc. All Rights Reserved.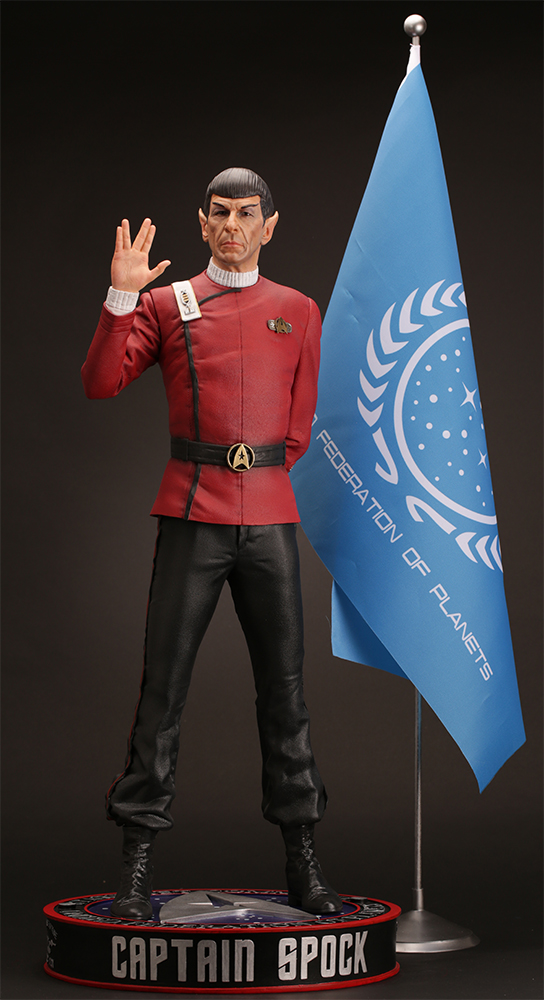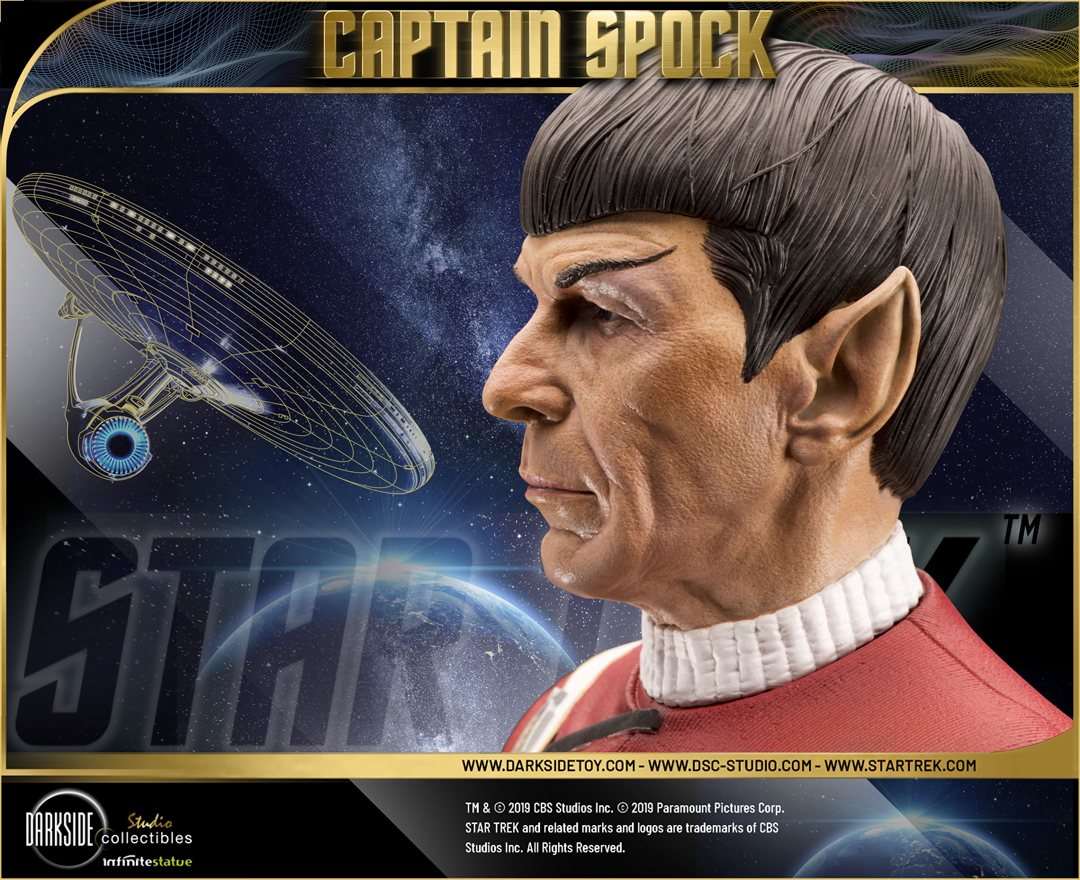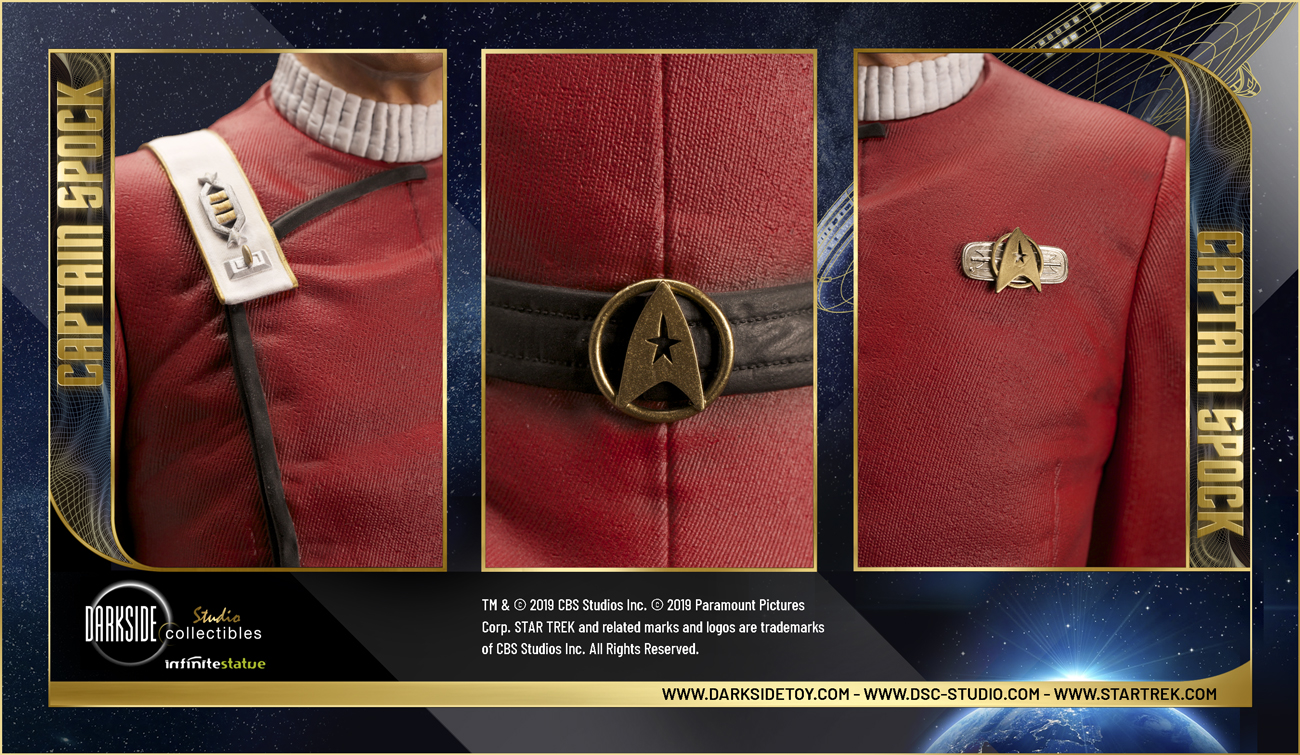 ---

Benutzer, die gerade dieses Thema anschauen: 1 Gast/Gäste