[Sideshow] Thundercats - Lion-O - Statue
29.12.2017, 18:41
(Dieser Beitrag wurde zuletzt bearbeitet: 04.03.2019 20:19 von Silver Surfer.)
Silver Surfer
Moderator


Beiträge: 16,262
Registriert seit: May 2013
[Sideshow] Thundercats - Lion-O - Statue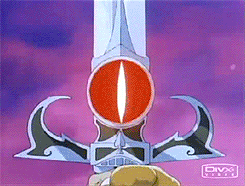 Thunder… thunder… thunder… ThunderCats, ho!
LION-O
"Sword of Omens, give me sight BEYOND sight!"
Sideshow is proud to present the Lion-O Statue, the next exciting addition to the ThunderCats collection.
Lion-O stands proudly atop a Cats' Lair inspired base, holding the legendary Sword of Omens high above his head. In the other hand, he wields the intricate golden Claw Shield. The Lion-O Statue measures 27" tall from the bottom of the clawed base to the tip of his sword.
As Lord of the ThunderCats, the polystone Lion-O Statue has a sculpted Thunderian physique, thoroughly detailed with fur-like texture. He has a fierce portrait inspired by his classic cartoon appearance, complete with feline facial features, red eyes, and flowing scarlet hair. Lion-O's costume has been given an updated aesthetic for Sideshow's ThunderCats collection. He is wearing two-toned blue armor accented with silver studs, along with a matching vambrace and boots. His chest bears the iconic Eye of Thundera, which can also be seen on the hilt of the Sword of Omens.
EXCLUSIVE
~ Roaring portrait ~
Pair the Lion-O Statue with the evil Mumm-Ra Statue and wage an epic war for Thundera in your own collection!
PRODUCT DETAILS
Brand: ThunderCats
Manufacturer: Sideshow Collectibles
Type: Statue
Materials: Polystone
Price Exclusive: 450,00.-$
Price Collectors Edition: 435,00.-$
Edition Size Exclusive: 400
Collectors Edition Size: 800
Product Size: Height: 26.25" (666.75 mm) x Width: 10.50" (266.7 mm) x Depth: 11" (279.4 mm) x Weight: 15.00 lbs (6.8 kg)
Box Size: Height: 12.00" (304.8 mm) x Width: 21.00" (533.4 mm) x Depth: 23.00" (584.2 mm)
Dimensional Weight: 26.00 lbs (11.79 kg) [Intl. 42.00 lbs (19.05 kg)]
ARTISTS
Alex Pascenko (Design)
Adam Smith
Chadwick Andersen
Jean-Paul Mavinga (Design)
Casey Love (Paint)
Stjepan Sejic (Design)
Rick Cantu (Paint)
The Sideshow Design and Development Team
Steven Schumacher (Sculpt)
---
04.03.2019, 19:23
Silver Surfer
Moderator


Beiträge: 16,262
Registriert seit: May 2013
RE: [Sideshow] Thundercats - Lion-O - Statue
LIVE PICS
(
Pics by M.Y. Collections)
---
04.03.2019, 19:29
Silver Surfer
Moderator


Beiträge: 16,262
Registriert seit: May 2013
RE: [Sideshow] Thundercats - Lion-O - Statue
Pics by M.Y. Collections)
---
04.03.2019, 19:35
Silver Surfer
Moderator


Beiträge: 16,262
Registriert seit: May 2013
RE: [Sideshow] Thundercats - Lion-O - Statue
Pics by M.Y. Collections)
---

Benutzer, die gerade dieses Thema anschauen: 1 Gast/Gäste