Starcraft II - Tychus - 1/6 Scale Figure
24.02.2015, 18:52
(Dieser Beitrag wurde zuletzt bearbeitet: 10.08.2017 20:13 von Momo.)
Silver Surfer
Moderator


Beiträge: 16,240
Registriert seit: May 2013
Starcraft II - Tychus - 1/6 Scale Figure
STARCRAFT II
TYCHUS
- Sixth Scale Figure -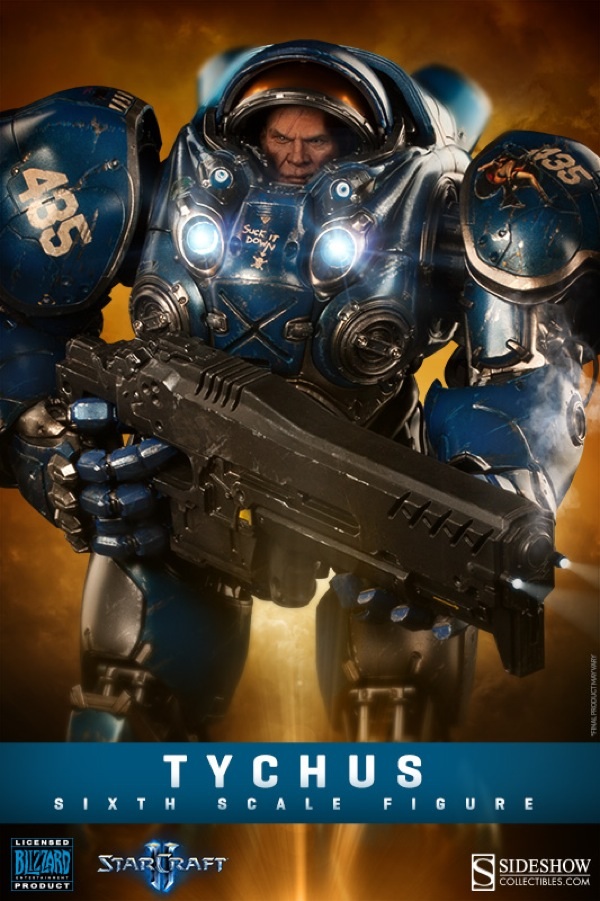 "Hell... it's about time!"
From Blizzard Entertainment's best-selling strategy game, StarCraft II, Sideshow Collectibles is proud to introduce the Tychus Sixth Scale Figure.
While not even Jim Raynor can be certain of the truth behind his past, or just where his loyalties lie, one thing is for sure: Tychus Findlay always goes big. Always. Assembled from over 525 individually engineered components, Findlay gears up in Sideshow's Sixth Scale Terran Space Marine armor with an incredible range of articulation, multiple light-up features, and a colorful array of unique decals that suit him just fine - including snarky quips, tally marks and a pin-up of Kyla Velassi. Known for his big ego and even bigger guns, there's no job in the whole universe too dangerous for this outlaw when he's got a couple of flash grenades and a light-up C-14 Impaler Gauss rifle with bayonet attachment and removable clip. A born survivor, Tychus bears his 'New Folsom Prison blues' with true grit thanks to two interchangeable portraits: one with a scathing scowl, and one simply enjoying one of the best cigars in the Koprulu sector.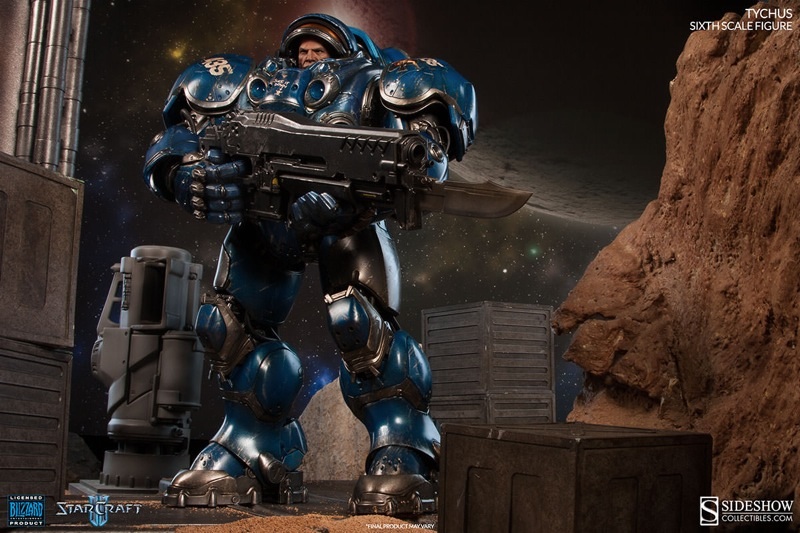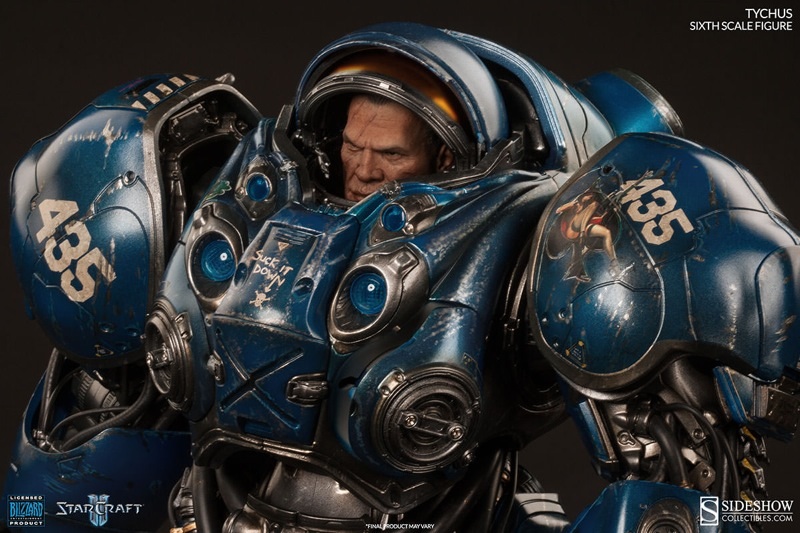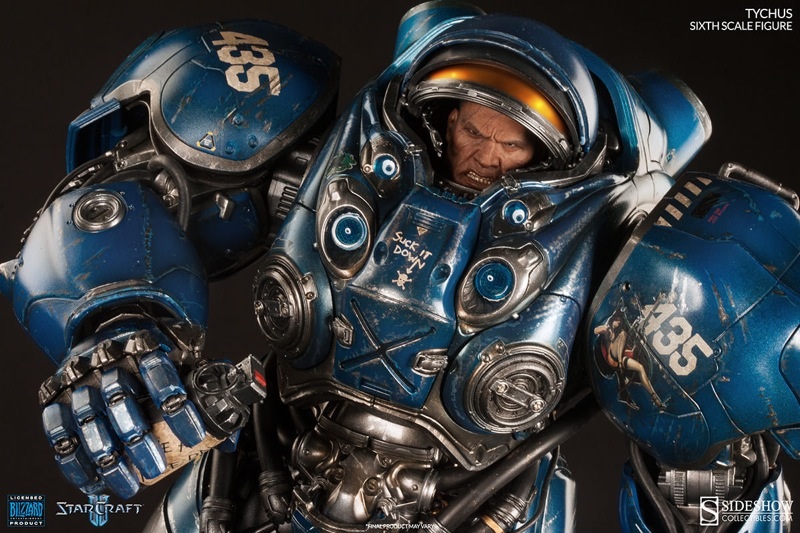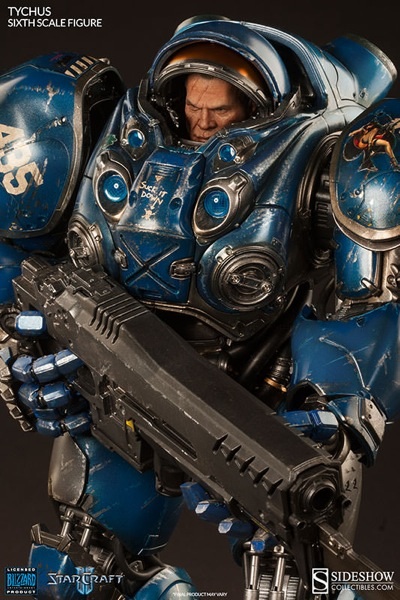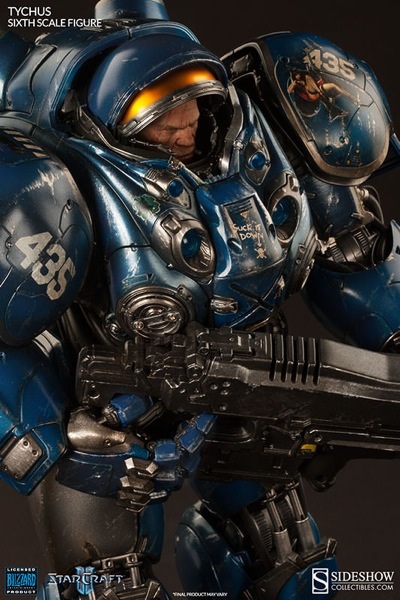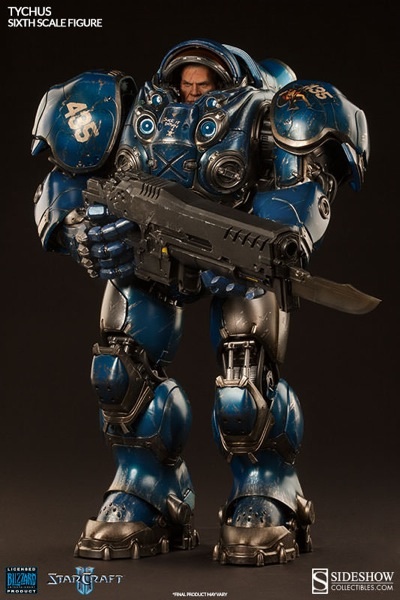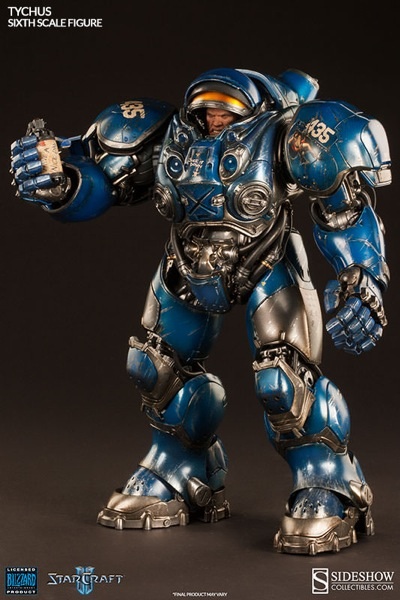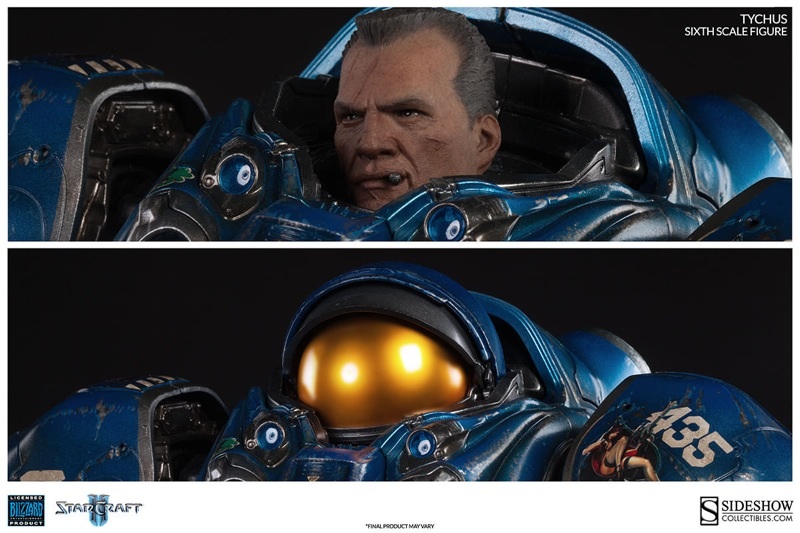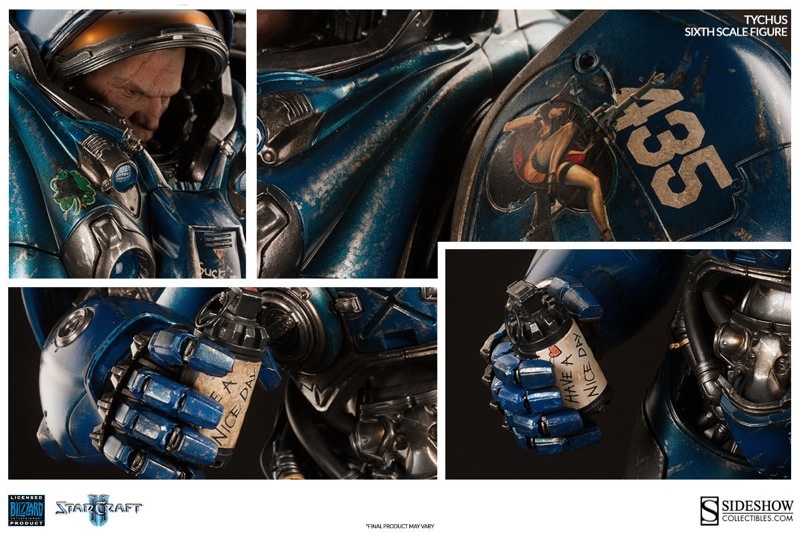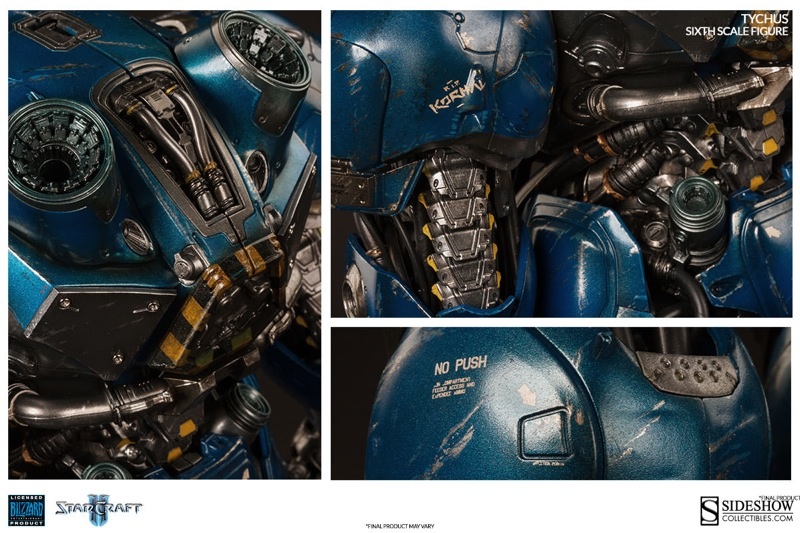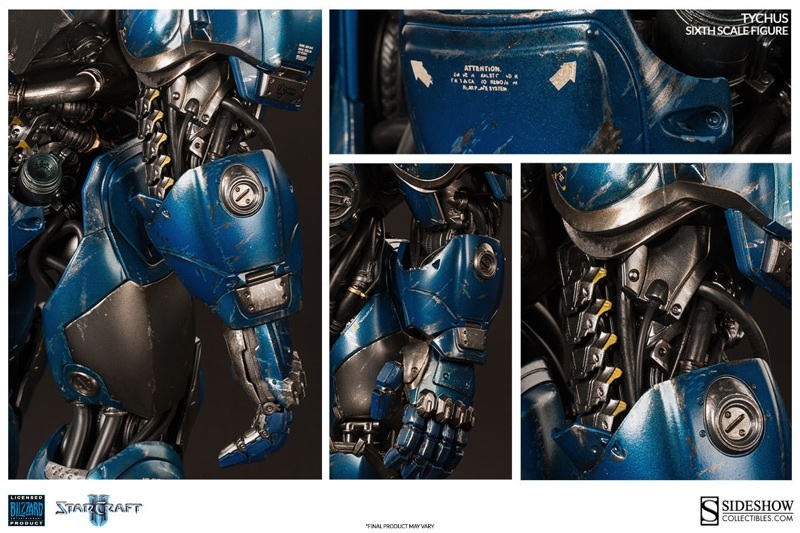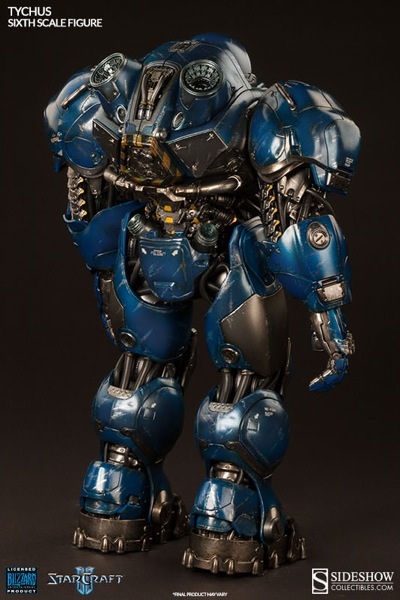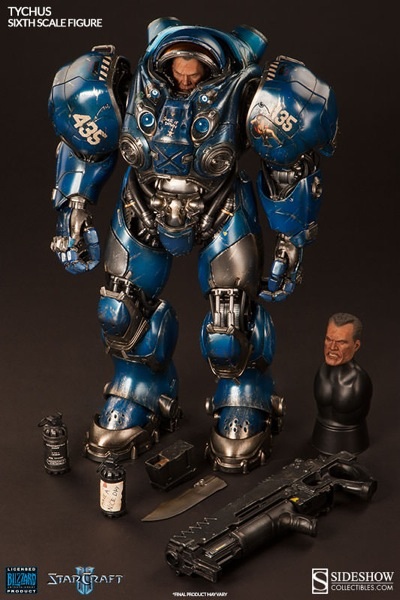 Product Details
License: Starcraft
Scale: Sixth Scale Figure
Manufacturer: Sideshow Collectibles
Price: 524,99.-$
Expected to Ship: Oct 2015 - Dec 2015
Product Size: 15.5" H (393.7mm) x 9.5" W (241.3mm) x 6.75" L (171.45mm)
Product Weight: 4.50 lbs (2.04 kg)
Dimensional Weight: TBD
Int'l Dim. Weight: TBD
Artists
Wan Lee (Deco)
Mike Najera (Deco)
Jennifer Garrett (Deco & Packaging)
Anthony Mestas (Deco)
Big Shot Toyworks (Sculpt)
Trevor Grove (Sculpt)
Walter O'Neal (Sculpt)
Matt Bischof (Development)
Jesse Lincoln (Development)
Kevin Ellis (Development)
Pascual Wawoe (Packaging)
The Sideshow Collectibles Design and Development Team
The Tychus Sixth Scale Figure specially features
Fully articulated and highly detailed armored Space Marine
Angry Tychus portrait
Cigar chompin' Tychus portrait
C-14 Impaler Gauss rifle with lights and removable clip
Bayonet attachment
Two (2) Terran flash grenades
Torso lights
Light-up engine vents
Extendable illuminated power cells
Helmet illumination
---
24.02.2015, 19:44
Ben_Kenobi
Supporter


Beiträge: 1,142
Registriert seit: Mar 2014
RE: Starcraft II - Sixth Scale Figure - Tychus
Habe schon gedacht , du hast den guten Tychus vergessen

Ich hadere ja schon , weil die so teuer sind. Raynor und er sehen aber auch verdammt gut aus und lassen sich super posen. Mal sehen ,ob ich noch ein paar Teuros freimachen kann
---
Ich hab` da ein ganz mieses Gefühl

(Obi Wan zu Qui- Gon Jinn )
Meine Suche
24.02.2015, 20:15
Silver Surfer
Moderator


Beiträge: 16,240
Registriert seit: May 2013
RE: Starcraft II - Sixth Scale Figure - Tychus
Hätte schwören können, es würde bereits ein Thread existieren

Naja, jetzt ist er auf jedenfall da.
---
24.02.2015, 21:24
Flatliner
Supporter


Beiträge: 239
Registriert seit: Feb 2015
Starcraft II - Sixth Scale Figure - Tychus
Zu schade das es kein Resin ist.
Wenigstens bekommt mein Tychus bald Kerrigan die ihm Gesellschaft leistet.
---
"Sammler sind Leute, die Seltenes zusammentragen in der Hoffnung, dass es noch seltener wird."

Benutzer, die gerade dieses Thema anschauen: 1 Gast/Gäste